~ Two Phase 2 Breakthrough Therapy candidates licensed from Memorial Sloan Kettering ~
Neuroblastoma is a cancer that forms in immature nerve tissue, most commonly in infants and children under the age of five. According to the American Cancer Society, neuroblastoma is by far the most common cancer in infants, accounting for about 6% of all cancers in children. There are about 800 new cases of neuroblastoma each year in the US. Most neuroblastomas begin in the abdomen, primarily in the adrenal glands, while others may form near the spine in the chest, neck or pelvis.
Y-mAbs Therapeutics (pending Nasdaq: YMAB), based in New York and Hoersholm, Denmark, has two monoclonal antibody candidates—naxitamab and omburtamab—in Phase 2 trials in pediatric patients with neuroblastoma, each targeting tumors that express different antigens. The company is developing naxitamab for the treatment of relapsed or refractory high-risk neuroblastoma and radiolabeled omburtamab for the treatment of central nervous system leptomeningeal metastases (CNS/LM) from neuroblastoma. CNS/LM is a rare and usually fatal complication of neuroblastoma in which the disease has spread to the meninges, or membranes, surrounding the brain and spinal cord. Y-mAbs licensed its technology from Memorial Sloan Kettering Cancer Center, the world's oldest and largest private cancer center and one of 47 National Cancer Institute–designated Comprehensive Cancer Centers.
The company's initial public offering of 5,333,333 shares at $14 to $16 is expected this week via BofA Merrill Lynch and Cowen. At the midpoint, it would be an $80 million deal that values the company at $489 million post-money. Y-mAbs has made rapid progress to date, advancing two product candidates to Phase 2 and raising $120 million since inception in 2015. The largest institutional investors include WG Biotech (18.4%), Memorial Sloan Kettering (10.1%), HBM Healthcare Investments (9.1%) and Sofinnova Venture Partners (5.9%).
Pipeline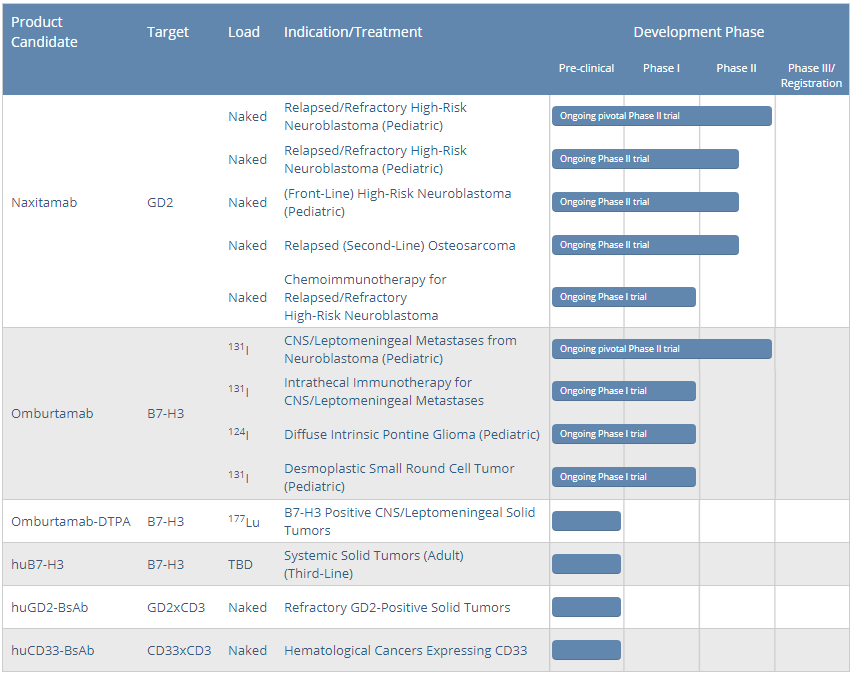 Source: Y-mAbs Therapeutics
Antibody oncology pedigree
The company's management team has significant experience in antibody oncology drug development, manufacturing and commercialization. Y-mAbs was founded in 2015 by Thomas Gad, who has served as the company's Chairman, President and Head of Business Development and Strategy. He was previously the co-founder of Singad Pharma, a Danish specialty pharmaceutical and distribution company. Mr. Gad's daughter endured six years of various cancer treatments before receiving breakthrough immunotherapy at Memorial Sloan Kettering and overcoming high-risk neuroblastoma.
CEO Claus Juan Møller San Pedro, MD, PhD, was the founder and CEO of Azanta, a Danish specialty biopharmaceutical company, and the co-founder, EVP and COO of Genmab GMXAY, one of Europe's largest biopharmaceutical companies. The balance of the senior management team is made up of former Genmab executives
Expedited regulatory pathway
Y-mAbs is advancing both of its lead product candidates through an expedited regulatory pathway, and the company expects that they will be eligible for priority review from the FDA. Y-mAbs expects to submit applications in 2019 with a goal of receiving marketing approval by the FDA in 2020. Though the initial targets concern pediatric cancers, the company believes it may be able to expand its product applications to the treatment of adults with cancers that express the GD2 and B7-H3 antigens.
The company estimates that more than 200,000 new adult patients were diagnosed with GD2-positive cancers in the US last year, and more than 30,000 new patients were diagnosed with cancer that has metastasized to the CNS/LM, of which the vast majority express B7-H3.
Naxitamab is a humanized monoclonal antibody being evaluated for the treatment of relapsed or refractory high risk neuroblastoma and other GD2-positive tumors, including osteosarcoma. The company believes that GD2 appears to be expressed on almost all neuroblastoma cancer cells regardless of disease stage and in almost all osteosarcomas. Naxitamab was granted Breakthrough Therapy designation in neuroblastoma in August 2018 and has also received Orphan Drug designation and Rare Pediatric Disease designation from the FDA. In the dose escalation part of an early study in patients with pediatric relapsed or refractory high risk neuroblastoma, 57% of patients achieved a clinical response.
Omburtamab is a novel murine monoclonal antibody currently designed for compartmental immunotherapy, for example in the central nervous system. The compound targets B7-H3, an immune checkpoint molecule that is widely expressed in tumor cells of several types of cancers. An analysis of 93 treated patients with CNS/LM from neuroblastoma showed median overall survival of 47 months, compared to historical median overall survival of approximately six months.
Please email us at [email protected] to see our Case Studies and Testimonials.
Please click here for information on our new trading platform.
Please click here to see our daily newsletter.