As earnings season continues across the market, we've been paying close attention to the microcap biotech sector for reports of clinical progress and corporate development. The long term success rate for companies at this stage is low, as most have only a limited runway with which to advance their products through the clinical gauntlet. Therefore, we are always encouraged when we come across companies that have partnership and licensing deals in place to offset part of the burden. Xenetic Biosciences (NASDAQ: XBIO) is one such company we've been following, and we think the market may be undervaluing the license deal it has with Shire (NASDAQ: SHPG).
License Deal with Shire for Hemophilia Treatment

Xenetic is focused on the discovery, research and development of next-generation biologic drugs and novel orphan oncology therapeutics. The company graduated to a NASDAQ listing in March 2017. Shire is a $57 billion market cap, leading global biotechnology company focused on serving people with rare diseases and other highly specialized conditions. Shire has a $13 million equity investment in Xenetic, and is developing the product candidate SHP656 - based on Xenetic's proprietary platform technology - as a long-acting therapeutic for the treatment of hemophilia. SHP656 is currently in a Phase 1/2 clinical study, about which Shire expects to report topline data in Q2 2017. If the outcome of the trial is successful, Xenetic expects Shire to launch a Phase 3 trial before the end of 2017.
Xenetic received a $3 million milestone payment from Shire related to the Phase 1/2 trial for SHP656, and Xenetic has the potential to receive from Shire up to $100 million in total cash milestones plus royalties linked to sales. The current $25 million market cap appears to give Xenetic very little credit for what amounts to a call option on Shire's clinical expertise, not only in evaluating the product candidate but also in executing to commercial viability. Shire had over $11 billion in revenue last year, selling products in over 100 countries.
---
---
Hormone Receptor-Negative Cancer Treatment

Xenetic's lead product candidate, XBIO-101 is a small-molecule immunomodulator and interferon inducer which, in preliminary studies, has been shown to increase progesterone receptor expression in endometrial tumor tissue. The company is on track to commence patient recruitment in Q2 2017 for a Phase 2 clinical study of XBIO-101 in conjunction with progestin therapy for the treatment of progestin resistant endometrial cancer, and has filed a protocol under its existing Investigational New Drug application ("IND") to expand the development of XBIO-101 into a biomarker study in triple negative breast cancer patients.
Xenetic has a strong intellectual property position with over 200 patents issued or allowed.
We think the recent sell-off is overdone, but investors should consider the following:
The stock trades very thinly, averaging under 32,000 shares daily since it's been on NASDAQ - with an extremely small float of only 17% of shares outstanding. Such thin volume and float leaves the stock vulnerable to quick slides, as we've seen for the past 2 weeks as the stock has tested new lows. We don't see any suspicious volume in the stock to accompany the slide, but investors need to be prepared for similar volatility.
Regardless of what happens with the Shire collaboration, it's highly probably that Xenetic will require additional capital to advance its other clinical programs. Investors should be prepared for further equity dilution down the road.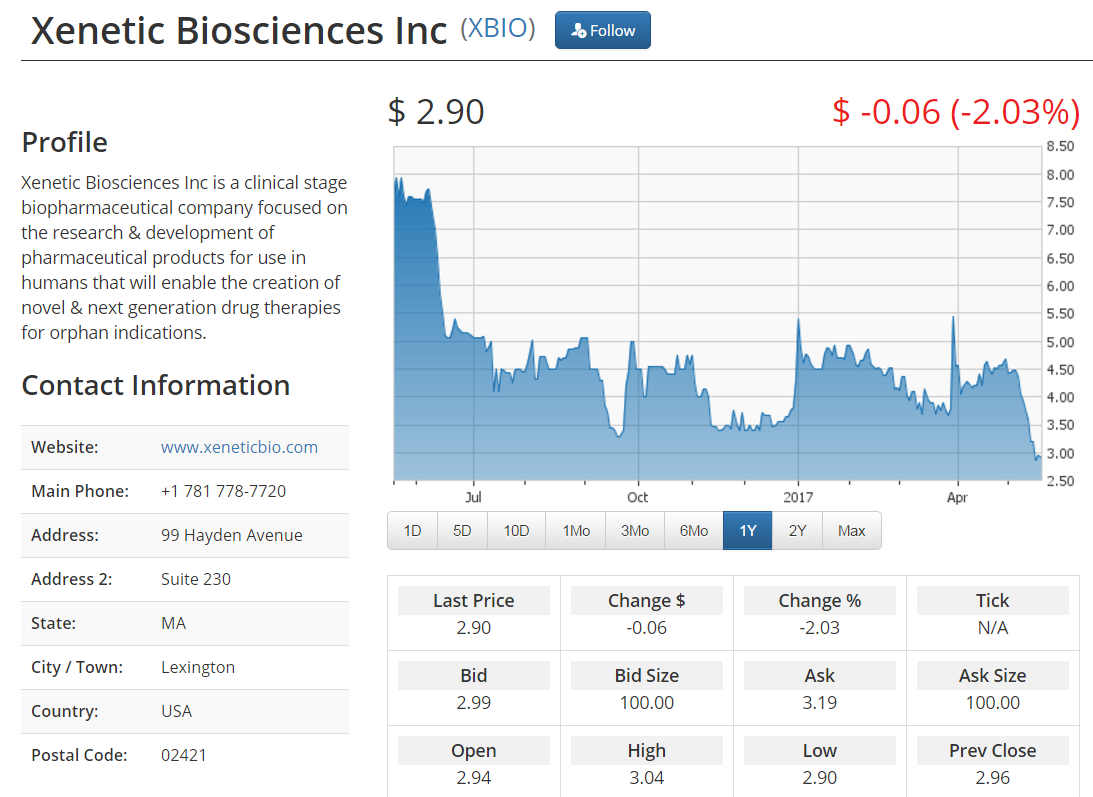 Please email us at content@equities.com if you are a Public Company and would like to see our Case Studies or Testimonials.

Please click here if you would like information on our new trading platform.
Please click here if you're an investor and would like to see our weekly newsletter.
DISCLOSURE: The views and opinions expressed in this article are those of the authors, and do not represent the views of equities.com. Readers should not consider statements made by the author as formal recommendations and should consult their financial advisor before making any investment decisions. To read our full disclosure, please go to: http://www.equities.com/disclaimer