Biotechnology sector followers may be keenly aware of the troubled trip of Arsanis ASNS over the past 12 months. The company went public in November 2017, raising $46 million in gross proceeds at $10.00 per share for a post-IPO market valuation of $143 million. The stock traded above $28 this past spring on the promise of its pneumonia therapeutic, but the bottom fell out in June when the company halted its Phase 2 trial after an interim analysis by an independent data review committee determined that it would be futile to continue. Companies that emerge on the wrong end of these critical binary risk events frequently seek a merger candidate to help salvage the remaining assets, and to this end, Arsanis has been able to chalk up a save for its remaining shareholders.

Arsanis and X4 Pharmaceuticals announced a merger agreement today in an all stock deal under which the combined company will emerge with the X4 Pharmaceuticals name to focus on the development and commercialization of X4's pipeline of treatments for rare diseases of the immune system and rare cancers. X4's lead candidate has completed a Phase 2 trial in WHIM syndrome [(Warts, Hypogammaglobulinemia, Infections, Myelokathexis (retention of neutrophils in the bone marrow)], a serious genetic immunodeficiency disease.
Symptoms usually begin in early childhood, according to the Genetic and Rare Diseases Information Center of the NIH, with respiratory infections, cellulitis and other recurrent bacterial infections. In later childhood, individuals develop widespread warts that often become persistent, and warts in the genital area may eventually cause cancer. WHIM is caused by a mutation in the CXCR4 gene, which codes for proteins that regulate cell growth and division. X4's pipeline is designed to antagonize the CXCR4 pathway to restore healthy immunity.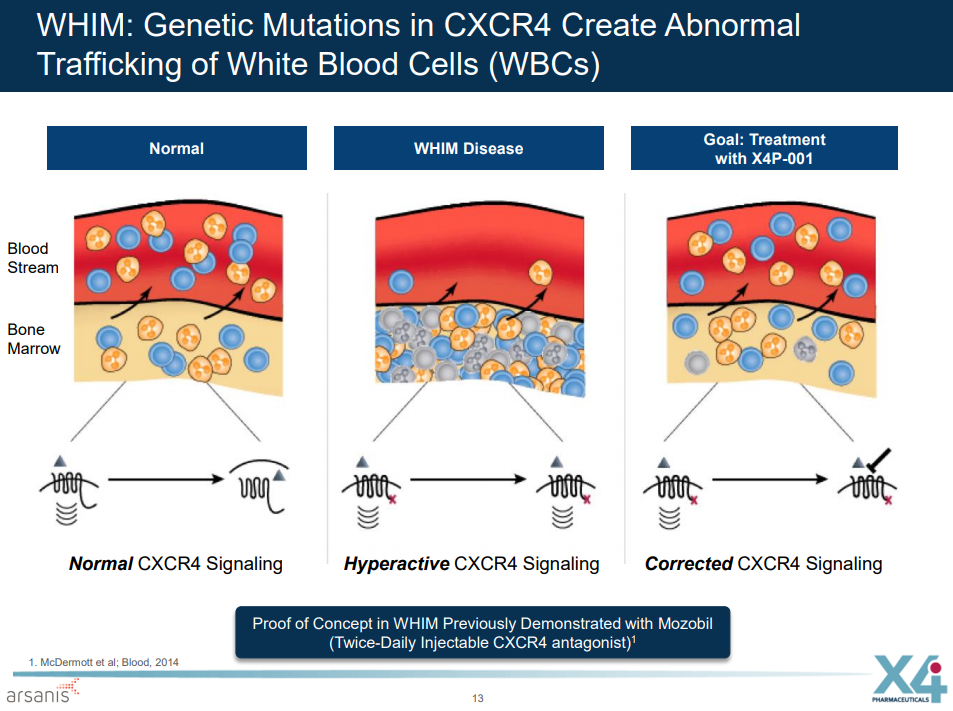 Source: Arsanis presentation, Nov. 27, 2018
Current X4 shareholders are expected to own approximately 70% of the combined company, with Arsanis shareholders owning the remaining 30%. Paula Ragan, PhD, President, CEO and co-founder of X4 will become President and CEO of the combined company. Dr. Ragan previously led strategic partnering efforts for Genzyme's SNY Rare Disease business. René Russo, PharmD, Arsanis' President and CEO, has resigned "to pursue other opportunities." The deal is expected to close in the first quarter of 2019.
X4 has pioneered the development of novel, oral drug candidates targeting pathways that have been demonstrated to improve immune cell trafficking and restore healthy immunity in genetically-driven rare diseases and lymphomas. Our lead product candidate, X4P-001, is expected to begin a Phase 3 trial in WHIM syndrome in the first half of 2019. WHIM syndrome is a serious, genetic primary immunodeficiency disease that is caused by a mutation in the CXCR4 receptor, the precise pathway targeted by X4P-001. X4P-001 has been shown in a Phase 2 clinical trial to increase neutrophils and lymphocytes in the blood and decrease wart lesions, a hallmark symptom of WHIM syndrome. In addition to WHIM syndrome, we believe there are other primary immunodeficiencies in which the CXCR4 receptor is implicated and therefore may be treatable with X4P-001.

– Paula Ragan, PhD, President and CEO of X4 Pharmaceuticals.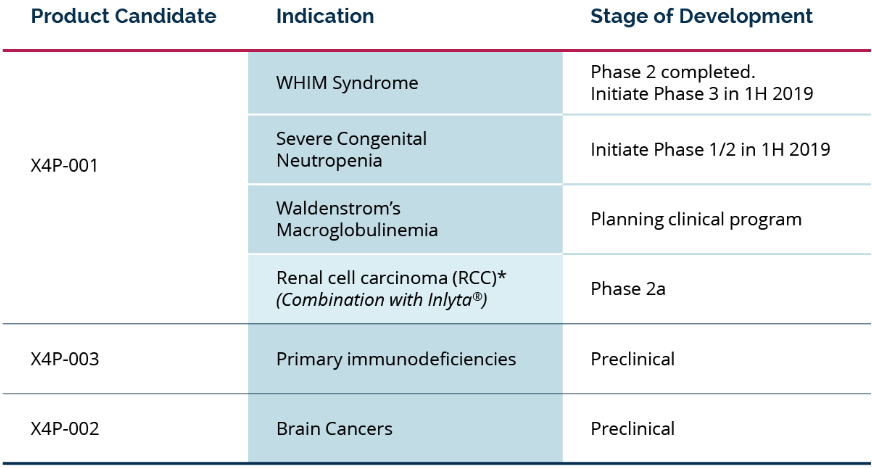 Source: X4 Pharmaceuticals
The merger with Arsanis would provide X4 with additional financial resources, bolster our management, clinical development and regulatory teams and enhance our research and development capabilities in Europe through Arsanis' Vienna facility. We believe this merger has the potential to be a transformative transaction for X4 that would position us well as we embark on the initiation of our global Phase 3 program and develop commercialization plans in WHIM syndrome and as we further develop our pipeline for other rare disease indications.

– Paula Ragan, PhD, President and CEO of X4 Pharmaceuticals.
Arsanis stock has doubled on the merger news to $2.40 in mid-afternoon trading, which brings market valuation to about $30 million. This proposed merger appears to be a good outcome from what may not have been a plethora of options for Arsanis and its shareholders. In its presentation this morning to discuss the transaction, management stated that it believes WHIM syndrome represents a $500 million market opportunity, with the entire pipeline potentially worth north of $1 billion. The combined company will be worth watching for progress in the Phase 3 trial in WHIM syndrome and further validation of the scientific approach as it applies to the balance of the rare disease pipeline.
Please email us at [email protected] to see our Case Studies and Testimonials.
Please click here for information on our new trading platform.
Please click here to receive our free daily newsletter.
DISCLOSURE: