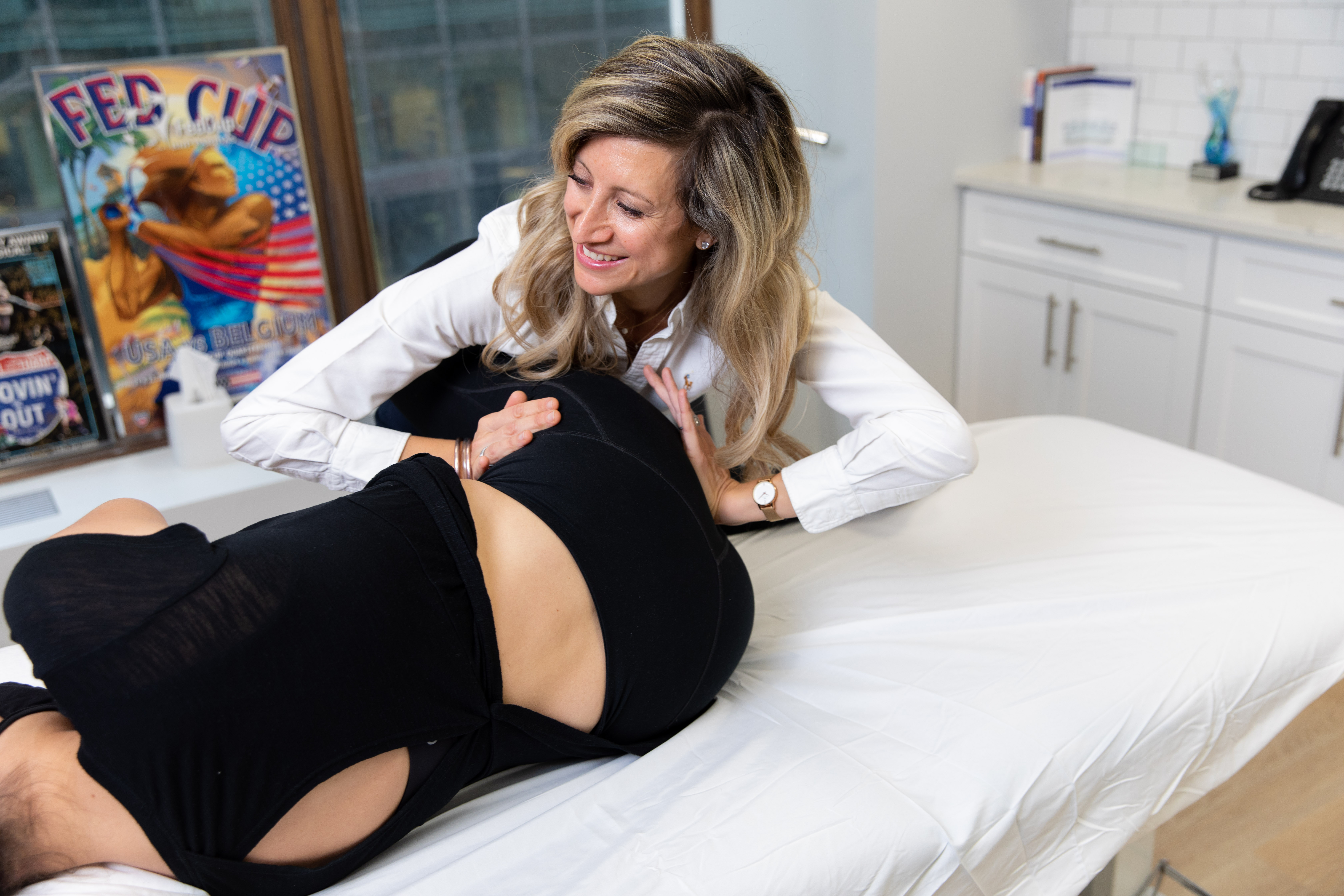 Image: Patricia Ladis. Source: Stephanie Cowan
As we kick-off Women's History Month in March, and with the number of expectant mothers on the rise throughout this entire pandemic, the recent book released by Patricia Ladis, The Wise Woman's Guide to Your Healthiest Pregnancy and BIrth, caught my eye.
Ladis is a seasoned physical therapist, former dancer, certified behavioral breathing analyst, entrepreneur and now book author. She has expertise helping dancers and athletes recover after pregnancy, and helping men and women looking to amplify their chances of having an overall healthy lifestyle.
With this book, she focuses on expectant mothers, drawing upon her personal findings as a therapist, wellness expert and mother, with the mission of increasing a mother's chances of good health throughout her pregnancy and delivery.
I was drawn to this book given my interest in wellness and because it validated much of what I did during my own two pregnancies, maintaining my healthy, active and balanced mind, work and lifestyle. It was a topic about which I spoke frequently after my pregnancies, as I worked until the very end of both of them and gained only 18 pounds for each birth. I credit a great deal of the delivery of healthy babies to my mindset and my choices to remain active and maintain a healthy diet.
This book written by a fellow entrepreneur captures a professional's view and is being broadly recognized. Ladis' book is #1 in new releases for pregnancy and exercise on Amazon.
I love to meet like-minded professionals and pass on interesting reads that offer fresh and proven perspectives, particularly during one of the most important times of someone's life. I highly recommend this both for all future or new parents. The cover alone will draw you to this author's "wise" read and labor of love.
Q&A with Patricia Ladis
1) What inspired you to write this book?
I felt compelled to write this book as the pregnant women I was treating were asking me more questions than expected. They were lifestyle questions that weren't being answered in their short doctors' appointments. My patients asked me to write a book so they would remember all they learned in our time together and be able to share it with friends…So I finally made it happen! My pregnant patients trusted me as I helped them get rid of their pain, feel good before, during and after pregnancy and stay calm in mind and body to have a successful pregnancy and birth. I have been helping professional dancers and athletes get back on stage or sports since 1999, and it is my honor to bring all my experience and knowledge to more people now through this book!
2) Tell us about your book. Where can readers find it?
The Book is called The Wise Woman's Guide to Your Healthiest Pregnancy and Birth. I wrote it together with my esteemed colleague Dr Anita Sadaty, a functional medicine OB/GYN. The reader is the Wise Woman — given support, science and more information so she is empowered to trust her innate WISE intuition.
You can see more about the book here, and it is available on Amazon, Barnes & Noble and Target.
3) What are some wellness secrets you would advise women to follow ?
Preconception should be a time to evaluate your lifestyle. Many just cross their fingers and hope they get pregnant, but instead we should stick to a plan to cleaning the whole body up for at least six months beforehand. We need to reduce inflammation. This includes exercising regularly (but not too intensely), eating healthier, nutritious, seasonal, whole food meals, sleeping well (at least for seven hours), breathing well, cleaning our indoor air and exposure to pollutants, swapping our toiletries with cleaner, organic ingredients, decreasing screen time and Wi-Fi/EMF exposure and being dedicated to mindfulness/meditation/spiritual practice to stay calm and peaceful.
This will then pave the way to stick with these new positive lifestyle habits when pregnant and postpartum, and the great news is that you propel your health and longevity and your child's health and neurodevelopment!
Get your partner on board, too, since the male sperm is responsible for 70% of the health of the future baby!
4) How can our readers balance exercise, good nutrition and work while we're still in the throes of a pandemic ?
The key is putting it all in your calendar and planning ahead! Look at your day and carve out time to eat well, hydrate, and move! Plan your meals. Order a variety of fresh, healthy, seasonal food. Everyone delivers fresh groceries now, which makes it easy, but you're really tight on time, get organic, high quality meal prep kits or entrees delivered to you. Clean out those cupboards and rid your pantries of processed, packaged inflammatory foods. Make sure to always have fresh fruits and veggies on hand and after you get them, cut them up and put into glass containers in the fridge. You are more likely to eat them when they are all ready to go!
By putting "Lunch", "Snack", "Exercise" on your calendar during certain times in the day/early evening, you are more likely to stick with a good routine!
And don't forget a marked water bottle so you keep track of how much water you are having. You should consume 1/2 your body weight in ounces. So if you are 140 pounds, you should be drinking 70 ounces of water per day!
5) Did your health and wellness routine change when you became a mother?
Yes! I breastfed all three kids for 14-16 months. I ate a lot more than normal (still healthy), but stayed the same weight! I also altered my exercise routine and stuck with 40 minutes of brisk walking per day. I had to make adjustments since the babies and children needed more of me, but I also saw how much more balanced, more present and happy I was when I carved out time for myself, so I did. Instead of a spa day or getting my nails done, I soaked in a relaxing bath and put a mask on my face. I also would put on music and dance in my home instead of a formal dance class.
And I was always committed to staying kind and positive to myself. That negative self talk can really take over as a new mom, so being aware can help you stop it. Connecting with family and friends can also help uplift you and knowing when you need this is key! You make adjustments to your whole life but as long as you prioritize wellness, you end up making time for it. And it pays you back in dividends!
6) What are some lessons you have learned as an entrepreneur?
To hone in on what you're the best at and what fuels your passion the most. The rest, you hire well for! When you have an engaged, happy and smart team with clear goals and warm hearts, the sky's the limit!
7) What advice would you give entrepreneurs looking to enter the health and wellness industry?
Find your passion and your niche. What is it that makes you unique? The wellness world makes a lot of sense and offers something everyone wants — optimal wellness — but what are you going to be able to contribute? How can you help spread wellness in your community, city, state or the globe?
I am very committed to helping to spread wellness globally and I honestly feel we can change so many things and achieve greater wellness by giving back to the land through regenerative, organic farming practices. I believe that replacing chemical farming with regenerative farming practices will probably make the biggest impact on the health and wellness of all living things and help combat global warming.
_____
Follow Silvia Davi on Instagram @Renaissance_Minds.
_____
Equities Contributor: Silvia Davi
Source: Equities News