​As Sam Sees It: With Momentum Investing Stalling, Is Now the Time to Get Defensive?
Sam Stovall Follow |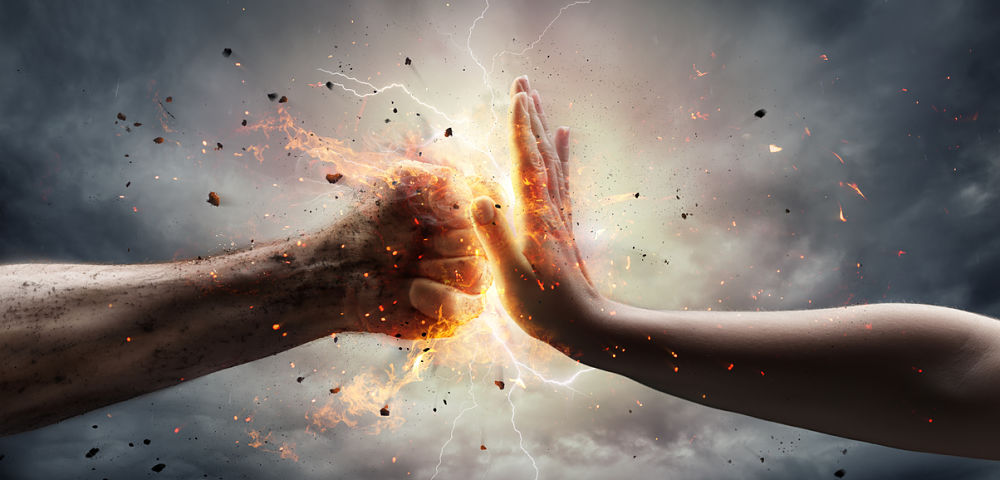 Each week, we tap the insight of Sam Stovall, Chief Investment Strategist, CFRA, for his perspective on the current market.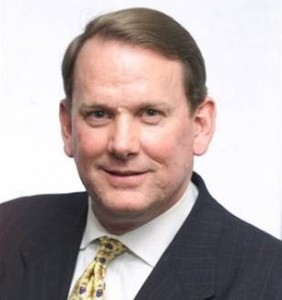 EQ: Heading into this reporting season, many investors were looking to strong Q1 earnings to reinvigorate the bull market. Despite getting the strong results, stocks have not responded as expected. What is undercutting this catalyst?

Stovall: Well, you're right that the earnings growth is coming in much better than expected. At the beginning of the quarter, expectations were for a 16.7% gain. When I wrote my Sector Watch article for this week, the expectation at the time was for a 17.7% gain. Now, we're looking at a number that's closer to 18.5% for the first quarter with all 11 sectors expected to post positive results. In addition, nine of the 11 are expected to see double-digit growth. At the same time, expectations are for a solid second quarter growth of 18.7% and an even better third quarter growth of 21.7%.
Some people are saying that maybe earnings have peaked, but I don't see that to be the case. If anything, maybe the growth rate will peak by the third quarter, but we're expecting every quarter thereafter to post no lower than a 10% gain. So, earnings are still expected to do relatively well.
Others are pointing to the yield on the 10-year note eclipsing the 3% level, implying that could be another area of worry. I think what it simply means is we're trying to explain a cause for the overall backing and filling process that needs to take place to allow a correction to finally run its courses. I don't see us necessarily going substantially deeper in this correction, and I certainly don't expect a bear market, but I think the sentiment is such that we're probably just not done yet.
EQ: The market is also entering the sell in May period, which could be exacerbated this year by the upcoming mid-term elections. In this week's Sector Watch, you pointed out that midterm elections during a president's first term in office was usually preceded by an especially weaker market environment. How have stocks performed historically in the face of this heightened certainty?
Stovall: The second and third quarters of the midterm election years are by far the most challenging for investors. When you look at that six-month period in its entirety during all midterm election years since World War II—and there have been 18 of them—the average decline was 1.1%, and 50% of the observations were negative. If you take a look at just those six-month periods prior to midterm elections in first-term administrations, things look even worse. The average decline triples to 3.0%, and instead of being down 50%, the market was down 60%. That obviously is not a guarantee, but what it implies is the word "uncertainty" tends to hold sway over investor activities in those months leading up to the midterm elections.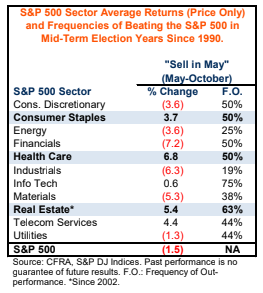 EQ: You've usually advocated that investors should not sell in May, but rather rotate into defensive sectors during the May through October period. Factoring in the midterm elections, how has this approached done for investors?
Stovall: Going back to 1945 for the S&P 500 itself, the market has risen about 1.5% and was higher 63% of the time in that May through October period. That's still a lot better than what you're getting in cash, so why move out at all? However, when you look at that May through October period in midterm elections since 1990, it showed an average decline of 1.5%. Maybe we are seeing that things look a little worse in that sense.
So, if you really did have the ability to time this market, then you might be thinking it's time to get out. But again, it's not going to happen all of the time. The batting average was not 100%, and even if it were, there's no guarantee it will happen this time.
I find that you are definitely much better off rotating into those sectors that tended to be the outperformers in the May through October period rather just sticking with stocks in its entirety or to move all into cash.
EQ: You did not that while the broader market has been flat year-to-date, the defensive sectors have really underperformed in 2018. Could this mean that they're positioned for a catchup, or could it suggest the market may break from the pattern this year?
Stovall: Well, going back to 1990 and looking at those midterm election years only, the best performing sectors were the defensive Consumer Staples, Health Care and Real Estate groups. I guess it's the old adage of when the going gets tough, the tough go eating, smoking and drinking, and if they overdo it, they have to go to the doctor. If the doctor isn't successful, then they have to acquire some real estate.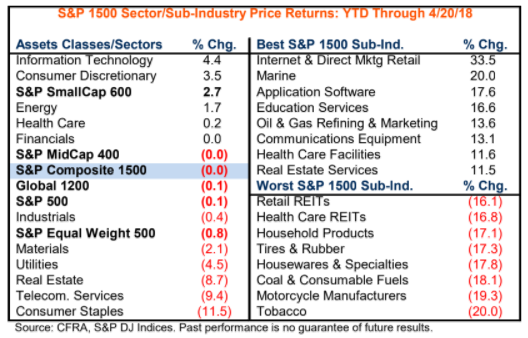 So, this time around, I guess the question is whether that holds given the fact that the defensive sectors have not done well at all. Well, I think maybe we do end up seeing a potential reversion to the mean in which those groups that had been beaten up so badly. Because investors were focusing on momentum plays in Technology, Industrials, Materials, Consumer Discretionary, etc., and now possibly losing faith in the near term, maybe we see a relative outperformance by the defensive sectors.
What is interesting is that while the price performance of the defensive sectors tend to be better during the midterm election years than during all years, the frequency of outperformance is a little bit less. It showed a minimum of 50% for Consumer Staples, Health Care and Real Estate, but usually that batting average is closer to two out of every three years when you're dealing with all years since 1990.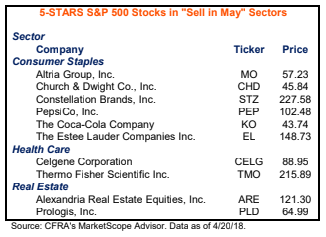 With that said however, I think investors should realize that in the 12 months after the midterm elections have run their course, the S&P 500 was up 18 of 18 times, and posted an average price gain of more than 16.5%. So, it gives us something to look forward to despite the volatility and potential lackluster performance in the months ahead.
DISCLOSURE: The views and opinions expressed in this article are those of the authors, and do not represent the views of equities.com. Readers should not consider statements made by the author as formal recommendations and should consult their financial advisor before making any investment decisions. To read our full disclosure, please go to: http://www.equities.com/disclaimer