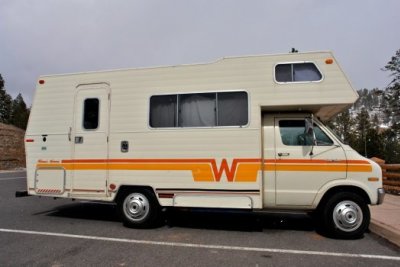 If you trade shares of Winnebago Industries, Inc. ($WGO) and look at the action through the market decline back to 2008, you see a legendary American company that was on the brink as shares sunk to a total value of $125 million.
They had a rally with the market coming out of 2008 to about $700 million, but stopped short of keeping up with the later stage move (like the Dow or S&P), and turned in December of 2013. Many were calling it the end for the iconic manufacturer of the "See America Toy" that many baby boomer retirees had on their bucket list.
As a shareholder, you are constantly tested. Today is little different, with shares down 14% mid-day after a surprise miss. On Thursday, the company said that operating expenses rose 40% to $12.3 million in the second quarter ended Feb. 28 compared with a year earlier.
Chairman, CEO and President Randy Potts commented, "During the second quarter, we grew revenues and improved gross profit margin despite continuing to work through the labor-related constraints and challenges we saw last quarter. We also incurred higher operating expenses, in large part attributable to the commencement of our new ERP system and strategic sourcing projects, which we believe will improve Winnebago's efficiency and profitability once complete."
Winnebago Must Adapt or Run Out of Gas
The baby boomer cycle is a phenomena in its latter stages. I would look closely at the next generation buyer and ask why they would invest in these large rolling homes, when air travel is the norm and Internet accommodations are becoming part of the consumer approach to travel. Companies like AirBnB ($AIRBN) and Uber ($UBER) are part of the Apple, Inc. ($AAPL) iPhone world. Furthermore, many work from home now, and are former travelers who know the major NFL cities and have traveled these paths as part of early career work.
Today, the travel market for the 35 to 50 year-old is done by selective internet booking, not travel agents, and most use frequent flyer miles among various other deals. I believe they travel with family, and will travel in retirement the same way. I think domestic travel was part of their mid-career life versus something they now need to do.
It makes perfect sense that WGO would spend money on a towing business, as the demographic has no desire to get out and change the tire. Chief Financial Officer Sarah Nielsen added, "with our commitment and confidence in the company's Towables business, we decided to purchase the currently leased Towables assembly facilities in Middlebury, Ind., for approximately $5.4 million. This purchase, which will provide future cost savings, is included in our planned capital expenditures of $15 to $20 million for this fiscal year. We anticipate that we will close this transaction in April."
Even with gas prices lower, sales for Winnebago are flagging, and at the lows of 2008, the entire company was worth $125 million dollars. It seems that the aging boomer is likely to send shares back to those levels – towing business or no towing business, this seems to be a part of our culture that was more about our parents and their parents desire to see America before the days of Google Inc. ($GOOG) Earth street views and Youtube video of any hotel room you can think of. You can even use Yelp Inc. ($YELP) to findthe best local breakfast place around. Let's face it – the world has changed, now let's see if Winnebago can change along with it.
DISCLOSURE: The views and opinions expressed in this article are those of the authors, and do not represent the views of equities.com. Readers should not consider statements made by the author as formal recommendations and should consult their financial advisor before making any investment decisions. To read our full disclosure, please go to: http://www.equities.com/disclaimer