~ Data shows reduced incidence and severity of bronchopulmonary dysplasia in preterm Infants with respiratory distress syndrome ~
Respiratory distress syndrome (RDS) is the leading cause of death to babies who are born prematurely. About 1% of newborns are affected by RDS, according to the American Thoracic Society, while 10% of preterm babies develop RDS. The risk of RDS rises dramatically with increasing prematurity, as 60% of babies born before 29 weeks of gestation develop it. RDS is caused by an insufficient amount of surfactant, which is produced normally by the lungs to keep the airways open. According to Stanford Children's Health, a baby's alveoli collapse with each breath in the absence of sufficient surfactant, which causes damaged cells to collect in the airways, further diminishing the ability to breathe.
Windtree Therapeutics
Warrington, Pennsylvania, based Windtree Therapeutics WINT is developing novel surfactant therapies for respiratory diseases and other potential applications. The company's lead product is called Aerosurf, which combines a synthetic surfactant called KL4, structurally similar to naturally occurring pulmonary surfactant, with drug delivery technologies that enable noninvasive administration in aerosolized form. The company announced this week that new data from its Phase 2b trial in premature infants with RDS showed that Aerosurf appeared to reduce the incidence and severity of bronchopulmonary dysplasia (BPD), a chronic lung disease that affects mostly premature newborns and infants. According to the American Lung Association, BPD results from damage to the lungs caused by mechanical ventilation and long-term use of oxygen, common RDS treatments. This data was presented at the 2018 Hot Topics in Neonatology Annual Meeting earlier this month in Washington, DC.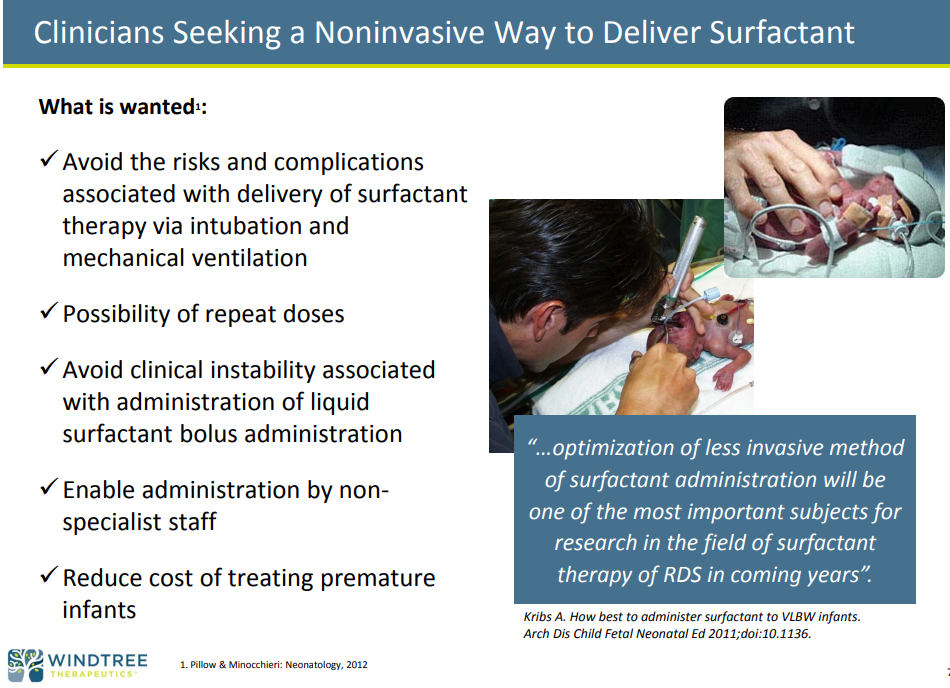 Source: Windtree Therapeutics corporate presentation, August 2018.
Phase 2 trial results
The Aerosurf Phase 2 trial involved 341 premature infants receiving nasal continuous positive airway pressure (nCPAP) for RDS and was designed to evaluate the safety, tolerability and potential effectiveness of aerosolized KL4 surfactant in reducing the need for invasive intubation and mechanical ventilation compared to infants receiving nCPAP alone. The follow-on analysis of 261 preterm infants who were 26 to 32 weeks in gestational age with RDS, who required supplemental oxygen and had not been previously intubated, showed a reduction in BPD occurrence from 17% in the control group to 8% in Aerosurf-treated infants. A decrease in severity of BPD was also observed.
The AEROSURF phase 2 clinical program data thus far are encouraging because we are seeing signals suggesting that AEROSURF may be reducing nCPAP failures and thus intubations, as well as having an impact on reducing the development and severity of BPD in this population. If these results are confirmed by future clinical data, AEROSURF would represent a significant medical advancement in neonatology.

– Craig Fraser, CEO, Windtree Therapeutics.
In its press release, Windtree stated that, based on the results of the Phase 2 program, it plans to conduct a 70-patient bridge study of its new Phase 3 Aerosol Delivery System device and work with regulators to develop a regulatory and clinical plan. "While the reduction of nCPAP failures and need for intubation is anticipated to remain the primary endpoint in phase 3, measuring the potential impact on the incidence and severity of BPD will be an important secondary measure."
Pipeline

Windtree's Phase 2 Aerosurf clinical program was supported, in part, by both a $1.9 million award under a $2.6 million Fast Track Small Business Innovation Research (SBIR) grant and a $2.6 million grant from the National Heart, Lung, and Blood Institute (NHLBI) of the NIH. Other pipeline programs are being funded by grants issued by the National Institute of Allergy and Infectious Diseases (NIAID) of the NIH to study influenza and radiation-induced lung injury, and by the NIH Office of the Director and the Countermeasures Against Chemical Threats program to study chemical-induced lung injury.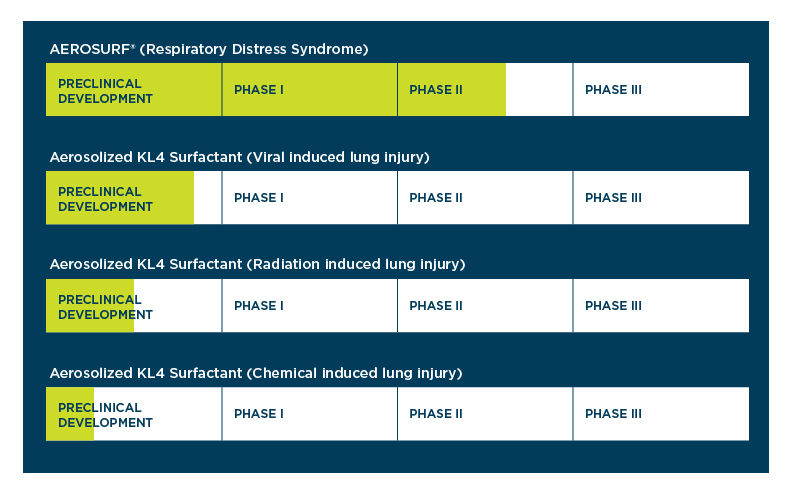 Source: Windtree Therapeutics website, December 13, 2018.
Investment issues to consider
In July 2017, Windtree's Phase 2 trial of Aerosurf failed to meet the primary endpoint due to the unexpected rate of treatment interruptions resulting from clogs in specific lots of the system's disposable cartridge filters. The stock has never fully recovered from investors' reaction to the disappointing news last year, though it has more than doubled in the past two months to $4.30, for a market capitalization of still only $16 million. Additionally, investors should note that the stock has endured three reverse splits in the last eight years: 1-for-15 in December 2010 (when it was known as Discovery Laboratories, DSCO), 1-for-14 in January 2016 and 1-for-20 in December 2017.
The company faces significant liquidity risks, as disclosed in the most recent Form 10-Q, with only $640,000 in cash and $18.1 million in current liabilities, including $4.3 million in loans payable, as of Sept. 30, 2018. Subsequent to the filing of the 10-Q, however, Windtree has taken positive steps on the loan, announcing a restructuring agreement with Battelle Memorial Institute last week.
Windtree has disclosed in its past two Form 10-Q filings that it's "engaged in active diligence and discussions for a potential strategic transaction that, if completed, would bring additional capital and diversify our assets." Additionally, Lee's Pharmaceutical Holdings, a Chinese pharmaceutical company listed in Hong Kong (950), and Windtree's majority shareholder "has provided, and has indicated that it will continue to provide, financial support."
The need to treat infants with RDS is, sadly, very large. Windtree estimates it has an $800 million to $1 billion potential revenue opportunity, treating not only RDS patients treated with surfactant therapy but also expanding the patient population to include those infants not treated with surfactant therapy. We'll be watching this company closely for signs of continued progress in its strategic discussions and any other positive changes to the health of its balance sheet.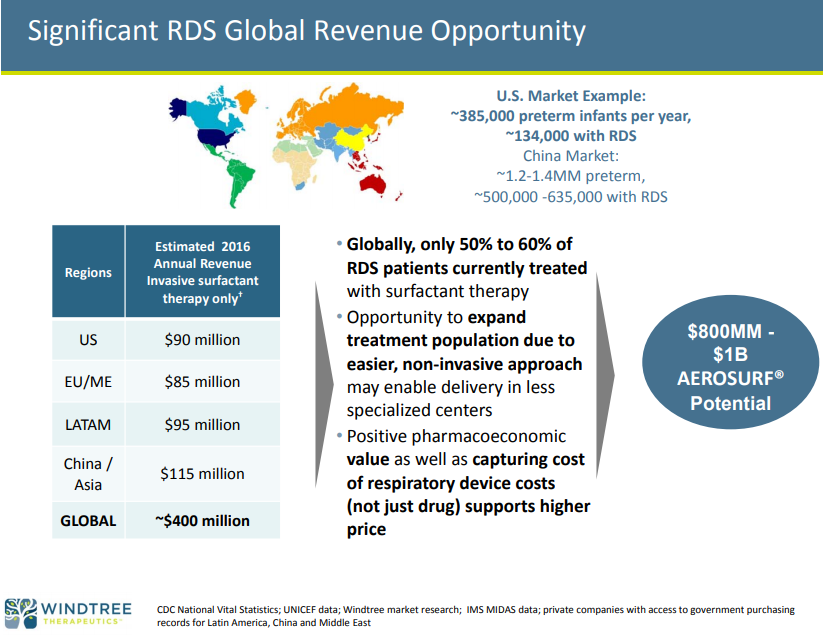 Source: Windtree Therapeutics corporate presentation, August 2018.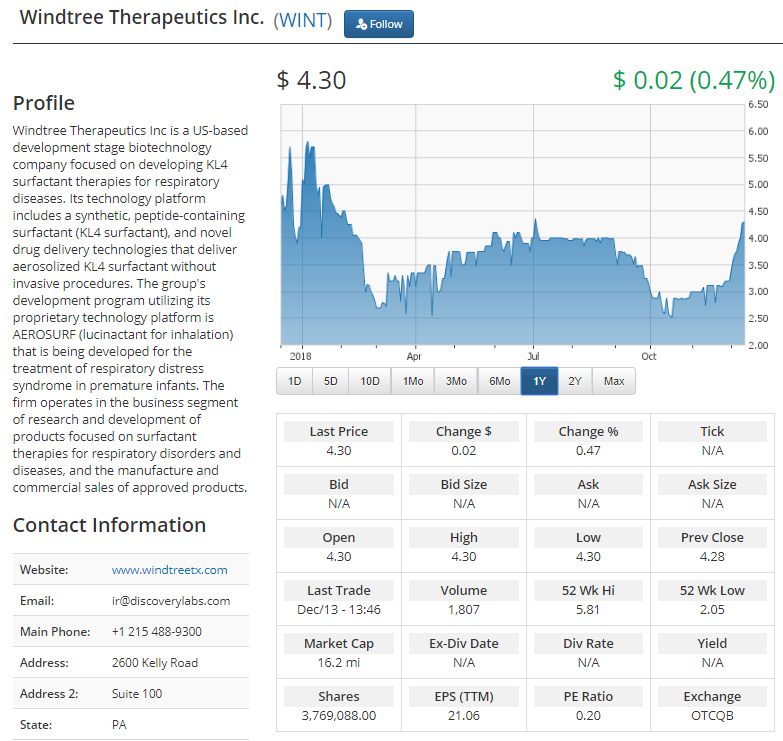 Please email us at [email protected] to see our Case Studies and Testimonials.
Please click here for information on our equity trading platform.
Please click here to receive our free daily newsletter.