In August, tensions between the U.S. and North Korea rose after Trump's famous remarks that threats to the U.S. from Pyongyang would be met with "fire and fury". The relations between these two countries have not been so tense for a long time. What does it imply for the gold market?
Let's start with the no-brainer: the conflict about Korean Peninsula is a very old one. It implies that investors are used to it and will not panic after the first dramatic news. Some level of hostile relationships and geopolitical conflicts between countries are inevitable and already priced into the yellow metal. The best example may be the Cold War, i.e. a state of geopolitical tensions between two nuclear powers, the U.S. and the Soviet Union, which lasted from 1947 to 1991, but it did not support the gold prices all the time. Actually, the yellow metal entered a bear market in the 1980s.
As a reminder, the animosity can be traced back to the Korean War, when the U.S. supported South Korea. The military conflict took between 1950 and 1953, when the ceasefire was negotiated. However, South Korea and North Korea are still officially at war – and the U.S. keeps troops (more than 20,000 soldiers) in South Korea continuously. This is why North Korea is not a big fan of the United States, and why it tried for years to develop a nuclear weapon to deter any "imperialistic" interventions aimed to remove the Kim regime from power.
In other words, the relations between the U.S. and North Korea have been strained ever since and elevated tensions are nothing new. Actually, they were much higher in the past, as they involved more than just "war of words". For example, in January 1968, a U.S. spy ship Pueblo with a crew of 83 people (one of whom was killed) was captured by North Korea. One year later in April, the U.S. plane EC-121 was shot down by North Korea during a reconnaissance mission, killing all 31 Americans aboard. As the price of gold was not allowed to float until 1971, when the gold standard was definitively ended, we cannot analyze their impact on the gold market (however, their influence on financial markets was limited).
On August 18, 1976, the "axe murder incident" occurred, in which two American soldiers were killed with axes in the Korean Demilitarized Zone during routine tree-clearing. It was followed by joint U.S. and South Korean Operation Paul Bunyan aimed to cut down that damn tree and to undertake a show a force. Although there was concern that it could spark a wider conflict, the incident and the following operation did not boost gold prices. As one can see in the chart below, the price of gold actually fell in that period.
Chart 1: Gold prices after axe murder incident on August 18, 1976.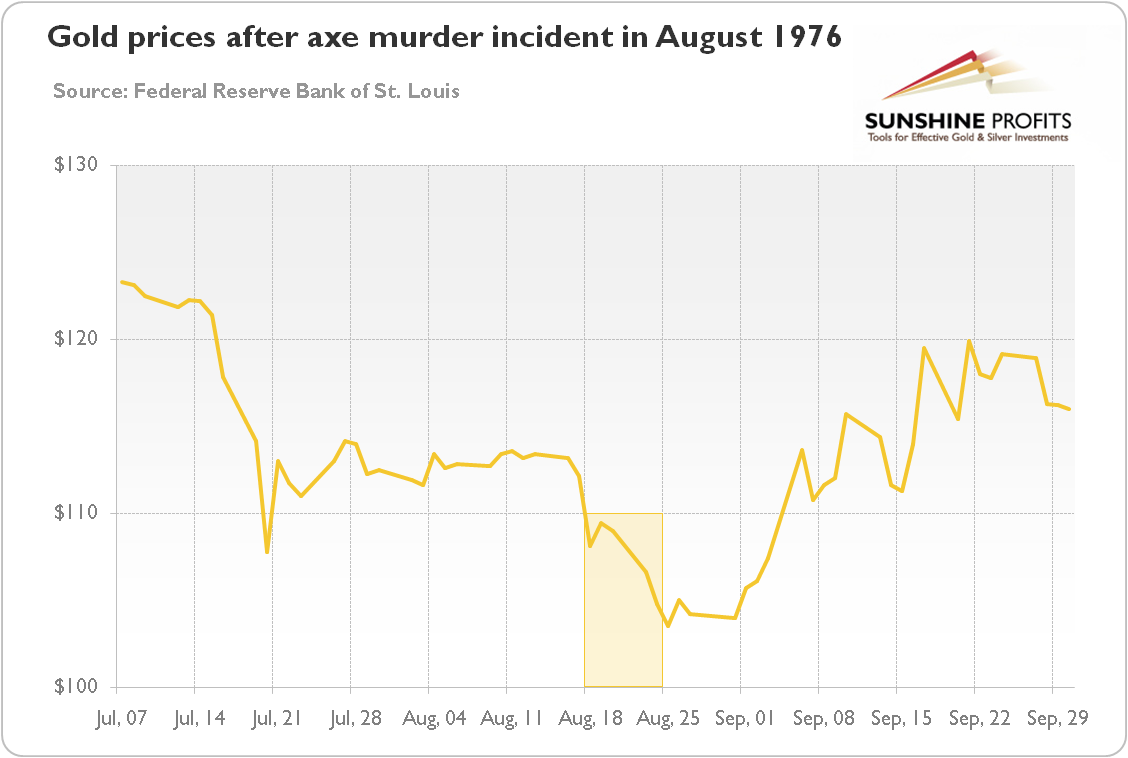 On December 17, 1994, the U.S. helicopter OH-58 Kiowa helicopter was shot down over North Korea. One pilot died while another was captured, reigniting the tensions around the Korean Peninsula. However, the price of gold declined on December 19, while the following price increases were only temporary, as the chart below shows.
Chart 2: Gold prices after shootdown of OH-58 Kiowa on December 17, 1994.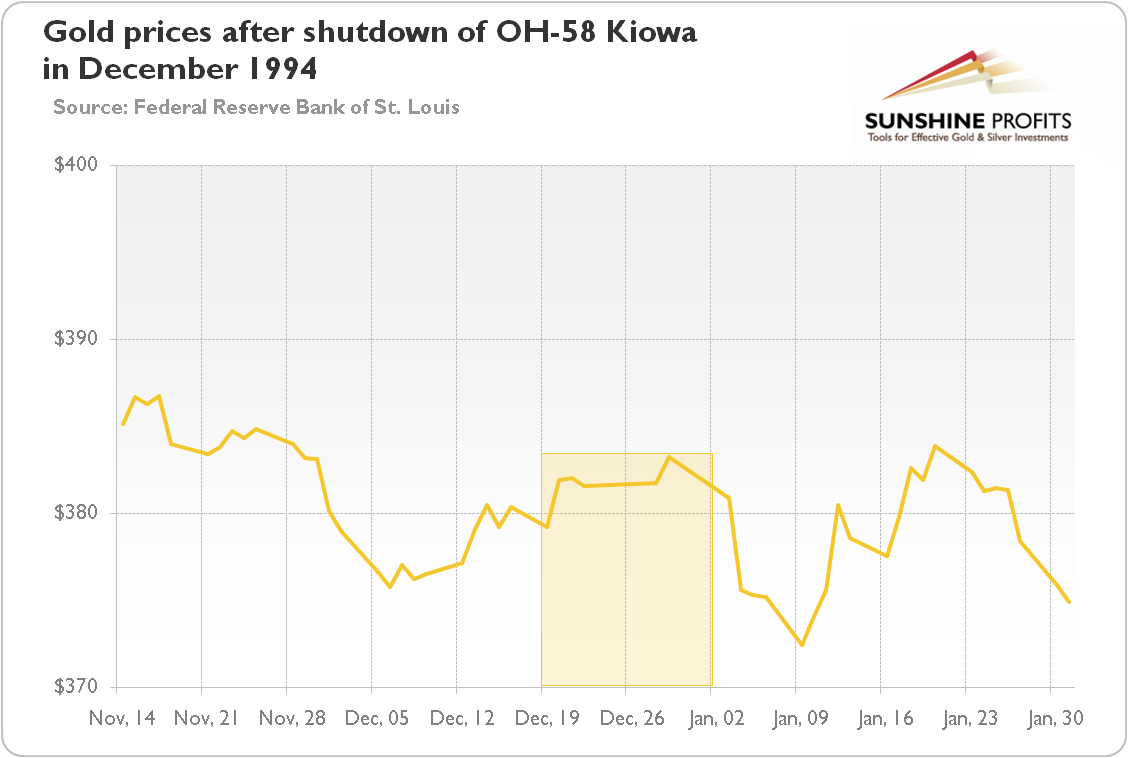 On October 9, 2006 North Korea conducted its first nuclear bomb test, angering world governments. Gold gained that day, but there was not a sustained rally, as one can see in the chart below.
Chart 3: Gold prices in October 2006.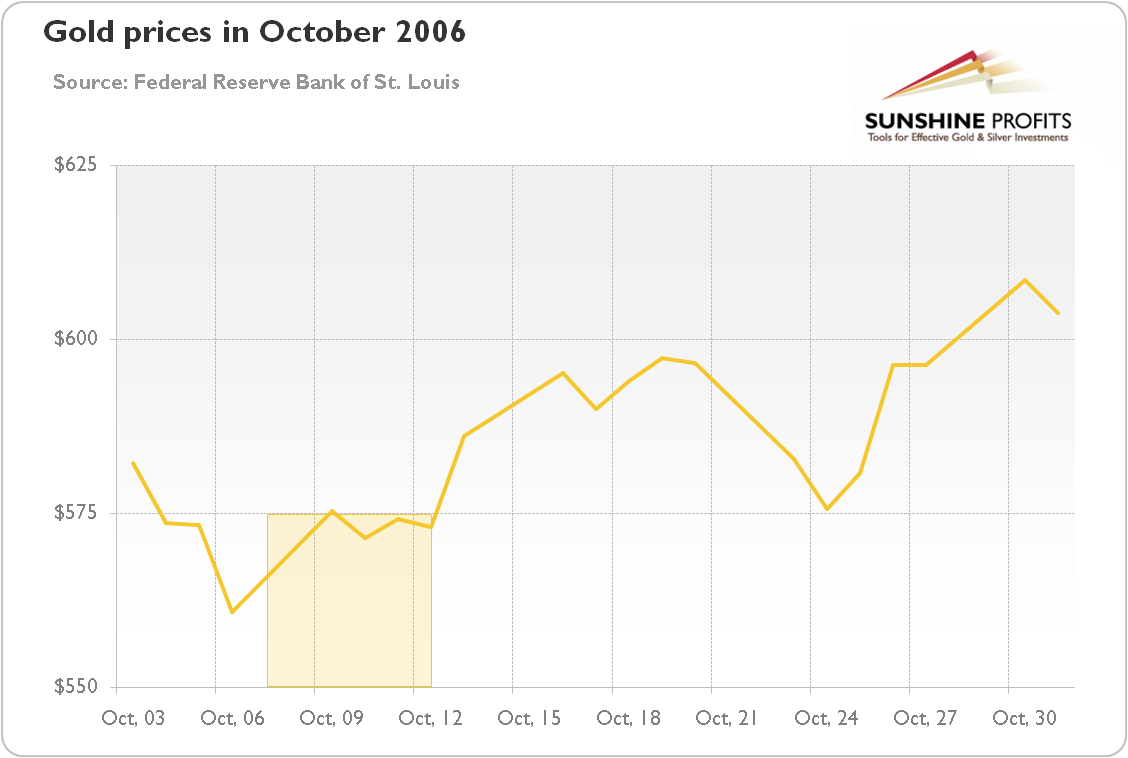 2009 was another hot time when on March 17 North Korea arrested two American journalists who were released in August after former president Bill Clinton's visit in Pyongyang. And on May 25, North Korea conducted a nuclear bomb test. As the chart below shows, these events did not support gold prices.
Chart 4: Gold prices in spring 2009.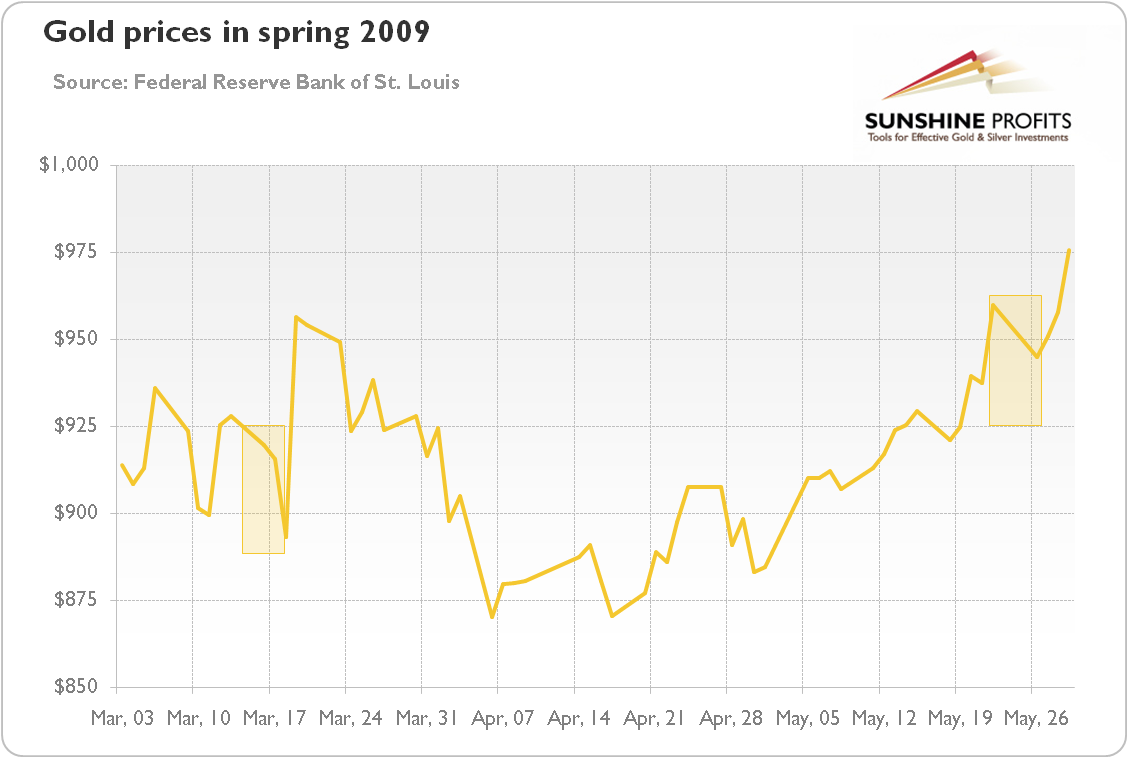 Actually, the price of gold declined each time. There was a surge on March 19, but it was caused by the Federal Reserve, which announced that day its quantitative easing program, i.e. its plan to purchase $1 trillion in long-term Treasuries and mortgage securities in order to stimulate the economy after a crisis. It shows that monetary policy and macroeconomic developments are much more important drivers of the gold prices than geopolitical events.
On March 26, 2010, a South Korean corvette ROKS Cheonan sunk, apparently due to a North Korean torpedo. The attack was described by the White House as an "act of aggression", which caused the deaths of 46 sailors and was one of the deadliest incidents between the rivals since the end of the 1950-53 Korean War. As one can see in the chart below, the price of gold rose after the incident, but it is hard to attribute the increase solely to geopolitics, as the yellow metal remained in its tremendous bull market.
Chart 5: Gold prices after sinking of ROKS Cheonan by North Korean torpedo on March 26, 2010.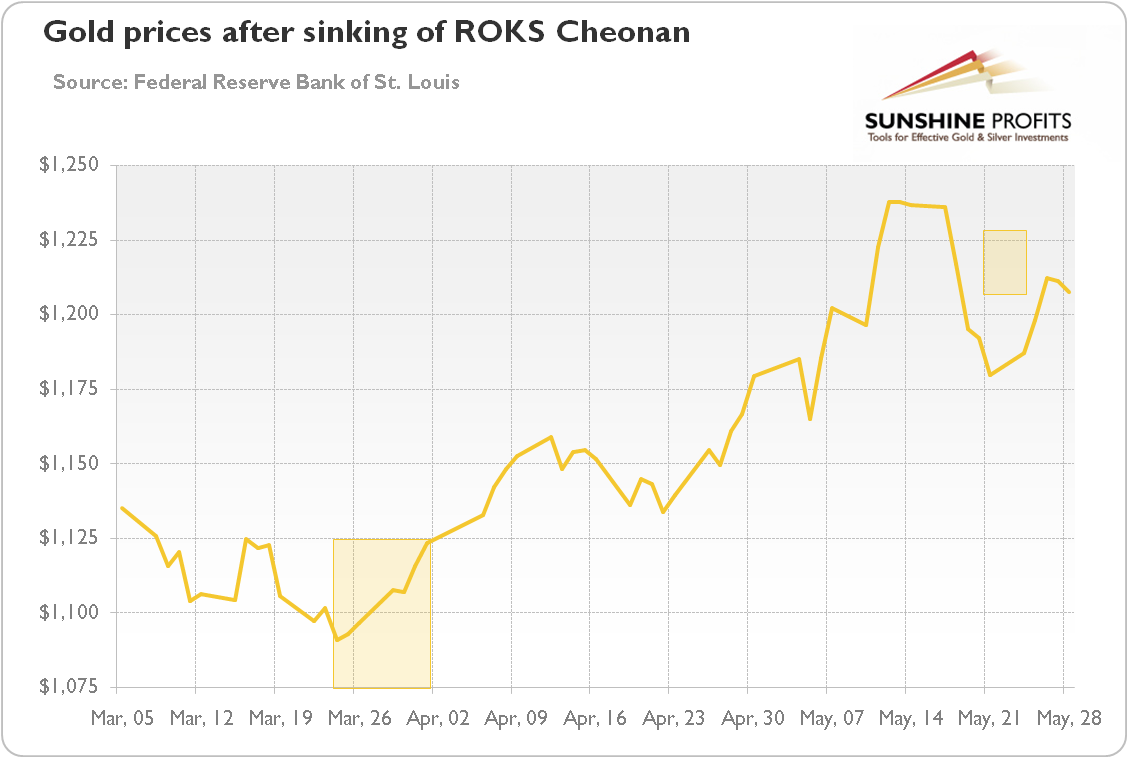 To sum up, the incidents related to North Korea have a poor track record when it comes to boosting the gold prices. Tensions around the Korean Peninsula sometimes lifted gold prices for a while, but the impact was usually temporary and limited. The conclusion is that the positive effect of geopolitical risks may only add some upward pressure to the underlying fundamental bullish trend, but they are usually unable to reverse bearish sentiment.
If you enjoyed the above analysis and would you like to know more about the impact of the geopolitical tensions on the gold market, we invite you to read the September Market Overview report. If you're interested in the detailed price analysis and price projections with targets, we invite you to sign up for our Gold & Silver Trading Alerts. If you're not ready to subscribe at this time, we invite you to sign up for our gold newsletter and stay up-to-date with our latest free articles. It's free and you can unsubscribe anytime.
Thank you.
Arkadiusz Sieron
Sunshine Profits' Gold News Monitor and Market Overview Editor
Gold News Monitor
Gold Trading Alerts
Gold Market Overview