Will John McAfee Have to Risk it All by 2020?
Catalin Zorzini Follow |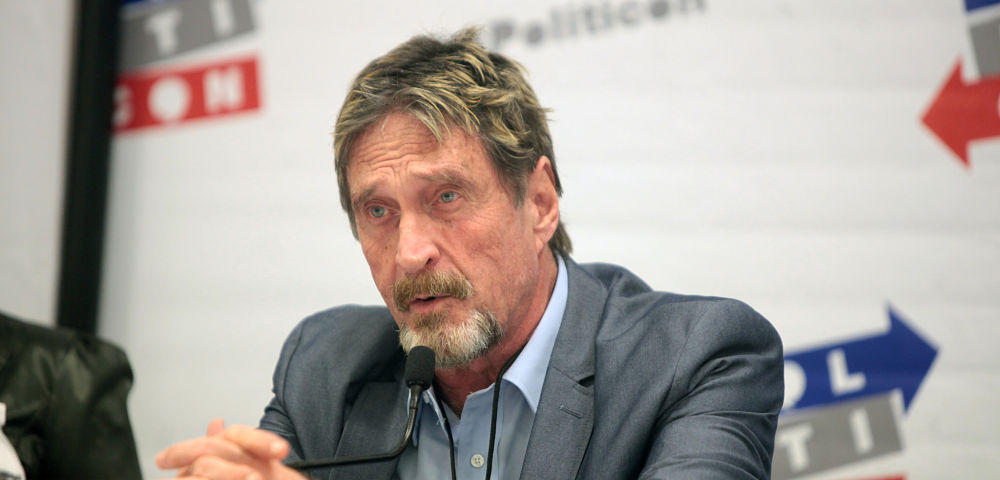 Image via Gage Skidmore/Flickr CC
John McAfee is a highly prominent figure in the cryptocurrency space. As a programming and cybersecurity expert, he has on several occasions proved to be worth his salt. With over 700,000 Twitter followers, he has established himself as the ultimate marketer for both established and fledgling cryptocurrencies.
In 2017, McAfee predicted that Bitcoin would be selling above $5,000 by the end of the year. As odds had it, the pioneer currency surpassed all the price predictions from other individuals as well by selling up to an all-time high (ATH) of almost $20k.
The hype, frenzy, and excitement that followed saw new predictions come into play from ordinary crypto followers, futurists, and field experts like McAfee. Initially, John predicted that Bitcoin would sell at $500,000 by the end of 2020. But after evaluating the model he used to forecast Bitcoin selling over $5000, he noted that the currency accelerated much faster, and this forced him to change his bet to $1,000,000.
Cryptocurrencies are a revolutionary technology that many believe have a bigger role to play in the global financial markets. They are not scams, bubbles, or hyped inventions from programmers, developers and hackers- as Wolf Street moguls like to put it. If you read widely about crypto projects, you'll come to realize that banks, governments, and other centralized bodies have been reaping a lot from you.
Nevertheless, judging by the current crypto markets, McAfee's prediction can appear a bit far-fetched. All crypto projects haven't been performing very well. Since March 2018, Bitcoin has had a hard time trying to cross the $10k mark once again. Other cryptocurrencies have not been able to move closer to their previous all-time-highs as well.
According to Bitcoin Price Prediction Tracker, a fan page started by a Bitcoin enthusiast to chart the performance of this currency with regards to McAfee's forecast, the king of all cryptocurrencies has been behind its target by 29.59% for over two months now.
It may be true that events like banning crypto-related ads by Facebook FB, Google GOOGL, Linkedin LNKD, and other social sites and the ever-looming cryptocurrency regulations may have affected them to some extent but that doesn't make McAfee's over-ambitious prediction justified.
Here is something that will make you second-guess this programmer's prophecy. In an interview with Cointelegraph, John was asked what made him deliver the solemn promise and he we went forth to say that it was an outright answer to "Will Bitcoin fall?". Clearly, his prediction did not surface from an analytical point of view.
Here is one Tweet John published and the response he got from other Twiterraties:
And here goes one of the replies from a user by the name of Crypto 99:
John gets things right most of the time, but on some days, his math gets a little too extrapolated. Despite the stats not being in his favor, the former founder of McAfee Associates is still holding his head high. His recent tweet shows that he will keep the end of the bargain in case things go south even though he doesn't see himself losing this bet.
Some Aspects of McAfee's Prediction Hold Up

McAfee can be controversial, but some of his sentiments hold water. His forecast of Bitcoin going past $500,000 or even $1 million can come to pass but his timeline is somehow short. If at the moment of this writing, Bitcoin was going for around $80-100k, John's prediction would look achievable.
Another thing that this cybersecurity expert got right is that the world's largest banks such as JP Morgan JPM and other powerful centralized entities are the reason to blame for the downtimes of cryptocurrencies. Instead of fighting this vibrant and resilient technology, fintech industries should find ways to leverage it or risk being driven into oblivion.
John also captured the future of cryptocurrencies accurately. Besides the usual statement "this technology is here to stay," this programmer sees a world dominated by cryptocurrencies. In that world, each niche will have its own crypto and swapping one coin for another will be possible. At the moment, we have crypto assets that deal with smart contracts (Ethereum), privacy (Monero), exchange (Ripple) and Basic Attention (for advertising).
Predictions from Other Cryptocurrency Ambassadors and Futurists

McAfee is certainly bullish on the leading cryptocurrency, but he isn't the only one. Jack Dorsey, an investor in the Lightning Tech for Bitcoin believes that the chief crypto would become the world's ultimate currency. Dorsey's prophecy was merely generic, and no figures were involved.
The Winklevoss Twins project that Bitcoin's value in the next 10 to 20 years will be 30-40 times what it is today. That translates to roughly 6 trillion and above. Roger Ver and Tim Draper have the same projection; $250,000. Although Ver sees that target being achieved any time, Draper's timeline is 2022.
Kay Van-Petersen, Tome Lee, MasterLuc/PentarhUdi, Michael Novogratz, Spencer Bogart, Jeet Singh, Llew Claasen, David Drake and several others are a few of the individuals whose predictions don't go above $100,000 mark.
Although all these influential individuals may be right, there is just no way one can accurately predict cryptocurrency markets. There are so many factors in play that make extrapolations utterly unreliable. Nevertheless, speculation has and will always remain to be a part of the crypto community.
The Bottom Line

A brief reading of Mcafee bio will reveal to you that he is not an ordinary man. His prediction of Bitcoin hitting $1 million by the end of 2020 may or may not happen. If it does happen, his prominence in the cryptocurrency world will go off the charts. If it doesn't come to life, despite his carefree spirit, his reputation will be affected. Above all, most of his ardent followers will be waiting for him to keep his word- eat his manhood on national television.
Catalin is the founder of Ecommerce Platforms and Unblock. He's a design enthusiast and loves matcha, and is uber passionate about Bitcoin and blockchain technology.
Stock price data is provided by IEX Cloud on a 15-minute delayed basis. Chart price data is provided by TradingView on a 15-minute delayed basis.
DISCLOSURE: The views and opinions expressed in this article are those of the authors, and do not necessarily represent the views of equities.com. Readers should not consider statements made by the author as formal recommendations and should consult their financial advisor before making any investment decisions. To read our full disclosure, please go to: http://www.equities.com/disclaimer.
Trending Articles
Investors Must Understand 5G Wireless Growth Wave: Jeff Kagan
'Goldilocks' Stocks Will Define This Decade
Market Movers
Sponsored Financial Content