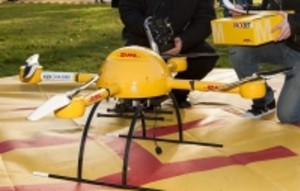 In the last four years a global race by leading companies to acquire drone technologies has reached an all time peak. Google (GOOG) acquired Titan Aerospace, Facebook (FB) bought Ascenta, Amazon (AMZN) bought Kiva Systems and sees drones as the future of their delivery services, DHL launched its first commercial drone 'parcelcopter' delivery service in Germany, while others are rapidly getting on board this race. This idea was first introduced two years ago by Amazon's CEO Jeff Bezos on CBS' (CBS) 60 minutes.
This July, Switzerland's postal service will begin testing parcel deliveries by unmanned drones, "with loads of up to one kilo over more than 10 kilometers with a single battery charge," 'Swiss Post' representative said in a statement.
The race is definitely on to a point where the Federal Aviation Administration (FAA) cannot remain indifferent to this change. On March of this year, the Federal Aviation Administration (FAA) had granted Amazon permission to begin testing a delivery drone prototype for its "Prime Air" service, aimed to deliver packages to Amazon's customers in less than 30 minutes from time of order. As of now the rules and regulations for Amazon's tests demand that drones fly no higher than 400 ft. (122 m), no faster than 100 mph (161 Km/h), and remain within the pilot's line of sight. These regulations will probably also serve as the base for any future commercial drone flight regulations.
One of the greatest challenges facing delivery companies like Amazon and DHL is convincing the FAA that drones can be handled safely in none line of sight (N-LOS), urban environments, and in low altitude. How then can drone delivery service companies overcome the challenge of none line of sight (N-LOS) and other challenges such as the requirement to command and control tens of drones every second on any allocated territory? Making sure commercial drones don't crash into passenger air crafts, helicopters, buildings, agricultural air craft, and each other; and making drones safe for public use by allocating approved air space for commercial vs. hobby drones is becoming an issue that can no longer be overlooked.
Furthermore, can we assure that all communications between drones and HQ are secure and impervious to hacking that would take control of the drones?
To overcome these challenges, wireless communications technologies for unmanned aerial vehicles (UAV) and drones are rapidly expanding to provide communications as well as command & control solutions. This is done by creating a private wireless network utilizing 4G and Mobile MESH technology secured with multiple layer security. The UAV wireless communications market was first initiated from a defense and military need and is now making its way to commercial and civilian applications at affordable costs. Civilian wireless UAV communications applications will dramatically overtake the market by 2020.
There are three common technology platforms for UAV wireless communications solutions: WiFi, WiFi MESH, and Cellular and 4G Mobile MESH. Each platform delivers its own unique added values and features. While some will depend on local wireless infrastructure others operate as an independent entity and create their own private infrastructure. Moreover, while some deliver point-to-point communications, others can deliver unicast, broadcast, and multicast options to create a robust drone network.
With each drone equipped with a small form factor wireless communications unit, all communication types can be supported on a single bi-directional communication channel including transcieving from multiple-point to multiple-point: flight control, telemetry, as well as play load control and distribution operators and other units in the area.
Drones and UAVs' can be controlled and viewed by multiple operators from different sites, enabling longer distances per drone where each operator controls a portion of the distance before handing to the next operator.
So the answer is yes. Google, Amazon, and DHL will depend on wireless communications for their next revolution and are already outpacing the regulations. Wireless communication regulation seems to be one of the missing links between the available technologies and carrying out the unmanned delivery revolution. To bridge over this gap the FAA is in the process of approving none line of sight (N-LOS) drone operations and announced a couple of research projects aimed at demonstrating their safety. The agency will take part in three new research projects with industry partners in the months ahead. Two of the projects will be aimed at better characterizing N-LOS operations and demonstrating the technologies underpinning such flights while also establishing safety and performance data the agency can integrate into its rule-making process.
DISCLOSURE: The views and opinions expressed in this article are those of the authors, and do not represent the views of equities.com. Readers should not consider statements made by the author as formal recommendations and should consult their financial advisor before making any investment decisions. To read our full disclosure, please go to: http://www.equities.com/disclaimer