China may slow down its U.S. debt buying. Will gold rally or plunge, then?
Dragons Love Hoarding Gold and Not Only
Dragons love gold. In Greek mythology, dragons were set by the gods to guard golden treasures. It makes perfect sense, since it would be rather difficult to find better guards. Everybody who watched The Hobbit series knows that this is true – the powerful Smaug hoarded a lot and was really obsessed with his shiny treasure.
The Chinese dragon is also believed to hoard a lot of gold. With more than 1,800 tons of gold officially owned, China has the fifth largest gold reserves in the world (and many analysts speculate that the country's true gold reserves might be much higher than the official number). The impact of Chinese holdings on gold prices is rather questionable, but the importance of China's economy for the global markets is beyond doubts. Three years ago, the stock market crisis in Shanghai caused the global stock market sell-off in August. 2016 started with a Chinese bang, when the global stock markets – worried about an economic slowdown in China – plunged.
Will China Dump U.S. Treasuries?
Now, concerns arose that China could stop or slow U.S. Treasuries buying. Is there anything to worry about? Yes. And no. Let's see. China is one of the largest official holders of U.S. assets and world's biggest foreign holder of U.S. Treasuries. As one can notice in the chart below, China's foreign reserves excluding gold exceed $3 trillion.
Chart 1: China's foreign reserves excluding gold from 1980 to 2017.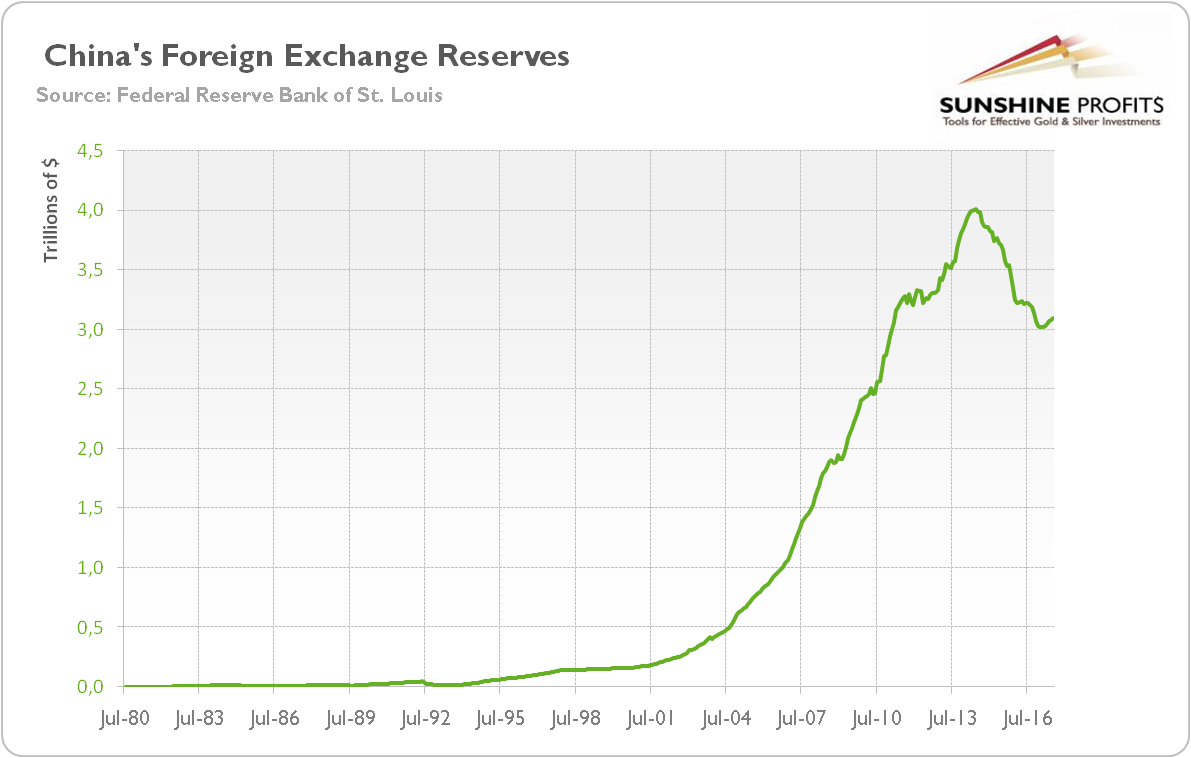 According to Bloomberg, "senior government officials in Beijing reviewing the nation's foreign-exchange holdings have recommended slowing or halting purchases of U.S. Treasuries". The report sent U.S. Treasury yields higher. As the next chart shows, the yields had already been rising due to less intense buying from central banks and the expectations of widening fiscal deficits. On Wednesday, the 10-year Treasury yield jumped even further, reaching a 10-month high.
Chart 2: Price of gold (yellow line, left axis, London P.M. Fix, in $) and yields on 10-year Treasuries (red line, right axis, in %) over the last twelve months.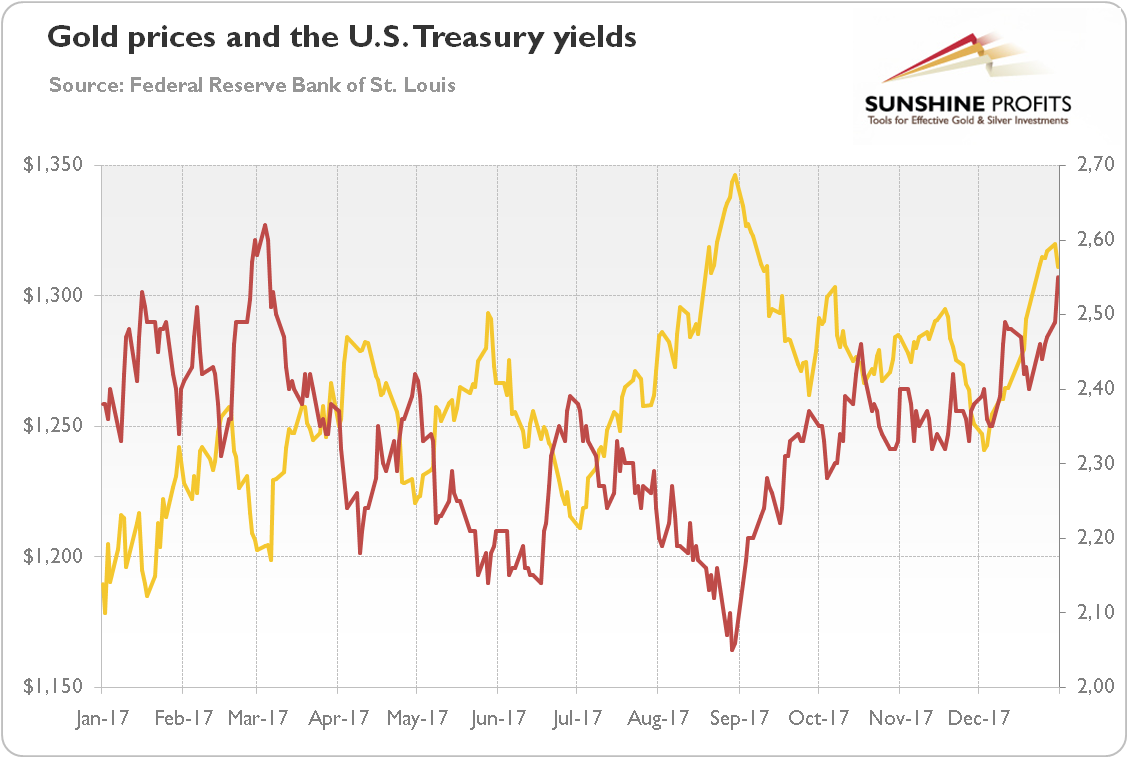 Implications for Gold
What does it all mean for the gold market? Well, rising bond yields should be negative for the yellow metal, which does not bear any interest and becomes less attractive when rates are climbing. Bill Gross claims that a bear market in bonds has begun. As the U.S. Treasuries are also considered a safe-haven, such a change could sink gold prices as well.
However, we cannot end the analysis here. Most analysts do so, as they focus on simple correlations. People are not aware that relationships may change depending on the broad economic context. We are. Look at the chart above. In December, the correlation between 10-year Treasury yields and gold prices turned positive.
Why? You see, what really matters is not the change in yields, but the reason behind it. When bond yields rise because investors expect faster economic growth, it is clearly bad for gold. But when bond yields jump as traders are afraid of inflation or don't want to hold the U.S. dollar, it doesn't have to be negative for the yellow metal. Actually, the opposite might be true.
Conclusions
On Wednesday, concerns emerged that China could stop or slow their buying of U.S. Treasuries. We believe the fears were slightly exaggerated, as China has to manage its renminbi exchange rate, so large changes to the composition of the foreign exchange reserves are not likely (we wrote about China and the gold market in the October edition of the Market Overview). Nevertheless, bond yields have been rising recently, which should make gold struggle. This hasn't happened yet and the correlation between bullion and Treasury yields broke down thanks to the depreciation of the U.S. dollar, which supported gold prices.
However, if rates continue to rise, the price of gold should eventually drop, especially when the greenback rebounds. Please be aware of that. We have analyzed the drivers of the gold market thoroughly and real interest rates are among the most important factors. The positive correlation may last a while, but the current situation is unlikely to last in the long term. Either rates drop and gold continues to drop, or yields continue its upward move and the yellow metal declines. Given the current economic environment (solid economic growth, monetary policy tightening), the second scenario is more likely to us. You have been warned. Good luck!
If you enjoyed the above analysis, we invite you to check out our other services. We focus on fundamental analysis in our monthly Market Overview reports and we provide daily Gold & Silver Trading Alerts with clear buy and sell signals. If you're not ready to subscribe yet and are not on our gold mailing list yet, we urge you to sign up. It's free and if you don't like it, you can easily unsubscribe. Sign up today.
Disclaimer: Please note that the aim of the above analysis is to discuss the likely long-term impact of the featured phenomenon on the price of gold and this analysis does not indicate (nor does it aim to do so) whether gold is likely to move higher or lower in the short- or medium term. In order to determine the latter, many additional factors need to be considered (i.e. sentiment, chart patterns, cycles, indicators, ratios, self-similar patterns and more) and we are taking them into account (and discussing the short- and medium-term outlook) in our trading alerts.
Thank you.
Arkadiusz Sieron, Ph.D.
Sunshine Profits' Gold News Monitor and Market Overview Editor
Gold News Monitor
Gold Trading Alerts
Gold Market Overview