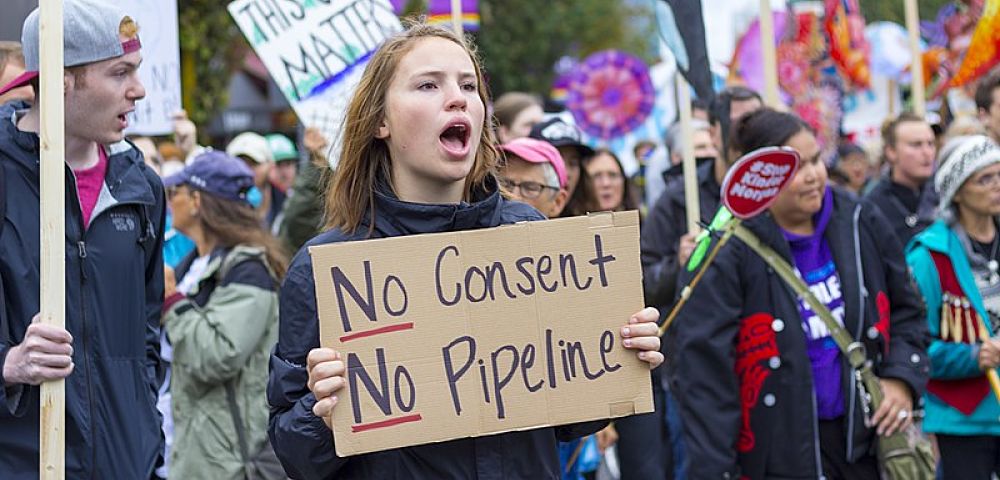 Image via William Chen/Wikimedia
Reuters reports that Canadian pension funds may be long-term buyers of Kinder pipeline:
Canada's biggest public pension funds could be long-term buyers of Kinder Morgan Canada Ltd's Trans Mountain pipeline but are unlikely to invest until the $7.4 billion project has been built, several pension fund sources said on Tuesday.

The Canadian government said on Tuesday it will buy the Trans Mountain assets for $4.5 billion, hoping to salvage a project that faces formidable political and environmental opposition. The pipeline is intended to move Canadian crude to ports in the Vancouver area for shipment to foreign markets.

Although the federal government has taken stakes in other struggling energy projects, Tuesday's announcement marked the first time it is being an entire pipeline, and Ottawa said it does not want to hold the asset for the long term.

Frank McKenna, Toronto-Dominion Bank's deputy chairman and a former New Brunswick premier, said he expected pension funds and private equity players to be interested in the asset as well as other pipeline or infrastructure players.

"I think there will be a lot of private sector interest in this project once the political risk is taken out of it. These are very desirable assets. They pay good economic rents and they're long-life assets," he said. TD is the biggest lender to the project.

The Canada Pension Plan Investment Board, Canada's biggest public pension plan, said on Tuesday it was "not actively assessing an investment in the extension opportunity."

The Canadian government could bring in partners to help finance the expansion, according to pension fund sources. However, it is unlikely to do so through its Infrastructure Bank, set up last year to facilitate public-private partnerships but not yet operational, they said.

Canadian pension funds have a long-held preference for buying assets that are already built rather than those with construction risks, and the reputational risk associated with the project could also be a turnoff.

With that in mind, pension fund sources said the federal government may have to hold the asset for a number of years to eventually attract the best price and give it the best chance to recover money for taxpayers, or even make a profit.

Caisse de depot et placement du Quebec, Canada's second biggest public pension and Kinder Morgan Canada's biggest independent shareholder, has shown the most appetite for financing the construction of new infrastructure among Canada's biggest pension plans. It declined to comment.

Ontario Teachers Pension Plan, Canada's third biggest public pension fund, did not immediately comment.
And Scott Deveau, Kevin Orland and Josh Wingrove of Bloomberg News report, Trans Mountain seen drawing pension funds or returning to Kinder Morgan:
So now Justin Trudeau owns a pipeline. Who will take it off his hands remains an open question.

Canada said Tuesday it would buy Kinder Morgan Inc.'s Trans Mountain pipeline, with its expansion project and shipping terminal, for $3.5 billion before eventually selling the project to a new buyer. Finance Minister Bill Morneau, speaking Tuesday in Ottawa, said it was too soon to say if Canada would sell in the short or medium term, but didn't want to hold the project in the long term.

Finding a buyer for Trans Mountain could be tricky amid ardent opposition from British Columbia, the Pacific Coast province it crosses, along with environmental and some indigenous groups. That opposition was enough to make Kinder throw up its hands and halt construction last month. Even as Morneau struck an upbeat tone on the potential pool of buyers, he didn't give a specific time frame for a deal.

"Many investors have already expressed interest in the project, including Indigenous groups, Canadian pension funds, and others," he said.

One analyst floated another potential home: Kinder Morgan itself.

Canada's purchase may "'be a vehicle to indemnify the project against regulatory risk," Katie Bays, an analyst with Height Securities LLC in Washington, said in a telephone interview. "Once the construction is complete or once regulatory risk evaporates, whichever comes first, the project could be repurchased by Kinder Morgan."

Kinder Morgan Canada, the unit that raised C$1.75 billion (US$1.3 billion) for the project in an initial public offering last year, declined to comment on the speculation.

PRIVATE EQUITY

If Kinder doesn't want it back, some investors have shown interest in the project in the past.

Before deciding on taking the Canadian unit public, Houston-based Kinder Morgan ran a dual-track process that also entailed exploring a joint venture of the pipeline project. That possibility attracted interest from U.S. private equity firm ArcLight Capital Partners and Australia's IFM Investors Pty Ltd., people familiar with the matter said at the time.

Brookfield Asset Management Inc., which was said to be another bidder on the joint venture and eventually became one of Kinder Morgan Canada's largest investors, could be a potential partner in Trans Mountain now. The Toronto-based alternative-asset manager already has a joint venture with Kinder Morgan, Natural Gas Pipeline Company of America, through its publicly traded Brookfield Infrastructure Partners. A representative declined to comment.

Among pension funds, the Ontario Municipal Employees Retirement System and the Alberta Investment Management Corp. could also be interested in the project. OMERS' infrastructure arm is invested in several pipeline assets, including the Czech Republic's NET4GAS sro, CLH Pipeline System in the U.K. and Spain, as well as the U.K.'s Scotia Gas Networks.

MIDSTREAM VETERAN

OMERS also appointed Michael Ryder as the senior managing director of its infrastructure unit, OMERS Infrastructure. Ryder joined in January from U.S. private equity giant Blackstone Group LP, where he was responsible for leading the firm's midstream energy and oilfield services investment strategy. A representative for the fund declined to comment.

AIMCo, as the Alberta fund is known, is supportive of measures to boost investor confidence and address market uncertainty, Denes Nemeth, a spokesman for the fund, said in an email, while declining to comment on whether AIMCo would be interested in investing in the project.

Canada Pension Plan Investment Board, the country's largest pension fund, said in an emailed statement it was not "actively assessing an investment in the extension opportunity."

LARGEST INVESTOR

Meanwhile, Caisse de Depot et Placement du Quebec, Canada's second-largest pension fund, last month disclosed holdings of 10.2 million shares in Kinder Morgan Canada, making it the largest investor outside of its parent company. A spokesman declined to comment on whether the Caisse would consider an investment in the Trans Mountain pipeline Tuesday.

Caisse Chief Executive Officer Michael Sabia told reporters last week in Montreal that the Kinder Morgan investment was made prior to the pension fund announcing a new strategy in October to reduce its holdings in carbon-intensive industries in favor of renewable energy. He said last week that the Kinder Morgan Canada investment, along with all future investments, would be reviewed in light of the new policy.

After Kinder said it was halting work on the project until it had more certainty, the province of Alberta was named as a potential buyer for all or part of the project. Premier Rachel Notley said at the time that the province would consider all options for ensuring the project was built. "At this point, we don't think that's necessary," she said Tuesday.

OTHER PROJECTS

Canada's other major pipeline operators are not seen as likely to enter the fray, either. Enbridge Inc. and TransCanada Corp., both based in Calgary, already operate major pipelines that carry oil-sands crude, and both are enmeshed in their own major projects. TransCanada's proposed Keystone XL pipeline has battled delays for roughly a decade, and Enbridge's Line 3 replacement and expansion still hinges on a critical regulatory ruling in Minnesota.

TransCanada spokesman Grady Semmens said in an e-mailed statement that the company isn't involved in discussions about the Trans Mountain pipeline, and that it won't comment further about speculation on the project. Suzanne Wilton, a spokeswoman for Enbridge, said the company is focused on its C$22 billion growth program and would not speculate on the project.

BAD TIMING

The time is not right for either company to take on a project like Trans Mountain, said Laura Lau, who helps manage C$1.5 billion in assets, including shares of TransCanada and Enbridge, at Brompton Corp. in Toronto. Enbridge has been selling assets to help whittle down debt it took on in last year's purchase of Spectra Energy Corp. TransCanada would be more able to buy it, but the company had its credit rating cut by Standard & Poor's earlier this month, she said.

The purchase also would distract and draw resources away from their current projects, which Lau said she's optimistic will go through.

"If they buy Trans Mountain, they have to not do something else," Lau said in an interview. "There's only so much money to go around."
You read these articles and you can tell there definitely is a lot of interest in this project from Canada's large pensions.
But before they invest one cent, they need to know the project is up an running, which means there won't be any construction or regulatory risks.
The good news is that even though the Canada Infrastructure Bank isn't operational yet, this week, Pierre Lavallée was appointed as the organization's incoming President and Chief Executive Officer:
On behalf of the Board of Directors, Janice Fukakusa, Chair of Canada Infrastructure Bank, today welcomed Pierre Lavallée as the organization's incoming President and Chief Executive Officer (CEO), effective June 18, 2018.

As CEO, Mr. Lavallée will lead Canada Infrastructure Bank's strategy and day-to-day operations, and report to the board.

Over the last six years, he has held various roles at Canada Pension Plan Investment Board (CPPIB), most recently Senior Managing Director & Global Head of Investment Partnerships, where he led a team managing approximately $94 billion of assets. Prior to joining CPPIB, Mr. Lavallée was Executive Vice-President at Montreal-based Reitmans (Canada) Limited and a Partner with Bain & Co., where he worked for more than 18 years, including several years as Managing Partner for Canada. In addition, he has previous international trade experience in Ottawa and Japan.

"With an exceptional combination of investment and public-sector expertise, Pierre is well placed to set the strategic course and direction of Canada Infrastructure Bank and develop a high-performing management team," said Ms. Fukakusa.

"I am excited to build a team and start working with the board, private and institutional investors and public-sector proponents on innovative transactions to develop new infrastructure projects for Canadians," said Mr. Lavallée.

As announced earlier, Canada Infrastructure Bank appointed Annie Ropar to the position of Chief Financial Officer and Chief Administrative Officer, effective June 1, 2018.

With the appointment of these key leaders, Canada Infrastructure Bank is building the expert team, systems and processes needed to make investments, advise governments across Canada on revenue-generating infrastructure projects, and collect and share infrastructure data to enable more effective decision-making.

Bruno Guilmette, who has been serving as interim Chief Investment Officer, will return to the board on June 1, 2018 and will continue working with the incoming Chief Executive Officer during the leadership transition. Mr. Guilmette was appointed to the board of directors in November 2017 and stepped down temporarily while serving as interim CIO.

"I wish to sincerely thank Bruno for his leadership in building up the investment and advisory capabilities of Canada Infrastructure Bank," said Ms. Fukakusa. "He has set a solid foundation for further advancing the bank's internal capacity for its investing, advisory and data roles."

About Canada Infrastructure Bank

Canada Infrastructure Bank uses federal support to attract private sector and institutional investment to new revenue-generating infrastructure projects that are in the public interest. By engaging the expertise and capital of the private sector, the Bank will help provide more infrastructure for Canadians. www.canadainfrastructurebank.ca/
This is very good news. Mr. Lavallée has tremendous experience and he will hit the ground running. It might be too soon for the Trans Mountain deal but they will eventually look at it and probably begin by financing the Caisse's REM project first since commitments were already made by the federal government.
It's also good news that Bruno Guilmette is returning to stay on as the interim CIO. I worked with Bruno at PSP when he was head of Infrastructure. He really knows his stuff and will be instrumental in helping this organization ramp up.
Now, my hunch is the two main Canadian pensions interested in this project are AIMCo and OMERS and they can very well partner up to invest in it. AIMCo is independent of Alberta's government but it must want first dibs on a prized pipeline which will be the economic lifeblood of that province.
OMERS has a lot of experience managing pipelines so it would be a great partner to AIMCo on this deal if they were to buy it (the dollar amount would be too much for either pension to go it alone).
I thought the Caisse would be interested because let's face it, it has a great team in place to take over the construction of this pipeline but given that it wants to reduce its carbon footprint, I'm not sure it wants to get involved (but it's too bad since this is a great project for the Caisse's REM team to consider, minus all the political and regulatory hurdles).
I'm pretty sure CPPIB and OTPP aren't interested in this project, not at this time as there are too many risks. They prefer investing in brownfield projects (CPPIB) and will only invest in greenfield if they have a specialized team in place to help them manage the asset (OTPP).
All this to say, there is a lot of chatter on Canada's pensions investing in the Trans Mountain pipeline deal but I think we need to wait before jumping to any conclusions.
I guarantee you no Canadian pension will invest in this project unless they get the right terms to fulfill their fiduciary duty and achieve the return objective. Moreover, as you can read above, competition is intense because Brookfield Asset Management also expressed an interest and that firm is a global leader in infrastructure.