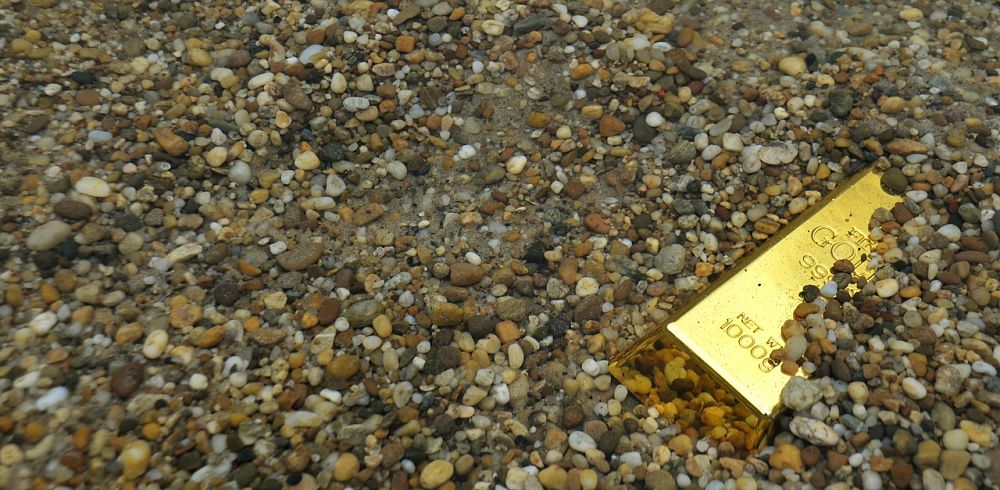 As investor interest in the resource sector continues its steady recovery off bear-market lows, companies with best positioned to thrive are those with quality assets and viable projects in their portfolios. With its increasingly promising high-grade projects in Montana and Arizona, Winston Gold Mining (WGC:CNX)(WGMCF) is certainly one name that pops up. The company's Winston Project in The Treasure State continues to suggest that it could be on to some very big, with four significant veins in Custer, West Edna, Parallel and Block 93, as well as a potential fifth that's yet to be named.
While the company has been relatively quiet in recent months, it certainly seems that management is keying in on some major milestones heading into the final stretch of 2017. Equities.com caught up with, to get an update on the company's Winston Project, the next steps for its drill programs, and how emphasizing on high-grade, low-cost gold production has been a winning strategy for the company.
EQ: To start, can you provide us a brief overview of Winston Gold Mining and your operations?
Nye: Winston Gold is a junior mining company with two primary properties. One property is located in the Winston District of Montana, which is where the name comes from, of course. The other property is known as the Gold Ridge Property, which is in Arizona.
Up to this point, we have been almost solely focused on the Winston claims. It's about 20 miles to the southeast of Helena, Montana, which is the state capital. We've had a concentrated drill program in that area and we've identified four high-grade veins on the property so far. We're in the process of trying to raise additional capital to continue to drill and possibly do a bulk sample down the road.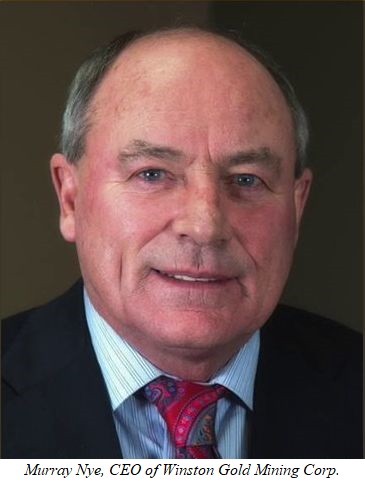 EQ: Montana has rich history in gold production, which bodes well for Winston. Can you talk about the grades that you're finding there and some of the opportunities that you see?
Nye: They're very high-grade veins by any standard. We have four areas. The Custer Vein, which was the primary vein on the property, was mined continuously on a strike of about 2,400 feet in the late 1800s, basically to the 350-feet level of that mine. We believe there is a lot of potential below that. We did some drilling this winter and we were able to identify some very high-grade material in and around the shaft area. We have about 200-plus feet of strike in that zone that hadn't been mined, and it looks like the vein is roughly four to five feet wide, and it runs pretty close to 0.5 ounce per ton (opt) gold. Another area that we have tried to focus on was the West Edna Vein. We have a lot of drill data in that area. It's a three-foot wide vein and runs in the 0.3 opt gold range on average.
The Parallel Vein is another area we focus on, and it runs parallel to the Custer Vein, and is about 150 feet away. We've got a few drill holes into that vein, combined with some historic drilling that was done between 1985 and 1993. From that, we've identified the vein to be roughly four feet wide so far, and it runs pretty close to 0.5 opt gold as well. While trying to drill the Parallel Vein, we actually encountered another vein very close to surface, which we've named the Block 93 Vein. It's another three-to-four-foot wide vein that runs about a 0.3 opt gold. That got us very excited because it's so close to the surface and the opportunity that presents.
EQ: All these high-grade veins, as you mentioned, run pretty close in proximity to one another.
Nye: Yes, and at the very end of the property, between the Parallel and the Block 93 Veins, we hit soil which we probably can't call a vein yet, but we have had a couple of intersections in that area. It runs about a third of an ounce, and I'm pretty excited.
So, the proximity of the West Edna Vein, the one vein we've not named, the Parallel Vein, and the Block 93 Vein are all very close to one another, and they're all trending in a direction where they might meet. I can't say that for sure, but it certainly looks interesting. Because of the way it's set up with the topography, we can basically drive a very shallow decline into that area, roughly at a 15% grade and possibly get in there to do a bulk sample. In the near future, we hope to even do some test mining.
EQ: Winston Gold describes itself as high-grade, low-cost, near-term gold production company. You have laid out some of the key criterias that you look for in your projects, and obviously the ones in your portfolio right now fit the bill. Can you tell us more about your approach how it's work for you?
Nye: We have spent a lot of time drilling these veins, and because they are so narrow, it takes a lot of drill data to come up with any kind of resource or any kind of period of time. Our ideas are to drill for structure and mine for gold. That's how we operated Drumlummon Gold Mine in Montana. We thought that the way things are set up right now, we would like to do another small drill program on this property right around Block 93, and possibly extend the strike link of that vein. We think we can double the strike link on it with a small drill program, and then possibly drive a shallow decline into that area.
Because of the proximity to the Edna, the Parallel and the Block 93, we think that by cross cutting one vein, we could start a couple of headings on some material that might run commercially in one section. Then, in the Parallel Vein area, as we take the decline down a little further, we think we can access that area and establish another couple of headings on that material.
As a result, we think we can very quickly be in a position where we're hauling out maybe 100 to 150 tons a day of material that we get to use for our bulk sample, and hopefully it would run on the grade that we think it will run on a continuous basis. That will offset a lot of the expense that we'll incur as we explore this. Also, by putting a decline for the bulk sample, it would give us a great opportunity to drill from underground, which we think would be a lot more efficient as far as hitting some of these things. We have an indication there that is very close to where that area is, and it would be a lot less costly than drilling from surface.
---
---
EQ: The company arranged a $2 million debenture offering in June, which you touch on earlier. Where do you currently stand in terms of capital needs and executing for 2017 and beyond?
Nye: We're in the process of debenture release, and some of those funds are starting to come in now. It's been a little bit of a slow start, but it's starting to get a little bit better in that area. We also talked to several parties about an equity raise as well for just enough to get the drill program established, and then see how the debenture goes. If we can get the drilling started, that will precipitate a lot more money coming in as far whether we're successful in that, putting the decline in and looking to add a test mining situation or bulk sample.
EQ: Gold has been on an upward trajectory for the most part year-to-date. There's been some volatility, but it's certainly picked up from where it was in previous years. How has this impacted you?
Nye: We certainly like the price, and what it does for us is it helps as far as fundraising is concerned for the entire space. That is the biggest advantage for us because, if people are keying into this area, then you have a better chance of raising money, of course. Because of the grades we're looking at, we see our cost being very reasonable as far as production. Even on a test mining basis, we think that we can produce an ounce well below the $1,200 range. We think we can generate some cashflow off of that. So, it's very nice to see the price of gold going up, because in our minds it would all fall right to the bottom line, and it certainly helps us in raising money.
EQ: What are some key advantages that Winston Gold looks to leverage as you continue to execute your strategy?
Nye: There are several things. The grade is number one because, obviously, the higher the grade material you're working with the fewer tons you have to move to create an ounce of gold. That obviously translates to a lower cost scenario. Being in the United States, we believe the jurisdiction that we're in is key because it's very safe and there is a lot of infrastructure in place already. There is a major highway going within a half a mile of the property. That is a very strategic advantage when you're trying to get people or materials in and out of the area. There is also a major powerline going right through the middle of the property. If there is some infrastructure to be developed in there, it's going to be at a much lower cost than at other mining areas because the power is right there.
We believe that the state of Montana is very mining friendly and the regulations are reasonable. The permitting process is reasonable. There is a sizeable mill not too far away from where we are, and we have contacted them about possibly milling some material for us if we get in that space. That's very handy for the property here and there wouldn't be the capital cost of building our own mill. Because of the topography, any CapEx cost as far as developing the property is going to be very low by mining standards. So, we think we can test mine our bulk sample and promote what we think is a very viable operation.
EQ: In terms of the company's milestones going forward, what are some meaningful milestones investors should watch for as they follow Winston Gold's progress going forward?
Nye: I think getting us to a bulk sample would be a big story. We've been saying all along that we think this thing could be commercially viable, and I think a bulk sample would tell us that in spades. I'm quite excited about the previous drilling done here and the way that it's all shaping up. We've got a very good mining opportunity ahead of ourselves, and that's what we'll be focusing on for sure.
We're planning a 10-hole drill program, targeting primarily the Block 93 Vein. What we're trying to do there is establish a little further strike link on that, and if we're successful, then that it gives us a very good indicator of where we could put that decline I mentioned earlier. This program is designed to tell us exactly where to put that decline, and give us some data on the depth of the Parallel Vein. As far as the West Edna Vein, there are a couple of areas that we haven't drilled yet that we think could turn out very well, and the possibility of it intersecting with the "No Name Vein" right now. We've got a little bit of strike on it, but some of those holes are possibly going to pass through that area. Maybe they'll link to that as well, but that is basically what the program is designed to do.
Furthermore, we may possibly do some work on the Gold Ridge or do a joint venture on that as well.
EQ: That's great. Do you have any final takeaways or closing thoughts for readers to better understand Winston Gold?
Nye: Well, I think our stock is currently very undervalued. We've got a market cap of a little over C$3 million. I know we did get overvalued when the stock got up into the low C$0.60 range, but I think it's oversold right now, especially if we can raise some funds to do some of the things that I've been talking about. It's a very good opportunity as far as where the price is now and where the company is at, in my opinion.
More generally, if we're successful with our drill program — and I have no reason to believe that we won't be — I think we can go to the investment community and show them exactly where we can put this decline, the kind of material we can haul out of that area, and how many tons of it per day. We think we have some good data on that and it will get us into that test mining phase that I discussed earlier. I think we could be very successful in demonstrating that this can be a viable gold mine going forward.
---
In the interest of full disclosure, we call the reader's attention to the fact that Equities.com, Inc. is compensated by the companies profiled in the Spotlight Companies section. The purpose of these profiles is to provide awareness of these companies to investors in the micro, small-cap and growth equity community and should not in any way be considered as a recommendation to buy, sell or hold these securities. Equities.com is not a registered broker dealer, investment advisor, financial analyst, investment banker or other investment professional. We are a publisher of original and third party news and information. All profiles are based on information that is available to the public. The information contained herein should not be considered to be complete and is not guaranteed by Equities.com to be free from misstatement or errors. The views expressed are our own and not intended to be the basis for any investment decision. Readers are reminded to do their own due diligence when researching any companies mentioned on this website. Always bear in mind that investing in early-stage companies is risky and you are encouraged to only invest an amount that you can afford to lose completely without any change in your lifestyle. Equities has been compensated with cash, common shares and/or warrants for market awareness services provided.

DISCLOSURE: The views and opinions expressed in this article are those of the authors, and do not represent the views of equities.com. Readers should not consider statements made by the author as formal recommendations and should consult their financial advisor before making any investment decisions. To read our full disclosure, please go to: http://www.equities.com/disclaimer