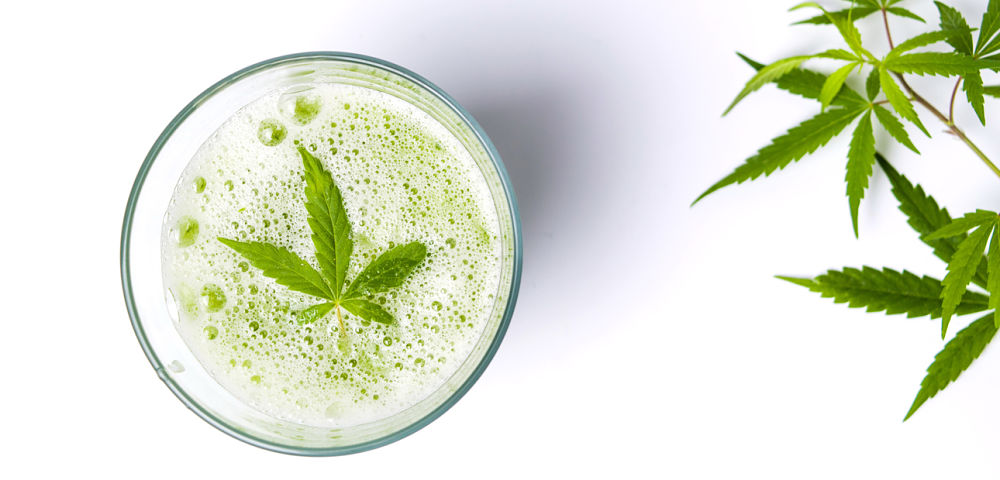 The cannabis industry has been one of the most dynamic markets to invest in over the last few years. The industry has experienced a tremendous growth with the U.S. playing a critical role. Canada too has been one of the leading countries in terms of cannabis legalization, and recent developments in the market have seen the industry attract more players including top brands like The Coca-Cola Co (KO).
Last week, the world's largest beverage brand, announced that it was exploring the possibilities of launching drinks infused with CBD, the non-psychoactive ingredient in marijuana that can treat pain without getting the patient high.
Reports indicate that the soft drinks maker is in talks with Canadian marijuana producer Aurora Cannabis (ACB:CA) to make the beverages. In a statement sent to Bloomberg News, Coca-Cola spokesman, Kent Landers said that the company was "closely watching the growth of non-psychoactive CBD as an ingredient in functional wellness beverages around the world."
Non-psychotic CBD has become one of the most interesting extracts of the cannabis plant as its applications in various markets continue grow. In a recent article, I discussed the opportunities the U.S. cannabis market presents to the industry due to medical cannabis and recreational marijuana. And now, with top beverage brands looking to disrupt the beverages market amid declining soft drink sales, this could trigger another catalyst for the cannabis industry as whole.
Since the Coca-Cola-Aurora news broke, some cannabis stocks have been on a rally. The Toronto Stock Exchange-traded Aurora has since broken through the 200-Day MA and looks set to maintain that trajectory through this week as cannabis market continues to receive positive sentiment from all angles.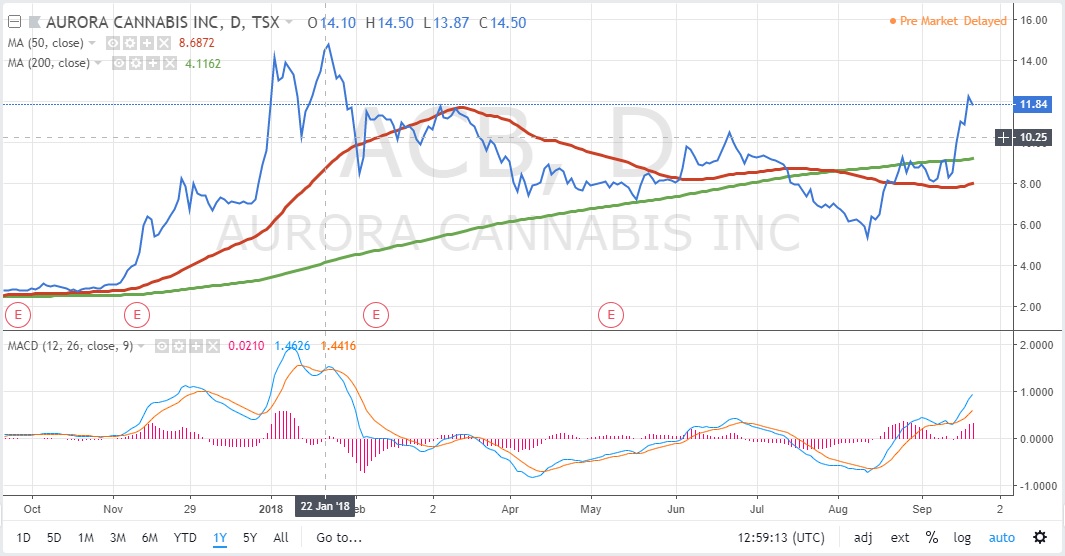 Technical chart via Trading View
Shares of Cronos Group (CRON), which had recently plunged 10% have surged 40% to trade at $14 per share while Canopy Growth (CGC) rebounded to continue with its bullish run, which began in August.
Optimism in the Cannabis market has been high this year
While last week was particularly crucial for some cannabis stocks like Aurora, the cannabis industry in general has experienced optimism in the last few months with developments in medical cannabis and recreational marijuana driving growth.
A few months ago, GW Pharmaceuticals (GWPH) Epidiolex drug approval by the FDA opened doors for more pharma companies to launch exploratory studies with higher expectations and this wind of optimism has sipped through the entire industry with investors in cannabis stocks now more bullish than they were a few years ago when the industry seemed to be undergoing a temporary slowdown.
Now the industry seems to have added a major vertical to its major growth catalysts with beverages potentially joining medical cannabis, recreational marijuana and industrial hemp. There seems to be a lot more in cannabis plant than what is already common knowledge out there. Cannabinoid products developers are also exploring opportunities in cannabis flavonoids. Flavonoids are widely found across several plants and according to research, they provide certain benefits to the human body including skin health, brain function, blood sugar and blood pressure, among others.
Weed-fused beverages: It is not just about soft drinks, beer too
The beverages segment is particularly very interesting because with soft drinks now being considered for disruption, this will add to the already disrupted beer market.
A few months ago, one the first ever pure-play cannabis beer companies California Dreamin raised $2.3 million from top investors that included Y Combinator, the first investor in Airbnb and Dropbox, Paul Buchheit, creator of Gmail, and Justin Wong, former Twitch VP, among others.
California Dreamin plans to use the raised capital to expand production and distribution across California to meet increasing consumer demand. And now, market players in the beer market are talking about cannabis craft beer, craft cannabis farming as they seek to target specific customers in the industry.
The cannabis industry seems to be witnessing one of the most impressive rallies over the last few years and this can be attributed to what now looks like a clear industry-wide acceptance. Governments, Food and Drug regulatory bodies, startup investors, venture capitalists, consumers and even medical practitioners appear to have embraced one or more products of the cannabis plant.
Therefore, the beverage segment of the market could witness substantial growth in the coming years because once you have the consumer-side of the market on your side, the top lines and subsequently the bottom lines of leading companies in the market will experience growth. And most importantly, with top companies like Coca-Cola only pursuing opportunities in non-psychotic CBD, it shouldn't take long to convince soft drinks consumers to buy the new cannabis-fused drinks.
Bringing in big brands like Coca-Cola also provides the cannabis industry with invaluable brand awareness globally, given the footprint of the giant soft drinks maker.
Conclusion
In summary, cannabis-fused beverages only needed a huge brand in the beverages industry to trigger a game-changing campaign that could boost other segments of the industry. In simple terms, consumers would be asking themselves, "if it is in soft drinks, why not embrace the other products of the cannabis plant?''