As was widely expected, the second estimate of US Q1 2015 GDP flipped the initially reported slight growth (0.2% seasonally adjusted annual rate) to a small contraction (-0.7%). This was actually less of a dip than the -0.9% read analysts expected, but a dip nonetheless. And with it came media suggestions this "underscores weakness in America's economy" or that it may portend trouble ahead. We'd suggest it does no such thing. We believe this quarter's dip is likely to prove fleeting—a function of calculation quirks and one-offs that render it nearly meaningless for investors.
First, some details. Behind the downward revision were big changes in imports' and inventories' contributions. Table 1 compares GDP components' change from the initial read to this second estimate. Note: The only material shifts (highlighted) are inventory change, which added 0.41 percentage point less than initially estimated, and surging March imports—which subtracted -0.65 percentage point more from growth than first thought. Neither of these necessarily indicate weak economic conditions. Heck, imports' increase on its own accounts for nearly all of the negative read, but economically, the rise is positive—suggesting healthy domestic demand.
Table 1: Contributions to Real GDP Growth, Q1 2015 Advance Estimate vs. 2

nd

Estimate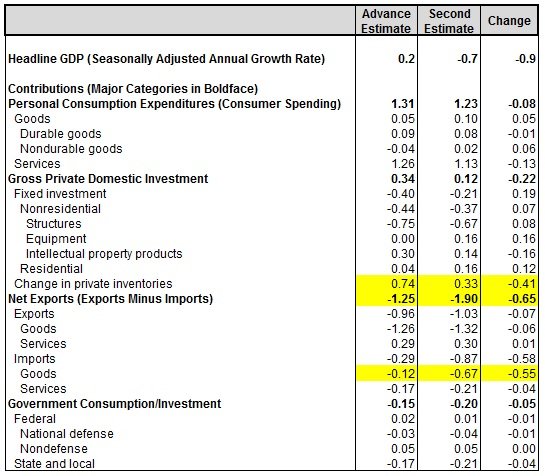 Source: US Bureau of Economic Analysis, as of 5/29/2015.
This is in keeping with what we expected following the release of March trade data. Imports' increase illustrates the havoc early 2015's West Coast port labor dispute played with Q1 data, delaying activity while workers sat idle. March was the first full month after dockworkers got back to work, and the 7.7% m/m rise suggests they worked furiously unloading ships to make up for lost time, skewing these data greatly. Further evidence: Services exports and imports, which wouldn't be affected by work stoppages, went basically unchanged in this revision.
But that isn't the only skew. The BEA seasonally adjusts GDP data to account for differences in the weather that can materially impact categories involving construction, shipping and more. However, after Q1 2015's initial estimate was published, economists including CNBC's Steve Liesman and The New York Times' Justin Wolfers reviewed the data and found Q1 GDP reports aren't properly adjusting for seasonality. Not just this latest report—the flaw dates back years, if not decades. However, their findings suggest the problem is more acute recently. The BEA reviewed its procedures and announced last week it would revise its seasonal adjustment effective with the July 30 initial estimate of Q2 2015 GDP. We are presently looking at a report including a known and generally accepted calculation error.
You can quibble whether that error is actually an error, or if this is an example of meddling with data too much. But all economic data are revised, subject to interpretation and occasionally contain quirks and snafus. For stocks, the broad picture they paint and how that resembles sentiment is what matters. GDP revisions aren't hugely pertinent for investors, because they are dealing with months-old (sometimes years-old) data. But with investors broadly aware there is a major revision coming, we see this current release largely as even more of a non-event than your typical revision.
At present, more recent and forward-looking gauges suggest growth continues. The Conference Board's US Leading Economic Index is in a solid uptrend. The ISM Manufacturing and Non-Manufacturing gauges are both in expansionary territory. Yield curves are steep, and bank lending is growing nicely. Core capital goods orders rose in March and April, rebounding from January and February's declines.
All in all, we'd suggest taking this report in stride. Nothing about this greatly skewed revision suggests America's economy is faltering.
By Todd Bliman
Fisher Investments
This constitutes the views, opinions and commentary of the author as of April 2015 and should not be regarded as personal investment advice. No assurances are made the author will continue to hold these views, which may change at any time without notice. No assurances are made regarding the accuracy of any forecast made. Past performance is no guarantee of future results. Investing in stock markets involves the risk of loss.
DISCLOSURE: The views and opinions expressed in this article are those of the authors, and do not represent the views of equities.com. Readers should not consider statements made by the author as formal recommendations and should consult their financial advisor before making any investment decisions. To read our full disclosure, please go to: http://www.equities.com/disclaimer