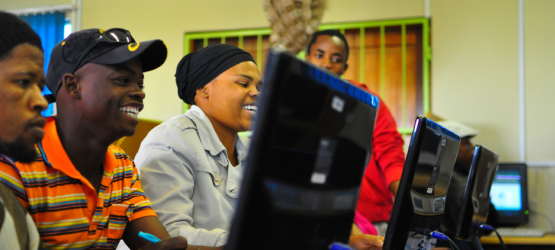 Image via Beyond Access/Flickr CC
In recent times, the internet has emerged as one of the key drivers of growth for economies around the world.
One study by accounting firm Deloitte found that if developing countries in Africa, Asia, Latin America, and India had the same level of connectivity as their counterparts in the developed world, over 140 million jobs would be created, over $2.2 trillion in extra GDP would be generated, and about 160 million people would be lifted from extreme poverty as personal incomes grow.
This is why a solid fibre optic infrastructure is critical for development, especially in a continent that has long been touted as the next big thing for investors globally.
For many Africans across the continent, internet connectivity has traditionally been achieved via satellite links and mobile broadband. These two technologies have ensured that even Africa's large rural population in remote towns and villages has access to the internet. Plus, with the massive adoption of mobile phones in the continent, mobile broadband has also helped ensure more people are connected.
However, accessing the internet via satellite is still quite expensive for users who require decent connectivity speeds, thanks in part to serious latency issues. For instance, a standard 1 Mbps package from Gilat Satcom will set you back about $50 per month, which is barely enough for heavy home users and businesses that often use services such as video conferencing and VoIP. Additionally, mobile broadband often comes with bandwidth restrictions from service providers and it becomes extremely difficult to find a good data plan with unlimited bandwidth for businesses and home use.
Further, even though these services have been around for over a decade, a whopping 74.9% of Africans still don't use the internet.
The Opportunities
These are just a few of the issues that make fibre such an interesting prospect for African economies. Fibre optic cables can carry much more bandwidth at a cheaper price compared to the alternatives. Even though prices are usually high initially for many countries, these usually go down when national backbones are built and more service providers come into play. For instance, while it used to cost around $4,000-$5000 per month for a 25Mbps connection in Kenya two years ago, it now costs just $550 per month for enterprise-grade connectivity at 20Mbps.
Additionally, even though fibre isn't usually considered a last-mile option when it comes to connecting rural homes to the internet, it acts as an incentive for satellite and broadband providers by way of competition. They are often forced to innovate in order to bring down their prices, improve bandwidth, and spread their wings farther into rural areas that are out of reach for fibre optic providers.
The growing fibre infrastructure also has a direct impact on labour markets across the continent as the demand for specialized technicians and engineers increases. Plus, because fibre gives users and businesses access to more bandwidth, this technology is helping spur growth for small businesses directly and indirectly.
To illustrate, online P2P lending platforms such as Kiva and Lending Club have become quite popular with small businesses around the continent that now maintain an online presence. As a result, small business owners have ready access to unsecured business lines of credit, which helps them grow outside the confines of traditional financial systems.
Fibre also encourages content creators at the local level to come up with engaging content in local languages that can then be shared on YouTube, Facebook, and other popular bandwidth-hungry platforms. Scarcity of local content has always been one of the many reasons why a majority of Africans are still offline, and the increasing fibre connections will make it easier to create engaging content for local consumers.
It's also important to note the importance of high-speed internet access as a prerequisite for the uptake of content streaming services. Over the past year or so, Netflix, Amazon Prime, Hulu, and other OTT service providers have been looking to Africa as their next ground for expansion. While many 4G and some satellite networks across the continent can be used to stream music and videos on these platforms, the quality and buffering speeds of such connections can be quite erratic.
Bottom Line
For much of Africa, fibre is just one of the many infrastructure projects that hold a lot of promise for the continent's future. In many ways, fibre is the perfect catalyst for many of the technological advances that are slowly becoming part of the African economy, including the Internet of Things, fintech, and the cloud. High-speed internet access also helps to promote social capital, which in turn contributes to improvements in the areas of social welfare, democratization, and civic engagement – all key components of sustainable economies.