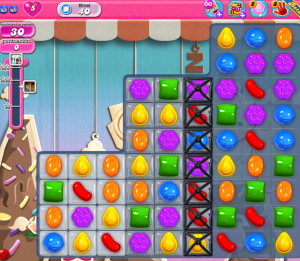 The makers of the wildly popular online game Candy Crush Saga filed an IPO on Oct. 1, with analysts estimating the market value of the company could top $5 billion.
As Twitter seeks to avoid the IPO debacle experienced by their rival Facebook Inc. (FB) , King will look to avoid the disaster that beset Zynga Inc. (ZNGA) following their IPO. Zynga lost five percent on their first day of trading before going on to lose over two-thirds of their value in 2012.
Zynga was hit especially hard when their Facebook games were scrubbed out of user's Facebook feeds after the company enagged in spamming practices. Zynga also failed to produce a hit to match the success of their flagship, Farmville.
King, however, has a few things going for them heading into their IPO that Zynga did not.
Candy Crush is a far bigger hit than Farmville ever was, and more importantly has been monetized ruthlessly, and incredibly effectively. Candy Crush players must wait 30 minutes after losing the game to restart – or, to bypass the waiting time, they can pay a small fee. To minimize further wait times, players can buy extra lives for a one-time fee ranging from $16.99 to $39.99.
Take a quick guess what players enamored with the famously addictive game tend to choose. King rakes in a reported $850,000 a day from Candy Crush, culled from the 7.5 million active players of the game.
Equities Director of Research Francis Gaskins likes King's IPO timing, citing Zynga's recent improvement, market position and the fact that now is a bullish period for online gaming in general.
"In the last year or so both Zynga and Electronic Arts (EA) have moved substantially higher, so now is a good time for King to IPO, especially with 3 of the top 10 games on Facebook," Gaskins said. "Candy Crush has so much consumer acceptance that's it probably will gap up on the opening with little regard to underlying fundamentals."
DISCLOSURE: The views and opinions expressed in this article are those of the authors, and do not represent the views of equities.com. Readers should not consider statements made by the author as formal recommendations and should consult their financial advisor before making any investment decisions. To read our full disclosure, please go to: http://www.equities.com/disclaimer