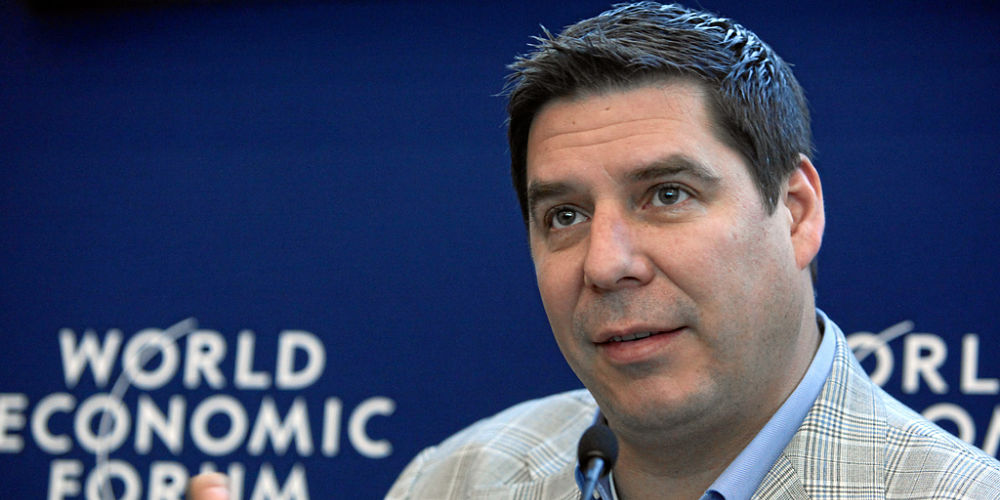 Image via WEF/Flickr CC
In a recent news story, I read that Marcelo Claure, Sprint (S) CEO is listed as the 15th worst in a list of 20. However, Sprint's problems were not created by Claure. In fact, Sprint has been wrestling with these same problems for decades. Claure has only been CEO for the last couple years. He didn't get Sprint into trouble. His problem is that he has not been able to save them yet either.
This should sound familiar. We've been saying the same thing about Yahoo for the last couple decades. They were once a leader until Google (GOOGL) entered the search engine picture. Ever since, Yahoo has struggled, year after year, decade after decade, CEO after CEO.
So, can you blame Yahoo problems on the latest CEO Marissa Meyer? Many have, but that's not fair either. She was not able to snap Yahoo out of crashing and burning, but she didn't create the problem. She was just brought in to save the company and turn it around and was unsuccessful.
What About T-Mobile, Yahoo, Motorola, Nokia, Blackberry?

What about Motorola? This was a company that lead the wireless handset space until it suddenly fell aside in the middle 1990's and gave way to Nokia (NOK) and Blackberry (BBRY). They led the handset and smartphone marketplace for the next decade until Apple (AAPL) iPhone and Google Android entered the scene and took over. Now another decade has passed. Who's next?
Sometimes CEO's can snap a company out of its free-fall and show growth. Consider John Legere, CEO at T-Mobile (TMUS) as one successful example. He saved that company several years ago. At the time, it was heading in the same direction as Sprint. Today, T-Mobile is growing and is now even moving into pay TV.
However, saving a company is very difficult. First the CEO must stop the fall and then start to build. More often, they continue to drop. That's the growth curve. This kind of performance happens in company after company. CEO's are hired and replaced, time and time again, hoping for growth. Hoping for a better outcome. Sometimes new ideas can save a company like with T-Mobile. Other times they can't like with Yahoo.
So, when a new CEO is brought in to save a sinking ship, if not successful, is the problem really their fault? That's the question and while there is enough blame to go around, I think the real problem was there long before they entered the picture. They were just unsuccessful at snapping it out of its free-fall.
Sprint Struggling for Decades Before CEO Marcelo Claure

Sprint has been struggling in third place for decades. If you recall, Bill Esrey used to be CEO and it was struggling in third place back then too. Then he was replaced by Gary Forsee who acquired Nextel and struggled. The company was crashing and burning when Dan Hesse took the helm.
Hesse stabilized the company, and it started to grow again. However, not at the rapid rate of AT&T Mobility and Verizon Wireless. That's been the Sprint problem all along. They never saw real, strong, sustained growth. They were in a weak third place position all along. So, if they could never really grow, who's fault is that?
It's impossible to blame one CEO. Sprint is like Wendy's being third to McDonalds and Burger King. It's tough for number three to break out of that spot.
Next, Sprint was acquired by Softbank and Masayoshi Son. He worked with Hesse for a while, but then brought in Marcelo Claure to run the place. The good news is, Sprint slashed prices and improved network performance and started to show growth for the first time in a long time.
Sprint seemed like it was on the right track, finally. Then after a few years, things started to slow down again. That's when a merger with T-Mobile started to pop up on the radar several months ago. I think the marketplace liked the idea of an acquisition.
Then suddenly, the merger was off. Suddenly Sprint and T-Mobile were on their own again. In the last few weeks T-Mobile announced entering the pay TV business in 2018 with their uncarrier strategy.
Sprint announced over the last few months striking a deal with Altice and Comcast. A new area the company can use to grow on. However, if you look at the marketplace, it is changing and expanding. Wireless carriers are offering pay TV services. This is what Sprint needs to focus on.
Changing Pay TV and Wireless Marketplace

Wireless and Pay TV are changing. AT&T (T) started with their Uverse and recently acquired DirecTV NOW. They created all this excitement around wireless TV or mobile TV. The move to 5G will only accelerate this shift.
AT&T success means pay TV leadership is 1. Comcast (CMCSA) Xfinity, 2. AT&T DirecTV and 3. Charter (CHTR) Spectrum. AT&T has grown to the number two spot in pay TV. And that world continues to change.
This transformation in the industry is forcing other major wireless and pay TV competitors to re-evaluate and to jump in. We see Verizon talking about entering the pay TV marketplace in a bigger way in 2018. We see T-Mobile entering pay TV. We see Comcast entering the wireless business with Xfinity Mobile. We also see Charter Spectrum entering wireless in 2018.
This convergence between wireless and pay TV is creating such a large change wave that it is impacting every company and transforming every corner of several industries. This change wave is big.
Sprints Needs Growth Oriented Pay TV Plan

With all that said, Sprint is the only wireless carrier of the big four that does not have a solid plan for pay TV. Not yet anyway. And this is one of their real problems. However, this is the type of problem that is easily solvable. The only question is, what is Sprint's next move? Who will they work with to offer pay TV?
Bottom line, I don't see Marcelo Claure as being a failure as a CEO. He just took the helm of a troubled company that can't seem to get in growth gear. This is the same problem Sprint has faced for the last several decades and many CEO's.
What happens next, as always is up to Claure, Son, Sprint and Softbank. I hope they make the right decisions. I hope they do what works. I hope they move into pay TV. I really want to write about the Sprint recovery once again. However, they must earn it. They just have to make the right moves. The question is, will they do the right thing? Only time will tell. Stay tuned.
Jeff Kagan is an Equities.com columnist. Kagan is a Wireless Analyst, Telecom Analyst, Industry Analyst, speaker and consultant. He follows wireless, wire line, telecom, Internet, cable TV, IPTV, Cloud, Mobile Pay, FinTech and communications technology. Email him at [email protected]. His web site is www.jeffKAGAN.com. Follow him on Twitter @jeffkagan.