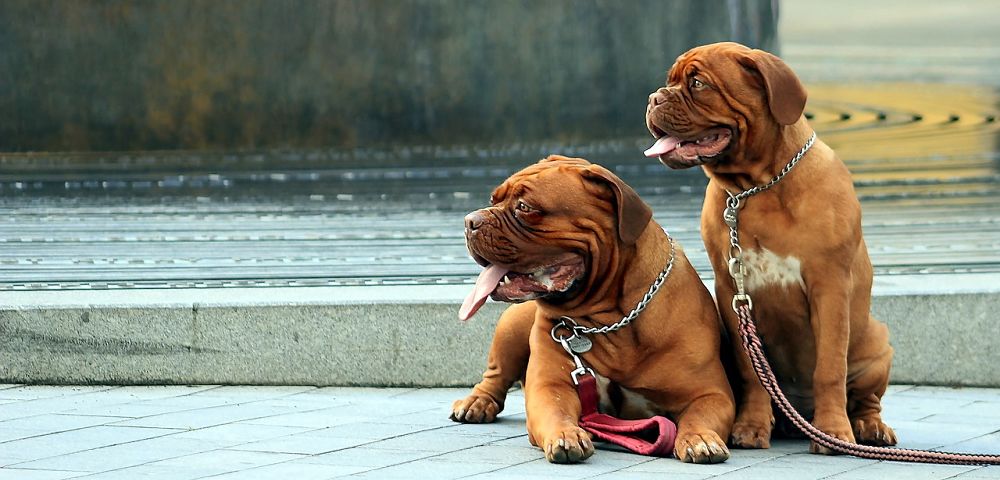 Americans may be bitterly divided on a lot of things, but we all agree on one thing: We love our dogs, cats, and a few other companion species.
We've made them part of the family. And I think this is good.
But even if you're the rare person who doesn't like dogs or cats, there's an important investment point here.
At some point, this already-slow economy is going to plunge into recession. When that happens, people will have to cut spending. You want to be invested in the things they won't sacrifice.
And no matter how tough life gets, millions of Americans won't sacrifice caring for their pets.
A Growing Staple
A couple of years ago, I said we were replacing children with pets. That was partly a joke and partly true. People are having fewer children, but our caring instinct remains. Many of us fulfill it with our pets.
In other words, basic pet care has become a consumer staple like food and electricity. And unlike some other staple categories, it's growing.
The American Pet Products Association estimates we will spend $72.1 billion on our pets this year, up almost 30% from five years ago. Ditto in many other countries.
That sounds like a good investment opportunity. But grabbing it isn't so easy.
Finding Exposure
About 40% of that pet spending is for pet food.
Most of it goes to large consumer-goods makers like General Mills GIS, which earlier this year acquired Blue Buffalo Pet Products for $8 billion. J.M. Smucker SJM bought Ainsworth Pet Nutrition for $1.7 billion.
The absorption of these industry leaders into larger conglomerates makes it harder to get direct pet-care exposure. A bunch of smaller public companies sell pet-related goods, but they tend to be volatile. You would need to buy many different stocks to get wise diversification.
I mentioned this problem last year and wished for a pet care ETF. Now we have one and may get another.
ProShares has filed the paperwork for a ProShares Pet Care ETF. It is not yet publicly available.
The Gabelli ETF has attracted only about $1 million in assets so far. I hope Gabelli gives it a marketing push because I think it will do well over time.
The portfolio includes some of those conglomerates I mentioned but is mostly pet-care companies. Here is a summary from Gabelli's fund fact sheet.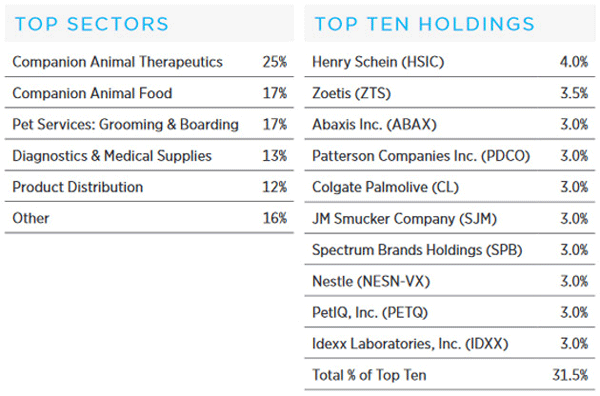 Source: Gabelli Funds
A Must-Have Industry in Your Portfolio
Pet ownership and spending is rapidly growing in the US.
In fact, pet spending in the US has grown 4.6% annually over the last 10 years. That's three times the growth of total consumer spending.
Not only that, total pet care spending kept growing during the last three recessions.
For those reasons, I highly recommend adding some pet-care exposure to your portfolio as a hedge before the markets plunge in the next recession.
Get one of the world's most widely read investment newsletters… free
Sharp macroeconomic analysis, big market calls, and shrewd predictions are all in a week's work for visionary thinker and acclaimed financial expert John Mauldin. Since 2001, investors have turned to his Thoughts from the Frontline to be informed about what's really going on in the economy. Join hundreds of thousands of readers, and get it free in your inbox every week.