Image: Rugby shirts and climbing ropes. Source: Patagonia Archives
By Nell Derick Debevoise
Rose Marcario, Patagonia's CEO, shared that the company gets 9,000 applications for every open internship position, and similarly huge demand for full-time roles. She added that people tend to come and never leave. "That's our other problem – we have really high retention," she explained when speaking about the competitiveness of their hiring. A problem that most leaders would gladly take on! By the way, the company's revenue has quadrupled since she started as COO in 2008.
How They Attract Talent
So what's Marcario's secret? Upon accepting the Botwinick Prize in Business Ethics at Columbia Business School, she explained, "When you do work that's good for the world, people want to be part of it." Patagonia is well-known for their do well by doing good approach, which importantly goes far deeper than their brand identity. The company is a certified B Corp, meaning that they're subjected to a regular and holistic measurement and audit of their business practices in five areas: employees, community, environment, governance and suppliers.
Patagonia also changed their legal status to become a Benefit Corporation, which allows the company to pursue a social and environmental purpose as well as shareholders' interests. Finally, they're founding members of 1% For The Planet, a not-for-profit that helps companies looking to donate 1% of sales to validated environmental organizations. Marcario values these various classifications to provide external validation of the company's practices for consumers, investors and employees.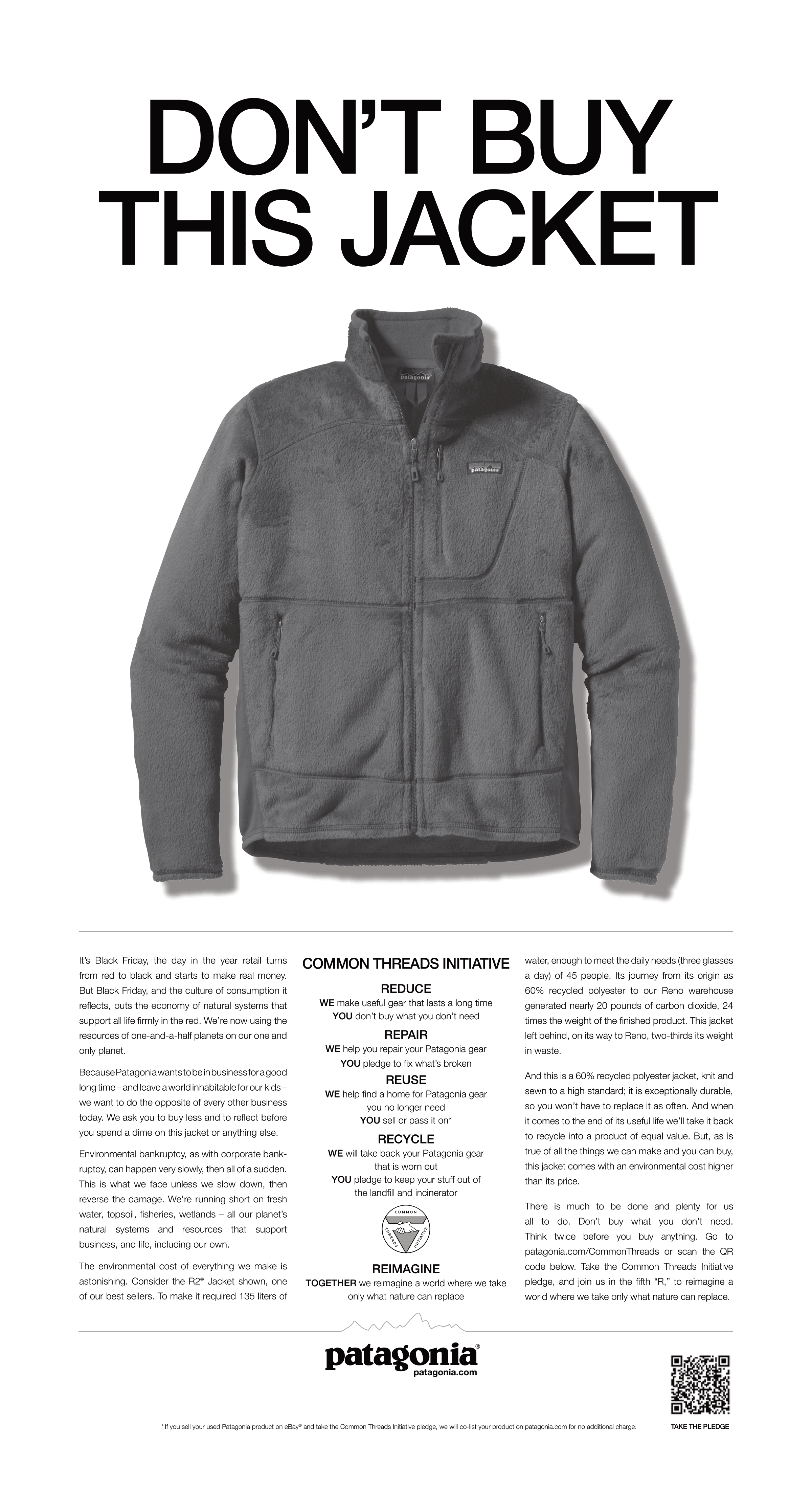 Source: Patagonia
Patagonia's official creds as a company that is good for the world run deep. Outwardly, they are no less assertive about trying to minimize harm and "save the planet". Their full-page ad commanding consumers not to "buy this jacket," went viral. Ironically, the campaign led to more Black Friday sales than ever, which Patagonia now donates wholly to environmental causes.
Beyond this authentic and integrated sense of purpose, there are other significant factors that make Patagonia a highly desirable place to work. They've had onsite childcare for 36 years, which a study by a consulting firm found to either cost $60,000 a year, or return about that amount, depending on valuation of the productivity and retention gains. Either way, childcare is a hugely attractive benefit that essentially pays for itself and is a powerful way to eliminate gender differential in the company's leadership.
Patagonia's Founder, Yvon Chouinard, wrote a book titled, Let My People Go Surfing, which speaks vividly to another appealing element of the company's culture.
What Can Normal Companies Do?
This is all well and good for a privately held company in the outdoor industry. But what are 'normal' companies to do in a tight labor market with evermore demanding employees who want their work to align with their values? Marcario is not oblivious to the features of Patagonia that facilitate her approach. She is not letting anyone off the hook, though.
Marcario's call to her team is: 'Have courage; take risks; and build a better world.' This also describes what she hopes other leaders will do in the urgent situation we're facing. As for the public discourse about transforming capitalism, including statements from the Business Roundtable and Larry Fink, Marcario is "not sure it's a big enough step, but it's a step." She recognizes that shareholders who do not yet acknowledge our climate as an existential crisis can prevent CEOs from making business decisions or public statements they might otherwise make.
For Patagonia, these seemingly risky decisions to sue the federal government, invest in an organic cotton supply chain, and guide consumers to grassroots environmental groups, have always ultimately paid off. They get media attention, cement the loyalty of long-time customers, win new customers, and develop innovative new product lines, like Worn Wear and Patagonia Provisions. But Marcario recognizes that these choices can feel scary, and may have short-term costs. "Nonetheless, there will be no business for any of us on a dead planet. With as few as 50 harvests left given the degradation of our soil, it is time to have courage to face these risks and take action. A real sense of purpose, for a company or individual, doesn't have much power if it requires no sacrifice at all."
What Do Employees Want?
When it comes to attracting talent, though, Marcario reminded leaders that running a business to make the most money possible does not make for an inspiring workplace. Times are changing, and if you fail to meet your employees' changing needs, you are not likely to attract or keep the best ones. Indeed, Marcario cited the importance of investing in innovation, particularly in industries with greater environmental footprints, like airlines. Patagonia's own corporate venture firm was established to provide much-needed financing for environmental innovations that can be costly and slow to develop, and so not appealing to traditional Silicon Valley investors.
A Columbia Business School student in attendance asked Marcario what she thinks of business schools and MBA students. She declined to offer an assessment of the entire industry or population, but offered,
What I do know about MBAs is that they want to work toward more than quarterly earnings. I wish more leaders would recognize that. If we could harness that energy to use business as a force for good, I think we would address most of the important problems we face today.
What Will Actually Move Us To Better Capitalism?
Marcario shared her own path, and the experience of leaving a successful career as a CFO and then private equity investor in Silicon Valley. She had seen enough of the business to understand the industry was set up to make a lot of money for a few investors, and possibly a few employees, and did not see that as a sustainable or desirable path to growth. She had tired of doing work that wasn't aligned with her values, and left her job without a plan. Despite mentors and friends telling her she was crazy, she is grateful she did. The break allowed her to look within and deepen her meditation practice and spiritual journey. She met Patagonia's founder during her research about alternative approaches to business, and the rest is history.
Marcario only wishes now that she had trusted her inner voice earlier. So many of us have this voice, but the perceived risk of listening, and making a change is paralyzing. The problem is, in our fast-moving world, the risk of not making that change is actually bigger. We have all the resources to solve the climate crisis, inequality, mental health epidemic, and an ocean full of plastic. But we each, as individuals, have to make the decision to change our lives enough to mobilize those resources. And now is the time to do it.
As for Marcario, now she is in the perfect position to do more of the advocacy she is committed to, on behalf of Patagonia and in close partnership with many other like-minded allies in the outdoor industry and beyond. As for this collective action by business leaders, Marcario told the Columbia audience:
"We should do it more urgently now because of everything that's going on in the world," echoing earlier comments that "You can't live in the gray area anymore. There's too much at risk right now."
_____
Nell Derick Debevoise is the founder and CEO of Inspiring Capital, a certified B Corp. whose mission is to re-inspire the American workforce. Inspiring Capital aims to help individuals, organizations and employers align their skills, interests, and needs with the needs of their communities and the world, to do work that really matters.

_____
Source: Forbes