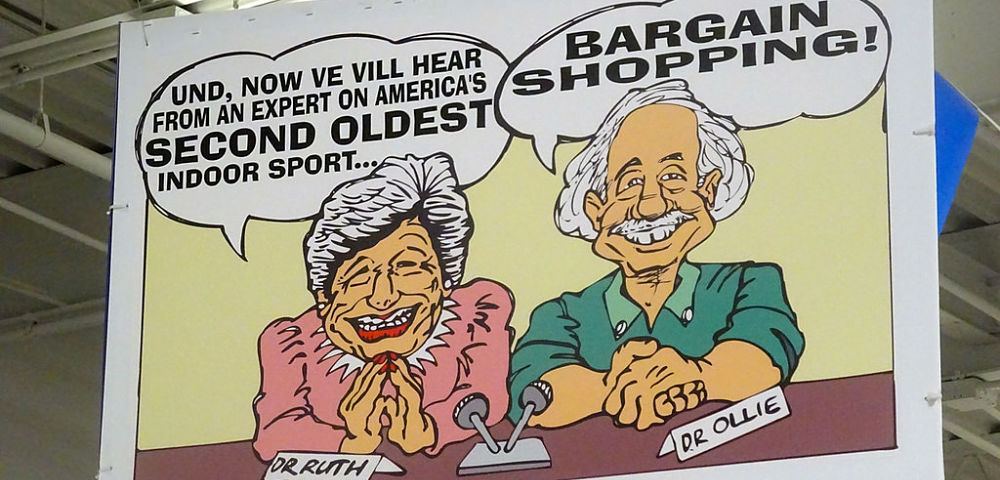 Image via Paul Cooper/Flickr CC
For retailers, succeeding in the "Amazon age" is a grind. It requires focus, discipline … and a touch of fearlessness. Just look at Ollie's Bargain Outlet Holdings OLLI, which made a new high June 4. Investors should get ready to shop for OLLI shares, writes Jon Markman.
Now, don't get fooled by the country bumpkin name. Ollie's is a special business. One that is about to begin a new phase of growth.
The Pennsylvania retailer was born in 1982, when four Mechanicsburg businessmen decided to make a go of the surplus business. In the decade following the Vietnam War, military surplus shops were plentiful in small-town America, selling green G.I. jackets and camo shirts.
The genius of Ollie's, then run by Mort Bernstein, was pushing the surplus model to the next logical level.
From Military Surplus to Surplus of Profits

The company focused on buying closeout, surplus and even salvaged merchandise at pennies on the dollar. After a modest markup, the goods went straight to Ollie's store shelves.
The concept was fresh. It was an immediate hit. Price-conscious and treasure-seeking shoppers flocked to the 25,000-square-foot warehouse.
This was also a great environment for Mark Butler to learn the tricks of the trade. In 1982, Butler was a mustachioed twentysomething. He had skipped college to work alongside Bernstein, a masterful merchant. Two decades later, Butler took over when his mentor fell ill.
Although Ollie's had always been profitable, its footprint remained small under Bernstein. But Butler had bigger ambitions. He believed its loyal customers would support more stores.
In February 2011, he opened a 603,000-square-foot distribution center in central Pennsylvania. By May, Ollie's had its 100th store, on the site of a shuttered Circuit City store, in Barboursville, W. Va.
A year later, Ollie's Army began — a loyalty program that gave frequent customers discounts on further purchases.
This was the beginning of a new era.
No Camouflaging an Opportunity This Big

By 2014, Ollie's had grown to 154 stores, and the company announced plans to build a 962,000 square foot distribution center in suburban Atlanta.
The Georgia distribution center was typical of Ollie's corporate culture. It was big, strategic and cost-effective. And it allowed Butler to expand to 277 stores in 21 states during the next four years, county-by-county, state-by-state.
New Ollie's locations were close enough to saturate population densities, yet far enough away for managers to negotiate competitive lease packages. This contiguous strategy also served to leverage brand awareness and stretch marketing budgets.
Even today, on average, the cash outlay for a new store is only $1 million. First year sales average $3.8 million. Including profits, the net cash return is 57%, a remarkable two-year payback.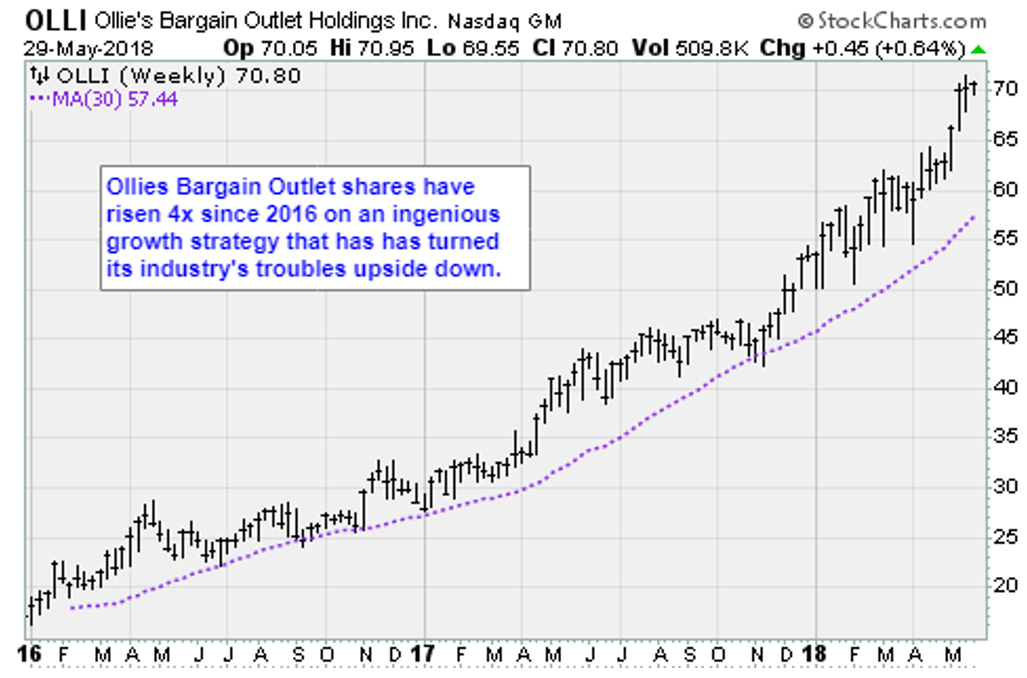 Click image for a larger view.
Shares are up 300% in the past 30 months to a $3.6 billion market cap, a stretch that has seen the value of the retail industry overall rise just 11%. Its market cap is now more than 2x onetime retail darling Abercrombie & Fitch ANF.
There is much room to grow, as a discount-store comparison might be Dollar Tree DLTR, which has a $22.5 billion market cap, or Dollar General DG at $26 billion.
Despite the dynamism of its growth story, Ollie's corporate identity is little-changed since those early days in Mechanicsburg. Stores are still heavy on well-known brands like Procter & Gamble, Kellogg's and Hasbro, sold at deep discounts.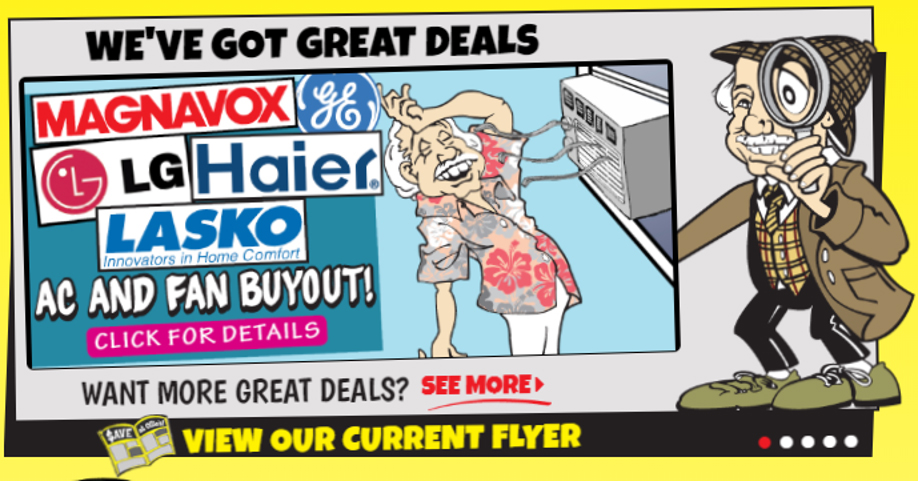 Click image for a larger view.
It also means company branding is stuck in some weird retro time warp. Vintage fonts, primary colors and caricatures of Oliver "Ollie" Rosenberg, an original founder, seem wildly out of place in the digital economy.
Yet Ollies continues to grow fast, building strong, consistent cash flow. The company has reported 14 consecutive quarters of positive same-store growth.
Since the initial public offering in 2014, sales have grown from $540.7 million, to $1.08 billion in fiscal 2018. More important, in 2018, the gross profit margin was 39.2%, helping profits climb 113.5%, to $127.6 million.
The best may be yet to come.
At the ICR conference in January, 2018, Butler said Ollie's has the potential to grow to 950 stores nationwide. This opportunity for growth, often called white space in the retail world, would see the company grow 3.5x. This would also bring enormous scale.
Ollie's Q1 2018 earnings conference call June 5 webcast.
Ollies would be in a better position to buy closeouts and inventory from failing merchants. In the current weak retailing climate, these opportunities have been many.
And then there is digital …
Ollie's Army Readies for New Recruits

In the first half of 2018, Ollie's will begin its digital transformation with data-driven target marketing, an integrated social media strategy and a mobile app to increase store visits and spending.
Since 2012, Ollie's Army has grown from 2.6 million members, to 8.1 million loyalists through the third quarter of 2017. That's a compound annual growth rate of 27.5%.
This asset is tremendously underutilized. Now managers are ready to pull the lever.
Investors should be getting ready to shop for OLLI shares, as their growth is a bargain in this slow retail environment.
Best wishes,
Jon D. Markman

P.S. Nobody loves a great deal more than investors. Especially those who actually have to work for a living. See how a $30,000 nest egg turns into $736,026 at retirement … just by avoiding all the "sucker" stocks that Wall Street elites work day and night to sell you … and getting in on the best "sleep-at-night" stocks the market has to offer. It'll cost less than a month's worth of Starbucks to get this valuable information sent straight to your inbox for the next year.

Subscribe to Jon Markman's Power Elite newsletter here
Subscribe to Jon Markman's Tech Trend Trader here
Subscribe to Jon Markman's Strategic Advantage here

Jon Markman is a veteran money manager, journalist and editor of numerous newsletters.

About MoneyShow.com: Founded in 1981, MoneyShow is a privately held financial media company headquartered in Sarasota, Florida. As a global network of investing and trading education, MoneyShow presents an extensive agenda of live and online events that attract over 75,000 investors, traders and financial advisors around the world.