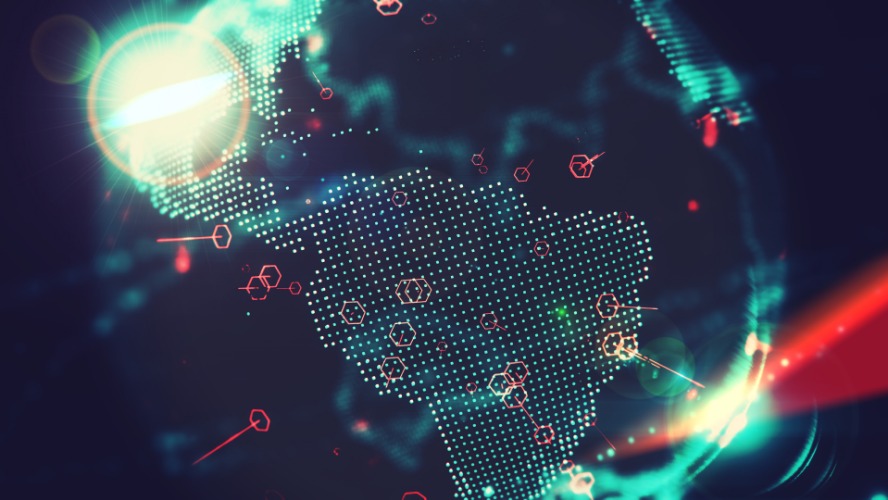 Image: iStock.com/blackdovfx
As organizations look to expand internationally and enter new markets, Latin America is becoming an increasingly popular choice. The region has strong trade links, lucrative geographic positioning, and a growing middle-class market. Moreover, the territory offers businesses with the right value proposition significant opportunities that can be exploited for high returns. This popularity positions Latam as an attractive business environment to work in. But why is this happening now? What's changed?
Economic growth
Latin America has seen recent economic growth in many of its countries. One of the reasons for this prosperity is Mercosur. This trade group is made up of Brazil, Argentina, Uruguay, and Paraguay as full members and also includes Bolivia, Chile, Colombia, Ecuador, and Peru as some of its Associates countries, making it the fourth-largest trade bloc in the world. Engaging in trade agreements all over the world has made countries like Uruguay an attractive business destination. Moreover, it enhances the creation and expansion of export or import businesses all over the continent using these agreements as a gate to enter new markets.
Also, Latin American governments have been consistently making attracting foreign investment their priority. The result of this prioritization is a significant increase in national economic welfare. Whether it is the tax benefits in Paraguay or governmental financial aid for start-ups in Chile, a trend towards increasing foreign direct investment is noticeable.
Many countries in Latin America are part of the phenomenal growth trend of "outperformers", meaning local economies are growing at several times the global average over a sustained period of time.
Latin America also offers businesses relatively low costs of production by global standards. Low wages and flexible start-up requirements allow businesses to enter markets easily and enjoy higher returns much quicker than other parts of the world. Combining the economic growth with the low wages across the continent makes for an attractive business destination. However, Latin America has more than just low costs to offer.
Mining, one of Latin America's biggest sectors and economies
Even though recent trends have seen an increase in popularity, Latin America also houses sectors that have been attractive for decades. The mining sector in Latin America, for example, has been a foreign investment destination for many years now. The continent houses the biggest lithium reserve in Chile, the newest and biggest copper mine in Panama and, also the most valuable emeralds in Colombia. Chile, Peru, Mexico, Colombia and Argentina are the front-running countries in regards to mining in the region.
The Latin American mining sectors are experiencing unprecedented growth and development. The region is set to be one of the fastest-growing mining locations within the next decade, presenting a wealth of business opportunities. Consequently, companies that can bring the right skills, knowledge, expertise, equipment, services, and technology to the market will experience commercial success
The stability of the sector has allowed the creation of services surrounding the mining sector. Some of them include manufacturing, SME´s, recruitment, sales, marketing, logistics, and import and export businesses. These markets offer other opportunities where you can make your first step to enter into the region.
Rise in Latin American tourism
Latin America has become one of the most popular tourist destinations in recent years. Whereas historically, countries like Colombia have been considered a dangerous destination, trends are showing a shift in perception among holidaymakers as a result of concerted efforts by the government to lift the national security situation.
Many nations have the chance to present their finest attributes through tourism. Visitors travel from Europe and North America to experience Latin America's natural beauty, enticing culture, and rich history. According to a study conducted by Axon Latam about Tourism Trends in Latam for 2019, the reinvention of these countries to become a top tourist destination included business as a sector of tourism that evolves and generates tangible impacts in the industry.
Latin Americans are also traveling in greater numbers. Millennials are searching for destinations with a thirst for adventure and new experiences, and sustainable tourism. Pensioners and retirees are in search of tranquil destinations and there is a growing interest in luxury destinations by the middle class.
Technological advances are helping business
Many countries – including Colombia, Argentina, and Mexico – were once synonymous with danger and inadequate infrastructure. Through government initiatives, private investments and the drive of local citizens, these countries have gotten involved in the technology race and now produce IT talent that matches the level of those in first-world countries. Latin American is beginning to host a number of technological hubs for innovation and production at an increasing rate.
Another significant sign of these advances is the rise of incorporation of Fintech business within Latin American economies. Across the e-commerce market, companies in Latin America are expected to generate more than US$19,400 million in 2019, with an annual growth rate of 3.5%. According to data from Statista, user penetration in the region is 57.4% and expected to hit 61.1% by 2023. What is perhaps most interesting is that, at present, the average revenue per user is around US$131 – although that will no doubt rise as consumer confidence increases when buying online.
Latin American consumers are comfortable using their credit or debit card, with 65% of buyers using a major card when spending money. Payment wallets, on the other hand, are another popular choice. With sites such as PayPal being used by 36% of online shoppers at least once. This demonstrates the need for businesses to accept payments through multiple vendors to capture sales. Another key payment method that is popular in Latin America, is 'Cash on Delivery', used by 35% of online shoppers.
Exploring the Latin American business environment can offer you plenty of opportunities. You could find success in opening a business in a decade-long stable sector or an upcoming sector that meets your qualities. Whichever path you choose, your company will undoubtedly require you to meet local business requirement, analyse the opportunities and weigh them up to the risks.