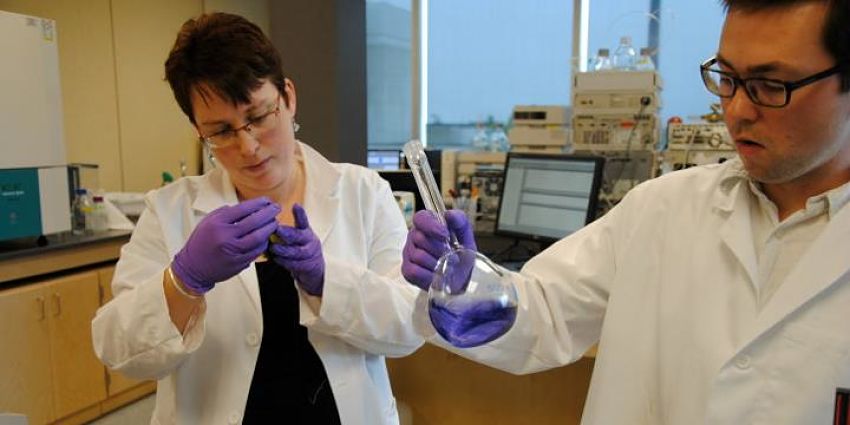 Boasting a 274% return to investors in 2017, Immunovaccine (IMV:CA)(OTCQX: IMMVF) was among the top 10 best performing companies on the OTCQX Best Market, the senior OTC Markets tier. Immunovaccine is ranked #6 in the 2018 OTCQX Best 50, a just released ranking of top performing companies on the OTCQX Best Market based on 2017 total return and average daily dollar volume growth, and is the #1 ranked biotechnology company on the list.
The recognized performance of the stock reflects the significant progress that Immunovaccine has made in its clinical program, research and development, operations and finance over the past year.
Stellar Clinical Pipeline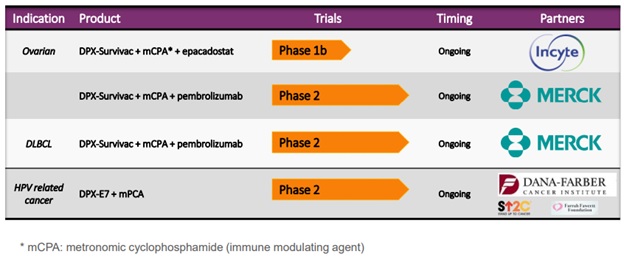 Source: Immunovaccine corporate presentation, Jan. 8, 2018
The past year has seen the most dramatic progress in Immunovaccine's history with its immuno-oncology program including:
Positive top-line data from the Phase 1b trial of its lead DPX-Survivac candidate in combination immunotherapy with 100mg (low dose cohort) of epacadostat, Incyte's (INCY) selective IDO1 enzyme inhibitor, and low-dose cyclophosphamide for advanced ovarian cancer.
Regulatory clearance from Health Canada to initiate a Phase 2 trial evaluating the combination of DPX-Survivac, pembrolizumab, Merck's (MRK) checkpoint inhibitor, and low-dose cyclophosphamide for recurrent ovarian cancer and diffuse large B-cell lymphoma.
Initiation of a Phase 1b/2 trial evaluating DPX-E7, the company's investigational cancer vaccine, in combination with cyclophosphamide in patients with incurable oropharyngeal, cervical and anal cancers related to the human papillomavirus (HPV).
Promising Research and Development
The company continues to expand collaborations and achieve milestones in its research and development efforts in immunotherapy including:
Expansion of collaboration with UConn Health to evaluate the anti-cancer activity of patient-specific antigen targets, or epitopes, that generate an immune response. These epitopes were developed at UConn Health and formulated in Immunovaccine's DepoVax vaccine platform.
Expansion of collaboration with Leidos to develop preventative, peptide-based candidates for a malaria vaccine.
Achievement of several milestones in collaboration with Zoetis to develop vaccines for the cattle industry.
Formulation of 14 new epitopes into a single DepoVax formulation that, in preclinical testing, demonstrated the ability to generate specific killer T cell responses against cancer peptides.
Improvements in Operations
Immunovaccine has made demonstrable strides in augmenting its management and advisory expertise including:
Appointment of Joseph Sullivan, a 25-year global pharmaceutical and vaccine executive with Merck, to the newly created role of Senior Vice President, Business Development.
Formation of Scientific and Clinical Advisory Committee comprising 10 academic and industry experts in immune-oncology and virology.
Appointment of Pierre Labbé, a seasoned financial executive with 15 years of Chief Financial Officer experience with Medicago and Leddartech among others, as Chief Financial Officer.
Strong Financial Position
The company continues to raise equity capital to fund operations and successfully negotiated an extension to a loan to preserve capital.
Announcement of a follow-on equity offering recently of CAD 12.5 million (USD 10.1 million) in gross proceeds through a bought deal that is expected to close on February 15.
Two-year extension of the maturity of the CAD 5 million loan by the Province of Nova Scotia, from August 9, 2018, to August 9, 2020.
Closing of a CAD 10 million follow-on equity offering through a bought deal in June 2017.
Key Milestones to Watch
Immunovaccine anticipates that it will have available in the first half of 2018:
Additional top-line data from the 300mg (high dose) epacadostat cohort in the Phase 1b trial of DPX-Survivac in combination therapy for advanced ovarian cancer
Early data from the Phase 2 combination trial evaluating DPX-Survivac with Merck's pembrolizumab in recurrent ovarian cancer
"We are very pleased to be recognized as one of the 2018 OTCQX Best 50, as our brethren on this list are among some of the most renowned and fastest growing companies in the world," said Frederic Ors, CEO of Immunovaccine. "2017 was a pivotal year for Immunovaccine, as we transitioned from a platform-based biotechnology company, to a clinical-stage biopharmaceutical organization, with multiple assets advancing in our pipeline. We are grateful to our investors for their continued support, which we believe is reflected in this designation."
---
In the interest of full disclosure, we call the reader's attention to the fact that Equities.com, Inc. is compensated by the companies profiled in the Spotlight Companies section. The purpose of these profiles is to provide awareness of these companies to investors in the micro, small-cap and growth equity community and should not in any way be considered as a recommendation to buy, sell or hold these securities. Equities.com is not a registered broker dealer, investment advisor, financial analyst, investment banker or other investment professional. We are a publisher of original and third party news and information. All profiles are based on information that is available to the public. The information contained herein should not be considered to be complete and is not guaranteed by Equities.com to be free from misstatement or errors. The views expressed are our own and not intended to be the basis for any investment decision. Readers are reminded to do their own due diligence when researching any companies mentioned on this website. Always bear in mind that investing in early-stage companies is risky and you are encouraged to only invest an amount that you can afford to lose completely without any change in your lifestyle. Equities has been compensated with cash, common shares and/or warrants for market awareness services provided.