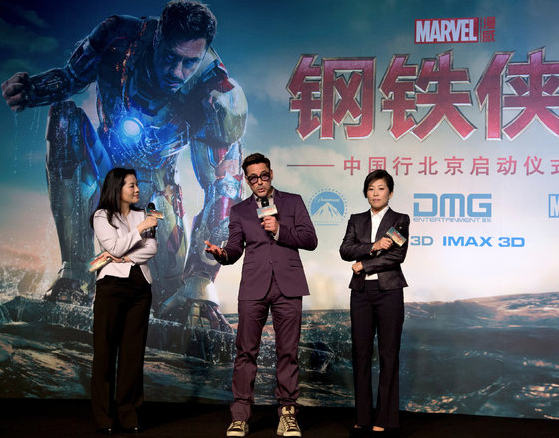 Another year gone, and somehow, despite the onslaught of Oculus Rifts, home theaters, and prestige television, the pockets of Hollywood film executives are deeper than ever. The domestic box office crossed $11 billion in 2015 - a new record, topping the $10.9 billion haul of 2013. More importantly, global box office receipts continue to shoot upward at an astonishing pace, with billion-dollar blockbusters Jurassic World and Star Wars leading a global tally of $40 billion this year, a 10% increase over 2014.
Yet, while velociraptors and Luke Skywalker certainly played a dramatic role in goosing this year's box office, they're not actually who residents of Mulholland Drive should be thanking for their new swimming pools. Nope, the true hero of this particular story is China - namely, their burgeoning middle class, and their seemingly endless appetite for big budget celluloid spectacle.
Despite a massive economic slowdown across China in 2015, box office receipts in the country totaled $6.78 billion - That's still over a third less than the revenue brought in by the US film industry, but consider this: the theatrical market in China grew 48.7% in 2015 alone, and up by just $1.51 billion five years ago, when the US market was already regularly pulling in over $10 billion a year.
Is China Prepared to Challenge Hollywood Dominance?
It's entirely possible that the Chinese middle class isn't going to be interested in Avengers and Minions forever. In fact, a fascinating trend this year has seen local Chinese films claim 61.6% of the year's total returns. As China's state-backed Xinhua news agency puts it, that's "a clear dominance over the country's cinema market." In a twist that's fit for a blockbuster film, that means that Hollywood's biggest fans might soon prove to be its chief competitor.
Further still, China's industry regulators are seeking to boost local product by limiting Hollywood's access to the market. A 2012 memorandum that was ratified a few months back allows only 34 foreign films to be screened in China each year. They also use shrewd tactics like scheduling major Hollywood films to debut head-to-head, allowing them to cannibalize each other, and blocking them altogether during peak filmgoing periods.
Of course, these sort of moves also serve to highlight the current reality: despite China's incredible success in the film market, it's still a clear underdog compared to Hollywood's film studios. So, film industry big shots can still feel comfortable installing their new swimming pools...but they may want to hold off ponying up for the diving board and clam shell tiling, because it's not entirely clear what twists will be revealed in next reel.
DISCLOSURE: The views and opinions expressed in this article are those of the authors, and do not represent the views of equities.com. Readers should not consider statements made by the author as formal recommendations and should consult their financial advisor before making any investment decisions. To read our full disclosure, please go to: http://www.equities.com/disclaimer