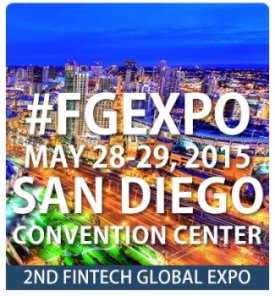 The FinTech industry has become arguably the most disruptive market in the global economy right now. This shift is the result of a confluence of evolving financial regulation with innovative technologies over the years that has revolutionized the way everyday people deal with nearly every aspect of the financial industry. By circumventing the traditional banking infrastructure, FinTech companies have empowered investors, small businesses, and consumers by providing them direct access to financial solutions via online and mobile platforms, eliminating conventional intermediaries.
On May 28-29 at the San Diego Convention Center, industry titans and democratized platforms convene for the 2nd Annual FinTech Global Expo (#FGEXPO) covering Marketplace/Online Lending, Crowdfinance, and more. The event encompasses real estate, bitcoin, new payment processes and all FinTech- finance technology.
The goal is to bring together exciting startups to network with investors interested in the latest opportunities for lending, capital and ways to invest.
"In the years that we have been hosting the FinTech Global Expo, we have been thrilled to see the exponential growth in this disruptive industry," says Andrea Downs, CEO of Coastal Shows and producer of the popular FinTech Global Expo conference series. "In addition to large players like Orchard, Prosper, Gartner, and Capital One Ventures we are seeing a host of vertical market platforms launch and thrive creating new ways for borrowers to access capital and Loans. Investors are taking notice of the opportunities. The #FGEXPO is the number one place for networking and new business development opportunities."
This year's expo will feature new ways to obtain consumer loans, equipment and leasing financing, small business and student loans as wells as investment opportunities for institutional investors, funds, family offices, individual investors, self-directed IRA's, and broker/dealers.
"The timing of this conference is excellent as the mainstream financial players have gone from suspect to curious about our disruptive industry," said Audrey Jacobs, Vice President of OurCrowd Americas. OurCrowd is the world's leading equity crowdfunding platform for accredited investors to invest in Israeli and global companies. "Retail investors are also just beginning to understand the untapped potential of investing through FinTech opportunities. The attendees of the Fintech Global Expo will be excited to be there, ready to learn and play."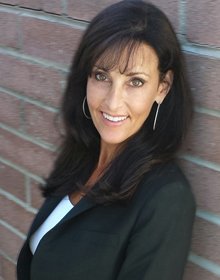 Andrea Downs, CEO of Coastal Shows and producer of FinTech Global Expo
FinTech residential and commercial real-estate financing and equity, one of the most exciting areas of this growing industry, is expected to be prominently featured at this year's event.
"In my opinion, coming from both the real estate and tech world, real estate crowdfunding is going to revolutionize how individuals engage with their communities and potentially how it could be the catalyst to changing market behaviors in how people invest their time and money," said Joe Elias, Co-Founder and COO of real estate crowdfunding platform Loquidity. "Big data is going to help shape the industry, because of the large push of real estate crowdfunding platforms to be extremely transparent and in high volume fashion. We'll start to see platforms build upon the large amounts of data the industry already has and come up with unique complementary products to their real estate offerings."
Perhaps as a testament to the meaningful connections and networking of FGEXPO, Elias notes that he and CEO Jesse Clem created Loquidity at last year's conference. The speed to which Loquidity progressed from an idea to become a leading platform is also an example of how quickly the FinTech industry is moving.
"It wasn't that long ago that I was just learning about this industry as it was taking shape," says AdaPia d'Errico, Chief Marketing Officer for Patch of Land, which is a peer-to-peer marketplace in the alternative finance space, specialized in P2RE (peer-to-real-estate) lending. "The lighting pace of growth and innovation are such that the opportunity to speak to others, field questions, answer challenges, and simply to connect with people who are living and breathing this 24/7 allows us all to improve and grow. And the more we can grow by sharing experiences, ideas, etc., the more the industry grows, succeeds and flourishes."
This is also a key event for financial planners, CPA's, attorney's community banks, investment banks, private equity firms, venture capitalists, angel investors, and startups. The show features a full exhibit floor, leading keynote speakers, special sessions, networking receptions and a marketplace lending meet-upon Wednesday night to kick off the conference. With an unparalleled program of high-level speakers, media, and new investment and lending opportunities this is the place to be.
"I'm excited to reconnect with other industry insiders, colleagues and competitors to discuss the changes that are affecting our industry and how crowdfunding, alternative finance, marketplace lending are crisscrossing each other, while becoming entwined with traditional finance," d'Errico said. "One day, this will all be called 'financing' when we realize that what companies are doing is applying technology in ways that improve systems, processes and unlocking opportunities for business and economic growth."
The future of the FinTech space is unquestionably promising, and it seems that the old guard of the banking and financial industries have learned to embrace this reality rather than to resist it. As more capital is invested into propelling FinTech forward, the innovations and growth will only accelerate from here.
"Since together we represent the potential disruption of $11 trillion through the socialization of finance, we are only truly powerful if we network and collaborate," says Jacobs. "For us to be effective in changing the way people invest and the access to capital, each of us needs to be able to tell the story of each other whether P2P or crowdfunding in all its forms. With any new industry we will expand rapidly and consolidate. This conference is important for the industry thought leaders to strengthen our relationships and understand each other's narrative."
Go to www.coastalshows.com to register or for more information.
DISCLOSURE: The views and opinions expressed in this article are those of the authors, and do not represent the views of equities.com. Readers should not consider statements made by the author as formal recommendations and should consult their financial advisor before making any investment decisions. To read our full disclosure, please go to: http://www.equities.com/disclaimer