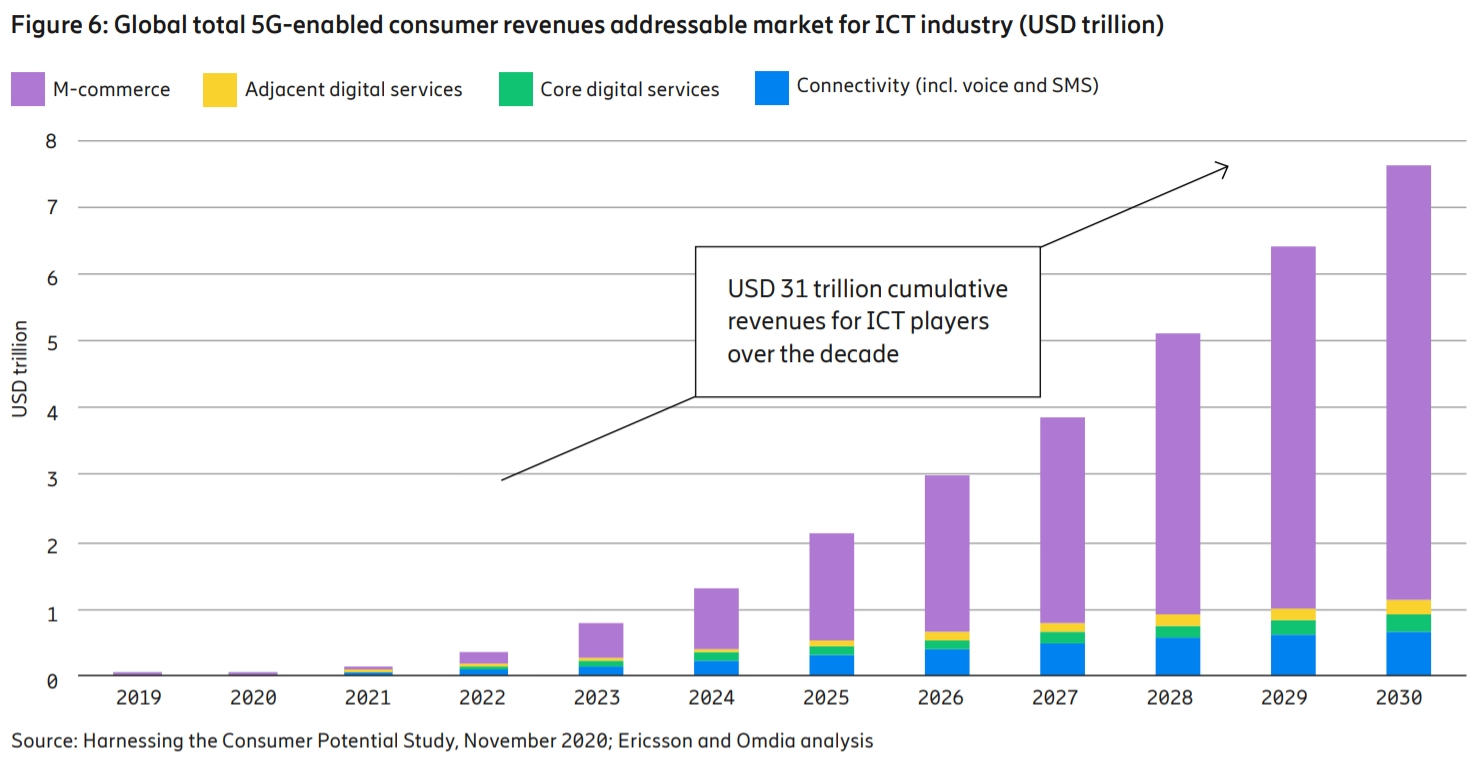 Ericsson says it is expecting the rapidly growing 5G consumer marketplace will reach $31 trillion dollars by the year 2030. The business and government marketplaces are other big sectors. That is an enormous leap forward and a huge, new opportunity for not only the entire wireless industry, but for other companies in other industries as well.
Ericsson also says AR or Augmented Reality could drive more than half of consumer spending on immersive media. I think this is true, plus a whole lot more. Let me explain.
Why is 5G wireless growing so quickly?
So, why is the wireless marketplace with 5G in particular growing so quickly and to such a high level?
There are many reasons. Let's talk about a few of them.
First, the move to the next generation service called 5G is much like the industry growth we saw in recent decades with 2G, 3G and 4G. This is an enormous growth opportunity the wireless industry sees every decade and that will only continue.
In fact, that's why the wireless marketplace will continue to be strong and growing going forward.
Second, 5G touches more than just the wireless industry. Because 5G means super-fast speeds and low latency, other industries are jumping in and will continue to do so over the next several years.
5G wireless is ultra-fast and low latency
5G is ultra-fast, but it is also low latency. Low latency means there is no lag time. This is important for several other industries.
Consider remote surgery or TeleMedicine. Low latency would enable a surgeon to perform surgery from the other side of the country or around the world.
Consider automated driving or self-driving cars. Low latency would enable your car to connect through the wireless Internet to other cars in the vicinity and to the server creating a self-driving experience with real-time response. It increases safety and reach.
TeleMedicine, self-driving cars, 5GAA and more with 5G
The 5GAA or 5G Automotive Association is a new group with a regularly expanding member base including Ericsson, Qualcomm, other 5G players and many of the world's top car makers.
This group lets all these companies talk and strategize and develop the next generation of driving.
Many other industries as well like retail, manufacturing, energy and more are also actively changing what they do in order to incorporate 5G technology. There are already numerous smart city programs that have been implemented around the world that are using 5G to harness and transmit critical data.
This will impact the consumer and business marketplace with B2B and will also impact governments both here in the United States and worldwide.
5G wireless impacts consumer and business marketplace
So, 5G is the first next generation wireless service which goes beyond the wireless industry and will impact other industries. In fact, 5G will change our thinking, the way we do everything, and it will change our world.
COVID-19 has created some stumbling blocks of course, but that is not slowing the forward momentum of 5G for the wireless industry and every other industry.
In fact, companies like Ericsson, Qualcomm, Huawei, Nokia, AT&T, Verizon, T-Mobile and countless other companies in other industries are moving ahead faster than ever. This means companies large and small. No slowdown.
In fact, these advancements are continuing to move forward at a rapid pace. That's why many wireless companies are having their busiest year ever.
Why Ericsson's report on 5G wireless expansion is so exciting
This shows how 5G is still one of the most rapidly growing spaces, ever. This shows that while the coronavirus is impacting our world, it is not slowing down the 5G expansion for the wireless industry and other industries that use it.
This Ericsson report shows where we will be by the year 2030. That is just 9 years from now. While I agree that growth will remain high and at a breakneck pace, there is something else just as important to keep in mind.
6G wireless is coming next
Remember, the wireless industry has been on a growth path for decades. Growth will not end in 2030. In fact, by the time we reach 2030, we will already have introduced 6G and we will be installing it.
In fact, just like we do today with 5G, in a decade we will be talking about all the amazing things 6G will do for us as individuals, companies and governments, both here in the USA and globally.
So, let's take pride in this next generation move to 5G and how it will continue to change our world, but let's also remember the wireless industry will remain the center of the universe, which as always, is a rapidly growing whirlwind of growth and activity.
That's why the wireless industry and many of today's leaders will continue to be leaders going forward.
Jeff Kagan is an Equities News columnist. Kagan is a Wireless Analyst, Technology Analyst who follows Telecom, Pay TV, Cloud, AI, IoT, Tele Health, Healthcare, Automotive, Self-Driving cars and more. Email him at [email protected] His web site is www.jeffKAGAN.com. Follow him on Twitter @jeffkagan and LinkedIn www.linkedin.com/in/jeff-kagan/
_____
Equities News Columnist: Jeff Kagan
Source: Equities News