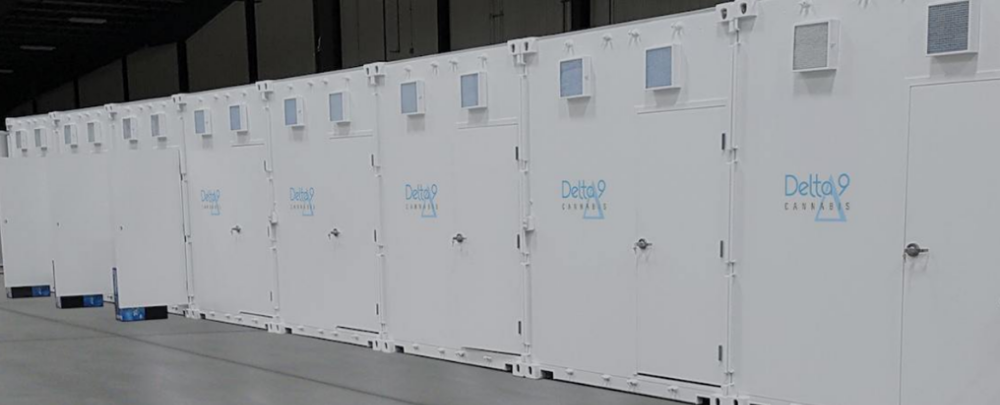 Image: Delta 9 Cannabis grow pods
This week, Delta 9 Cannabis Inc. NINE:CA, VRNDF, released its year end revenues and, as has been happening frequently across the cannabis industry, they released record revenues. Delta 9 saw $7.57 million in operating revenues an increase of 702% from the previous year.
On the Q4, McLeish says, "Revenue for the quarter was $5.3 million which was largely in line with our estimate. EBITDA loss for the quarter was $2.8 million and this was below our -$0.1 million forecast. The EBITDA miss was primarily attributable to higher than forecasted production costs and sales and marketing expenses.
Now, record revenues in the Canadian cannabis industry is not impressive (it should be expected), but what is impressive is that they did it their way sticking to a very disciplined growth model.
Manitoba, Manitoba, Manitoba
"We look at the company from a production standpoint, we grew tenfold," CEO John Arbuthnot told the Winnipeg Sun. "We went from 35 employees to over 175… you look back and you actually go, 'Wow, what a year.' And then you try to look forward a year and go, 'Am I going to be looking back at 2018 and going, that was such small year compared to 2019?'
How did this Winnipeg-based operator bootstrap a very impressive 2018, they focused on one province that they thought they could saturate: Manitoba.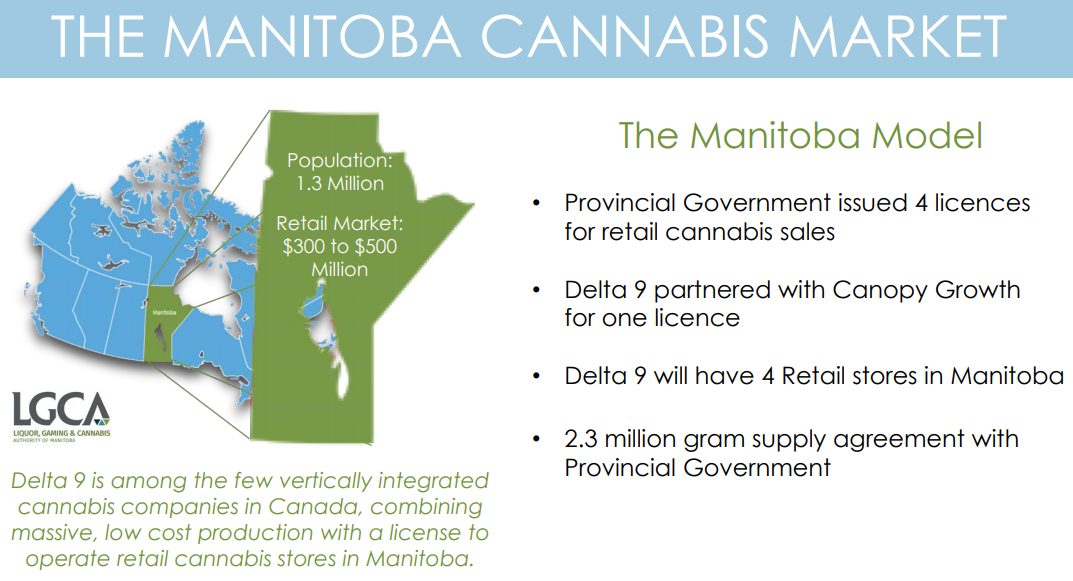 "A lot of Delta 9's rollout for the initial stages of legalization was focused on our home province here in Manitoba. A lot of the idea from a distribution standpoint was around market share. You know, we were certainly able, I think, to see the early success in that model here in Manitoba, where we enjoy relatively higher market share from both a wholesale and a retail standpoint. Leveraging the success, I think, of that early take on the market, we're now pushing west; Saskatchewan is the next stop for us."
Grow Pods
Yes, in Manitoba Delta 9 was able to become a vertical operation as one of only four LPs. The company's grow pods – which are essentially retrofitted shipping containers can each produce 32.5 kilograms of cannabis per year. Currently, Delta 9 has received approval from Health Canada for 154 grow pods, which are stackable in tight spaces. The pods aid quality control and prevent wide sweeping air flow from room to room.
"With the pod system, all of that risk is compartmentalized. If there is a risk of contamination, it's contained within one area and that risk is mitigated," Arbuthnot said.
Delta plans to have 600 of its pods stacked inside its own facility by the end of 2019, bringing its production of cannabis to about 17,500 kilograms — roughly $175 million worth at current retail prices. The company has a distribution deal in place with Auxly Cannabis, which will aid in wholesale shipment in addition to the company's retails shops.
"Our strategy of being one of Canada's only vertically integrated cannabis companies with licenses for production, processing, distribution and retail operations is paying off and now producing significant financial results," Arbuthnot concluded. "The legalization of the adult consumer recreational market in October last year is only the beginning of many new and exciting opportunities for the Company."