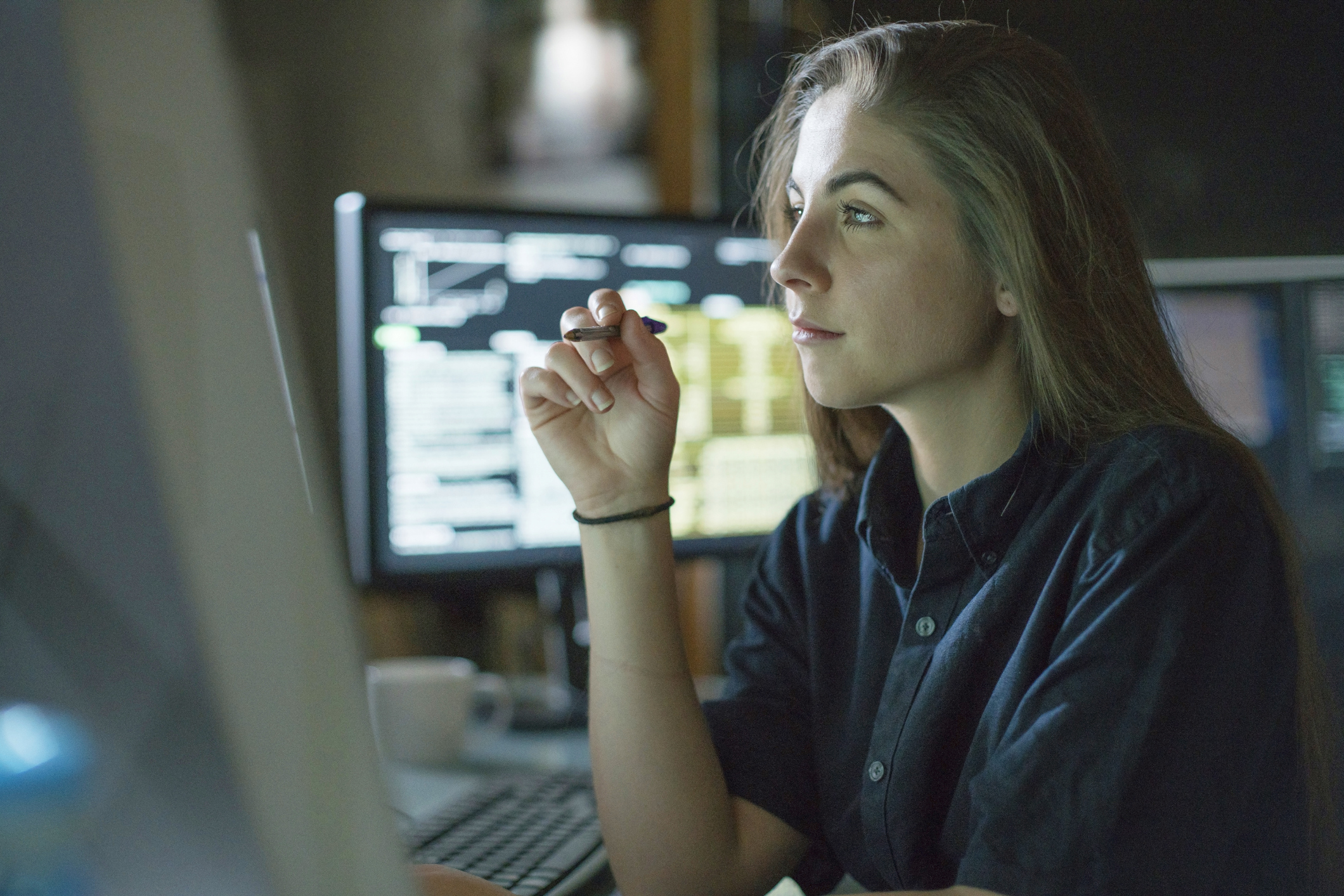 iStock.com/Laurence Dutton
The technological revolution has created a wellspring of opportunity for budding data scientists.
To date, America's schools are unable to meet the demand for data scientists. Nevertheless, that demand continues to rise – as do data scientists' salaries.
Over the last year alone, data scientists' openings have risen nearly 60%. If you've chosen data science as a career, you may be well on your way to entering one of the most lucrative fields in the United States.
Driving Commerce Forward With Data Science
Data science has evolved into an invaluable, widely used field taken advantage of by leaders across a range of industries. Enterprises employ data scientists to perform critical research such as business analytics, market analyses, sales forecasting and anticipating labor demands. Business leaders want more data and more professionals who are skilled at interpreting that information.
While executives understand the importance of collecting and analyzing data, they may be only vaguely familiar with the technical aspects of the work – if at all. Meanwhile, the number of organizations embracing big data is on the rise. Between 2015 and 2017, big data implementation grew 17%, with adoption rising to 53% overall among United States companies.
These early adopters may not yet know the best tactics for leveraging data or have sufficient talent to maximize the use of existing information, even while they're benefiting from the advantages of the technology. Because they've embraced big data, these firms can analyze past information to forecast future outcomes.
There are many ways that big data analysis can help enterprises achieve their objectives. For instance, researchers can study consumer data to help enterprises build rapport with their ideal consumers.
Adopters of big data technology can also test new markets. With big data analysis, they don't have to spend millions of dollars on a live product launch. Once researchers uncover opportunities to do something better, they can develop an actual plan to help firms make profitable use of their discoveries.
A Wealth of Opportunities in the Field
The Bureau of Labor Statistics (BLS) forecasts nearly 30% growth in the data science field in the decade preceding 2026. This growth far outpaces the national average for job expansion and will result in over 50,000 new jobs. The top reason for this growth, cites the BLS, is the business and government adoption of big data systems.
In some fields, demand is shrinking for data scientists. The expertise and analysis required in some fields and industries aren't as complicated as others. However, overall growth in the field is on a sharp incline.
Remarkable advancements such as artificial intelligence and machine learning are enabling data scientists to do even more, and there will always be a need for humans to develop, direct, monitor and adjust highly advanced data analysis programs.
Furthermore, the amount of data collected by organizations grows continually. As this occurs, it will add to the demand for data scientists.
In commerce, data scientists help executives make important decisions concerning crucial areas such as production schedules, supply chain management and pricing. Relatively recently, researchers have made significant advancements in using big data to aid product development and marketing strategies.
The analytical work required in these areas is increasingly complex and contributes to the surging demand for data scientists. This demand will only increase as researchers find new ways to analyze quantifiable information to find opportunities.
Upskilling in the Interim
The global data scientist shortage is severe. It's so marked that some firms have turned to in-house training to develop needed talent. In these instances, industry expertise is more important than a background in computer science. As a result, data science may be an ideal career transition for mothers who are returning to the workforce from maternity leave.
Many returning mothers find it challenging to transition back into the workforce. Some feel as though their skills have lapsed and wonder if they're still professionally relevant. With the right educational foundation, many professionals can start upskilling from home. Online courses enable learners to pick up skills quickly and on a flexible schedule.
In some instances, returning mothers can develop skills that will enable them to continue their careers from home. Even if returning mothers feel as though their skills are sufficient, upskilling can open up a new world of career possibilities.
Believe It or Not, Data Science Is Still in Its Infancy
Data science is here to stay and will continue to grow increasingly important. Still, the field is in its early stages.
A report published by the National Science Foundation reveals that there is currently no acknowledged standard for data science education. Still, successful data science learning initiatives have emerged from schools of computer science, information science, management and other institutions.
Many universities developed successful initiatives through a collaborative, interdisciplinary effort. To date, there is no consensus on precisely who should hold the responsibility for data science training. Nevertheless, experts agree that the future for data science holds exciting possibilities.
Getting Your Foot in the Door
The first thing you'll need to do to land a career in data science is to learn how to code. You'll find that you'll gain more value from practicing coding in one language such as Python rather than continually learning new languages. Practicing is the only way to perfect your craft. Once you've learned one language, it'll be that much easier to pick up new ones.
Next, you'll need to learn advanced statistics. It's not enough to learn how to use machine learning programs such as scikit-learn when working with statistical data. A software program alone won't land you a job in the field.
Statistics may not be what attracted you to the data science field. However, you'll have to master the basics before employers consider you as a viable candidate.
Now that you've learned coding and statistics, you'll need to complete a minimum of four projects. During your training, choose practice projects that align with the needs of your ideal employer.
Your projects will serve as your portfolio and accompany your resume. Also, they'll serve as proof of the quality of your work.
You cannot prepare enough to compete for a data science career. You must commit to continual learning. It's a good idea to enter coding challenges such as HackerRank.
The HackerRank competition will familiarize you with many of the questions that will come up during the interview process. Also, it's great for preparing you for the competitive environment you will soon experience as you search for a full-time job. As you get better at the contests, you'll learn what helps you stand apart from the competition.
Staying the Course
Yes, the outlook for data science professionals is phenomenal, but that doesn't mean landing a data science job will be a cakewalk just because you went to school.
Many data scientists go through a long, frustrating process of job hunting and interviews before landing a satisfying opportunity. The key is to stick to it.
Like anything else, your job search will also be a learning process. Eventually, you'll learn enough about hunting for a data science job that you'll land a role.
As time goes on, competition will only increase for attractive data scientist openings. Although data science is one of the most promising fields around, breaking into the industry is challenging. However, the rewards are well worth the effort.
___
Equities Contributor: Andrew Deen
Source: Equities News