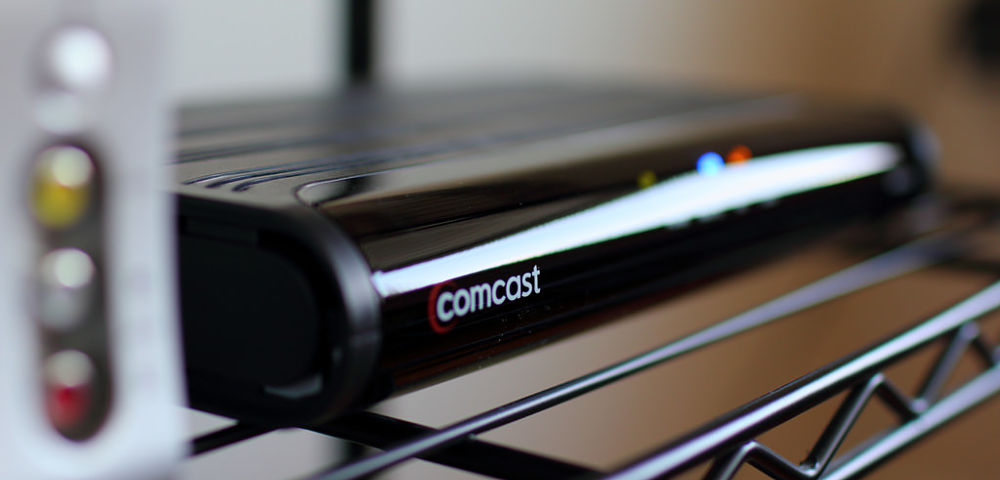 Image via Mr.TinDC/Flickr CC
You would think traditional cable TV companies like Comcast (CMCSA) Xfinity and Charter (CHTR) Spectrum would compete against newcomers like Netflix (NFLX) and Hulu. Why then are they embracing these competitors instead? The pay TV industry is changing. Let's take a look at where it's come so far, and what we can expect tomorrow.
A few short years ago traditional cable TV ruled the entire pay TV world. Then, new television companies and technology using IPTV and wireless popped on the scene and began to compete with traditional cable TV. In the years since, competition and new technology is completely transforming this space.
That's why several years ago, new brands like Xfinity and Spectrum were created. To help them compete in the rapidly changing world of technology and services. To stay current in the minds of the marketplace.
However, today rather than competing, traditional cable television companies are embracing and partnering with certain new competitors like Netflix and Hulu rather than competing against them.
Why? The reason is simple. Traditional cable television may still own the most pay TV market share, but it is also shrinking. In this new world, new competitors like AT&T (T) DirecTV Now, Verizon (VZ) FiOS, CenturyLink (CTL) Prism and countless others are jumping in and winning market share.
In this new world Netflix and Hulu are rapidly growing. So, partnering with them, rather than competing, let's cable TV companies hang onto and better stabilize their customer base. This means the customer does not have to choose one and say goodbye to the other. They get both.
Pay TV Continues to Transform with Facebook TV, Google TV, Apple TV

Plus, even more technology and new competition is moving into pay TV like Amazon (AMZN) TV and YouTube TV. They too have their eyes on growth and market share. And I expect to see more competitors moving into this space with all sorts of companies like Google (GOOGL) TV, Apple (AAPL) TV, Facebook (FB) TV and many others in the next few years.
This means tomorrows pay TV space is much different and is growing in new directions. Think about your own family. Grandparents still use cable TV. Parents use a combination of pay TV options. Kids look for no cost or very low-cost options in the rapidly growing pay TV space. Since we can't stop the next generation, we must learn what they want and learn new ways to win them over.
Traditional Cable TV is Threatened by New Tech and New Competition

The last few years have dramatically reshaped the entire pay TV space thanks to new pathways to the customer like the Internet, IPTV, satellite and wireless data. And I expect this radical transformation to continue.
That means if we look back over the last ten years, cable TV has gone through incredible change. And that pace of change will continue moving forward over the next decade.
That's the threat and the opportunity traditional cable TV is facing. They used to own the entire space. Now they face so many new competitors and new technology, their dominance it threatened. And this growth wave and change wave is continuing.
Yesterday, cable TV would simply stayed put and failed. Today, we see cable TV leaders like Comcast aggressively transform themselves and remain attractive to the customer with assorted pay TV and wireless opportunities.
Top 3 Pay TV Competitors: Comcast Xfinity, AT&T DirecTV, Charter Spectrum

Today, the three largest pay TV competitors are 1. Comcast Xfinity, 2. AT&T DirecTV NOW and 3. Charter Spectrum. You can see this changing marketplace is both a threat and a growth opportunity for each player if they understand what steps to take next.
Remember, leadership can and often does, change on a dime. Example, 20 years ago Motorola was kind of the wireless handset hill. Ten years ago, Motorola faltered, and Nokia and Blackberry were the top of the wireless handset marketplace. Then a decade ago the Apple iPhone, Google Android and Samsung Galaxy were introduced, took the lead and rapidly transformed the smartphone space.
Challenge and Opportunity for Cable TV to Grow Market Share

This is the threat and opportunity faced by many of yesterday's leaders. And that's why traditional cable TV competitors are embracing rather than competing with new technology like Netflix and Hulu. These companies strengthen the cable TV providers with their growing bundle of services.
When customers use multiple services, they become more loyal to a company. The chance they switch to a competitor drop when they are using multiple services. If they move to a competitor, they often give up discounts and other features they have grown to depend on.
That's why the cable TV industry is embracing and partnering with rather than competing with newcomers. This way they can keep their market share steady and grow with other services.
Jeff Kagan is an Equities.com columnist. Kagan is a Wireless Analyst, Telecom Analyst, Industry Analyst, speaker and consultant. He follows wireless, wire line, telecom, Internet, cable TV, IPTV, Cloud, Mobile Pay, FinTech and communications technology. Email him at [email protected]. His web site is www.jeffKAGAN.com. Follow him on Twitter @jeffkagan.