With the largest tech conference set to kick off this week, the 2018 Consumer Electronics Show (CES) promises to once again highlight all the best new products and innovations set to hit the market this year. Among the most watched trends will be the latest applications in the Internet of Things (IoT) technology, health-tracking wearables and artificial intelligence. For GTX Corp (GTXO), the event serves as a perfect launching pad for the company's 2018 rollout of its leading IoT and GPS-based wearable tracking products and services. Riding high on the significant momentum it established in 2017, GTX is as primed as ever for a breakthrough year.
At CES, GTX will be presenting its new Biometric Insoles alongside its partner Veristride. The collaboration, which began in August 2017, set out to develop and launch a suite of biometric solutions embedded in insoles with the primary goal of helping senior citizens avoid falling, which is a major problem as an estimated 2.8 million older people are treated in emergency departments for fall injuries each year. These fall injuries result in an estimated $31 billion in direct medical costs annually on an inflation-adjusted basis. Using custom sensors at the foot, the Biometric Insoles collect movement and activity data for gait analysis to provide better insight into fall risk detection and prevention for seniors. This product will expand GTX's senior target audience from the 6 million currently diagnosed with Alzheimer's to the 72 million baby boomers in the US. The Company is also looking at other applications for younger adults that want to monitor daily activity, the professional sports community and military.
This innovative technology will be on full display on Thursday, January 11 from 2:00 pm to 5:00 pm PST at the Las Vegas Westgate Tower in hospitality suite 310. Executives from both GTX Corp and Veristride are also accepting one-on-one meetings throughout CES week. (Those interested in scheduling an appointment can email [email protected] with the subject line "CES Meeting".)
"Despite preventive efforts, falling continues to be a major problem for seniors both at home and in community or assisted living facilities, not to mention the tremendous cost to the healthcare industry," Patrick Bertagna, GTX Corp CEO, stated recently. "'By simply wearing a pair of biometric insoles, we will be able to monitor a person's activity and any change in balance which in many cases can tell us a lot about that person's overall well-being. Seniors need to stay as active as possible, but many times due to aging, fear, loss of motor skills or loss of memory, they become sedate, which leads to a decline in overall health. Our goal is to provide seniors with wearable technologies that empower them to stay active while not compromising their safety. Being able to prevent, delay or accurately predict falls, undetected strokes, affect from medicines and even early onset of dementia by wearing a smart non-intrusive footwear device can offer significant improvements in senior care and wellness along with substantial cost savings."

In addition to the Biometric Insoles, GTX will be showcasing to its flagship GPS SmartSole® line for seniors and caregivers, as well as its new offerings scheduled to launch in 2018. This includes the GPS SmartSole® for the children's market, the GPS InvisaBelt designed for toddlers, and the Armatrak GPS Rifle Tracker for the defense industry.
This robust product portfolio highlights GTX's promising year ahead, leveraging its many successes in 2017 to capitalize on a number of emerging tailwinds.
For example, in November, the US Senate Judiciary Committee voted to move forward with bipartisan legislation to provide tracking devices and resources to those with autism and other developmental disabilities at risk of wandering. Known as Kevin and Avonte's Law, the bill is an updated version of companion bills that were previously passed by the Senate and the House.
That development dovetailed very timely with GTX's earlier announcement of its first product launch into the children's market with Take-Along Friends, a line of plush dolls embedded with the company's award-winning GPS tracking technology. This was a very significant milestone for the company, opening an enormous addressable market in need of its devices. An estimated 800,000 children are reported missing each year in the United States – equating to roughly 2,000 per day, according to the National Center for Missing and Exploited Children. GTX Corp.'s tracking technology empower parents to enhance the safety and security of their family needs.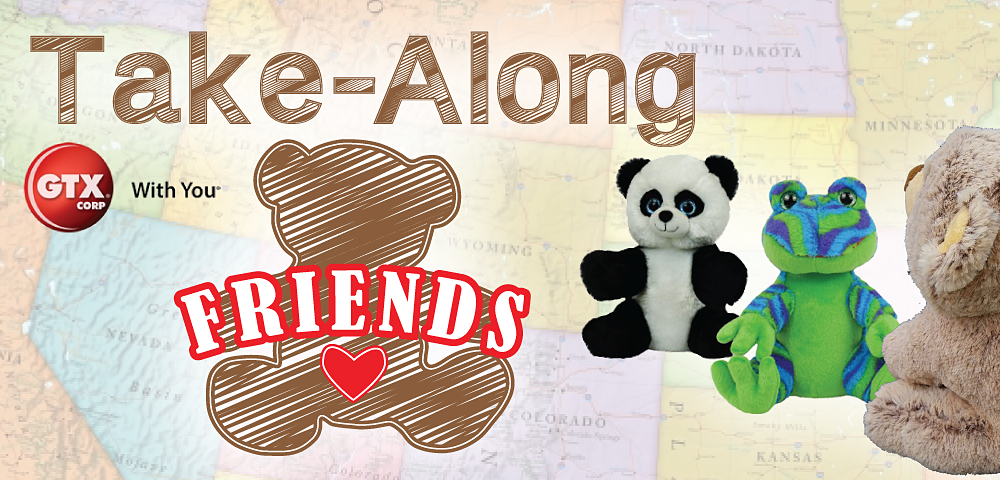 "For the last two years, we've really focused on expanding distribution," Bertagna told Equities.com in September. "We have distributors throughout most of the first-world countries and service subscribers in 35 countries. We have a lot of distributors in Europe, Central and South America, and starting to expand into Asia and the Middle East, and even starting to get into Africa somewhat. So, we really believe in building our global distribution channels."
The company can now leverage that distribution network with its various offerings. Bertagna added in the interview, "We're looking at doing some more business in the biometric space. It's something we're starting to put a lot of emphasis on, specifically with fall detection and prevention. We have also been working closely with military for the last year and half, and we're expecting to do more with them in 2018. So, military, biometrics, children's market and home health applications are on our roadmap as products and services to bring into our distribution pipeline."
It's clear that this is the year the rubber meets the road for GTX's growth strategies, which has found firm footing in various markets. In addition to Veristride, the company has key partnerships on multiple fronts, which includes:
ORBOCOMM (ORBC). Providing connectivity and distribution for the new Verizon enabled GPS tracking devices.
TruSense. GTX's first entry into the Smart Home market. Working with TruSense to track daily activities, health patterns and other variables to address the needs of a household.
Edwards Air Force Base. Providing Edwards AFB with an encrypted GPS technology platform to track on-base personnel and equipment. Edwards AFB will be the first military base to deploy the new system. The US maintains over 800 military bases around the world, and GTX has already begun discussions with other bases in California, Nevada and Utah.
HeartMath. Alliance with this world leader in stress and resilience technologies. GTX has created a health guide available to GPS SmartSole caregivers.
In addition, GTX continued to garner industry acclaim in 2017 for its leading technology, including nominations in three separate categories for the 2017 Uppie Awards, Most Innovative Tracking & Recovery Technology winner in the 2017 Telecoms Awards, one of the 25 Most Empowering IoT Companies by 1IT Enterprise Magazine in 2016, and finishing second only to Microsoft (MSFT) in the 2015 CTIA E-Tech Awards in the Wearables, Health, Fitness & Wellness category.
With a number of emerging technology and broader market trends coalescing with the company's stellar execution of its strategic roadmap, it's increasingly evident that GTX is primed for a big year in 2018.
---
In the interest of full disclosure, we call the reader's attention to the fact that Equities.com, Inc. is compensated by the companies profiled in the Spotlight Companies section. The purpose of these profiles is to provide awareness of these companies to investors in the micro, small-cap and growth equity community and should not in any way be considered as a recommendation to buy, sell or hold these securities. Equities.com is not a registered broker dealer, investment advisor, financial analyst, investment banker or other investment professional. We are a publisher of original and third party news and information. All profiles are based on information that is available to the public. The information contained herein should not be considered to be complete and is not guaranteed by Equities.com to be free from misstatement or errors. The views expressed are our own and not intended to be the basis for any investment decision. Readers are reminded to do their own due diligence when researching any companies mentioned on this website. Always bear in mind that investing in early-stage companies is risky and you are encouraged to only invest an amount that you can afford to lose completely without any change in your lifestyle. Equities has been compensated with cash, common shares and/or warrants for market awareness services provided.