​Why CBD businesses should pay attention to the 2018 Farm Bill
J. Frank Sigerson Follow |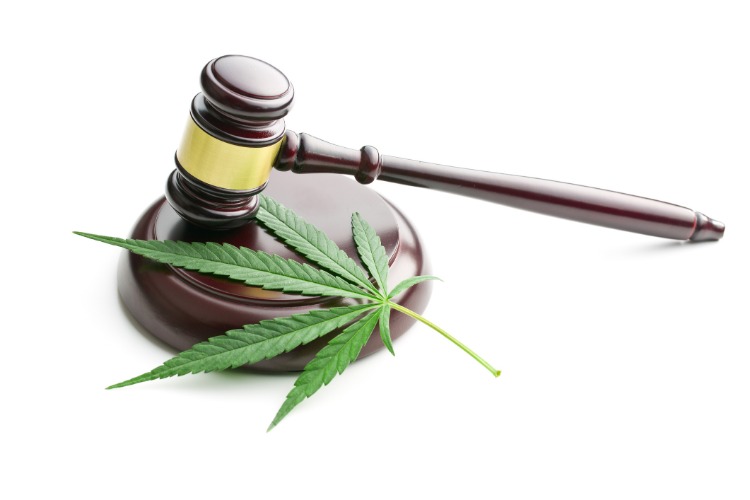 Image: iStock.com/jirkaejc
During the last quarter of 2018 North America saw some major changes in the legal cannabis space that open up a significant market for investments. Thanks to the passing of the Farm Bill in the U.S. and the legalization of recreational marijuana in Canada on Oct. 17, cannabis is hitting the mainstream. Companies like Green Growth Brands Inc. (GGB:CNX) (GGBXF), Canopy Growth Corporation (weed:ca) (CGC), and PotNetwork Holdings, Inc. (POTN) are jockeying for position in this emerging market.

The farm bill has changed the game
Among the wide array of changes brought by the adoption of the Farm Bill, the cannabis industry is most excited by the removal of all cannabis fiber products from the Controlled Substances Act.
In reality, that means that all hemp-derived products with THC content lower than 0.3% became legal on a federal level. The move opens up a market for cannabidiol (CBD)-based products, which in contrast to the psychoactive properties of THC, stand as the medicinal and non-psychoactive compound of the cannabis plant.
According to a recent report by New Frontier Data, the global hemp market reached $3.74 billion in retail sales, with a projected annual growth rate of 15%. With progressive relaxation of legal constraints, the global legal cannabis market is forecasted to be worth as much as $146.4 billion by 2025. With dazzling results like this, it's obvious that this emerging industry is attracting a lot of attention from investors.
While Attorney General Bill Baar confirmed that he will not continue the war against legal marijuana—a markedly different stance to that of his predecessor—the Food and Drug Administration published guidelines that restricted adding CBD to food or drinks without prior approval. Despite this limitation, plenty of room for business remains, as regulations are bound to evolve.
Since exporting or importing medicinal cannabis is supervised by the International Narcotics Control Board and recreational cannabis cannot be traded over borders, both Canadian and U.S. companies have begun to develop operations in the States to seize a chunk of the market for themselves before recreational marijuana becomes legal.
This has opened up incredible opportunities for both Canadian and American businesses. Even non-cannabis companies are racing to take a piece of the pie and small CBD businesses in the United States, in particular, are set to benefit.
Partnering for prosperity
Canadian-born Green Growth Brands Inc. conducted a trial last autumn in the US by vending their CBD-based Seventh Sense products in Designer Shoe Warehouse (DSW) stores. As 74.4% of its products on the shelves sold during the first 10 weeks of the test period, GGB signed a revenue-sharing agreement with DSW to further cooperate in the American market.
Parallel to that, GGB Beauty LLC - a subsidiary of GGB - announced that it will be working with Authentic Brands Group on developing a line of CBD infused personal care products. As an important part of this agreement, GGB will be working with Tilray Inc. (TLRY), another significant cannabis company, as the preferred supplier of CBD ingredients for their upcoming products.
Since entering an agreement with Simon Property Group, Inc. (SPG), GGB has been given access to 108 prime shop locations in U.S. malls owned and operated by Simon. As the first brick-and-mortar Seventh Sense CBD Shop opens up at the Fayette Mall in Lexington, Kentucky, these strategic partnerships carve a wide alley for GGB to pour its products into the U.S. market.
The company suffered its only backlash when Aphria Inc. rejected GGB's hostile all-stock bid, which has negatively impacted the cannabis stock as well as the cooperation-centered image of GGB.
CBD to save the stagnant alcohol industry
Canopy Growth Corporation serves as Canada's biggest cannabis company. With 5.6 million square feet licensed for production, CGC is able to produce 7000 kg of hemp-derived CBD per year and supply as much as 36% of the total shipping of marijuana to Canada's provinces. As its revenue has gone up 283% from one year ago, Canopy is priming itself to hop over the border into the U.S.
Starting in 2017, Constellation Brands STZ initiated a 9.9% stake in CGC, which has been ramped up to 38% last year. Valued at $4 billion dollars, it marks the biggest investment into the cannabis industry to date. Constellation, the No. 3 alcohol beverage company in the U.S., plans to offset the falling sales of alcohol by experimenting with cannabis-infused drinks. As the market for CBD-infused beverages is predicted to be worth $600 million in the U.S. by 2022, STZ wants to win back the clients in medical marijuana states, where alcohol sales have gone down as much as 15% over the last 10 years.
This significant influx of money gives Canopy a lot of means for expansion, embodied by the acquisition of Colorado-based hemp researcher Ebbu for $330 million last fall. As CGC was recently awarded a hemp growing and processing license in New York State, it plans to invest between $100 million and $150 million in a facility there in order to build up capacity for U.S. hemp production.
Homegrown in the U.S.
According to a Harbinger Research Independent Analysis from March 2018, U.S. based PotNetwork Holdings, Inc. is set to grow at a "phenomenal" rate. While analyst Brian Connell gave PotNetwork Holdings a 1-year price target of between $0.192 to $0.337, with a rating of "Strong Speculative Buy", he sees even further upside in light of the Farm Bill.
POTN acts primarily through its subsidiary, Diamond CBD, which has generated over $18.1 million in revenues, surpassing its results of 2017 and following Harbinger's predictions. The source of POTN's success lies in targeting the overlooked parts of the U.S. cannabis market, such as specific edibles or CBD for pets.
These innovative efforts have been recognized by the Pet Business Industry, which has presented a Recognition Award onto Diamond CBD for their MediPets Dog Treats, designed to bring relief to canines in pain. While companies as Constellation Brands and Molson Coors (TAP) are aiming to bring CBD to the alcohol market, Diamond CBD introduces Brain Chill Slushy Machines to a wider audience, offering a 12oz cup of a chilled and alcohol-free experience containing 100mg of full spectrum CBD.
As Diamond CBD presents its range of medicinal products to the pharmacy chain giant CVS Health (CVS), serving over 5 million customers each day, Harbinger estimates that POTN will grow by a remarkable 15,804% over three years.
The race is on
The Farm Bill's starting gun was loud enough to be heard all across North America. Over the next few years, we'll be spectators of the clash between the established Canadian companies and the nascent U.S. enterprises that will divide the emerging CBD market among them.
This is a big challenge for many small businesses. It will certainly be tempting to cash in on the new trend but the market is already controlled by the early movers, and the rush for CBD gold could make it difficult for a newcomer to carve a space for themselves.
As more CBD edibles are expected to be allowed for distribution by the FDA, and with possible full-blown legalization on the horizon, the U.S. cannabis market is primed to explode, crafting space for both companies and private investors to reap the benefits of the marijuana boom.
DISCLOSURE: I have no financial interests or connection with any of the companies mentioned in this article.

---
The views and opinions expressed in this article are those of the authors, and do not represent the views of equities.com. Readers should not consider statements made by the author as formal recommendations and should consult their financial advisor before making any investment decisions. To read our full disclosure, please go to: http://www.equities.com/disclaimer.
---
Discover: Trending Events
---
Companies
| | Symbol | Name | Price | Change | % | Volume | |
| --- | --- | --- | --- | --- | --- | --- | --- |
| Follow | SPG | Simon Property Group Inc. | 142.25 | 1.72 | 1.22 | 3,180,155 | Trade |
| Follow | DSW DBI | DSW Inc. | n/a | n/a | n/a | 0 | |
| Follow | CVS | CVS Health Corporation | 71.51 | -0.43 | -0.60 | 5,186,151 | Trade |
| Follow | TAP | Molson Coors Beverage Company Class B | 55.29 | -0.12 | -0.22 | 1,636,663 | Trade |
| Follow | POTN | PotNetwork Holding, Inc. | 0.03 | -0.00 | -1.96 | 597,022 | |
| Follow | CGC | Canopy Growth Corporation | 21.88 | -0.43 | -1.93 | 4,845,842 | Trade |
| Follow | weed:ca | Canopy Growth Corporation | | | | | |
| Follow | STZ | Constellation Brands Inc. | 207.40 | -0.94 | -0.45 | 798,918 | Trade |
| Follow | TLRY | Tilray Inc. | 19.37 | 0.13 | 0.68 | 2,343,001 | Trade |
| Follow | GGB:CNX | Green Growth Brands Inc. | 0.40 | 0.00 | 0.00 | 748,584 | |