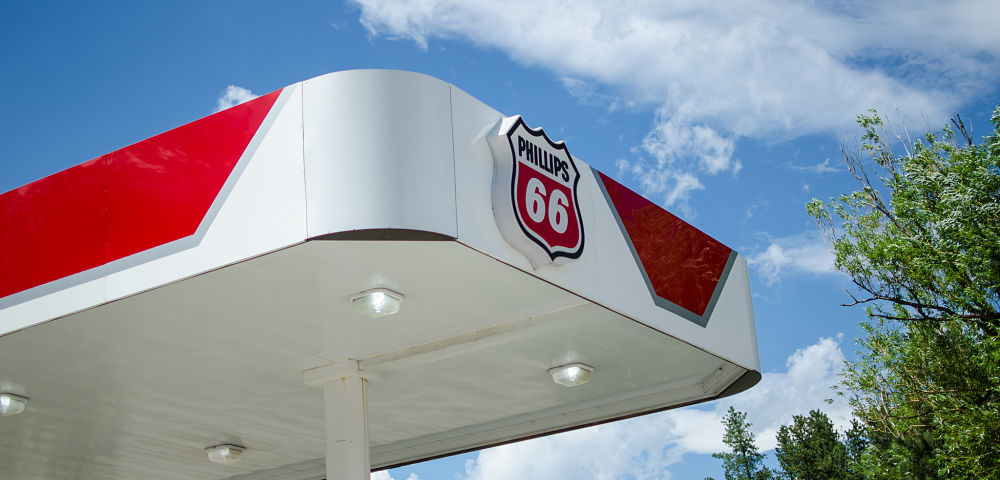 Image via m01229/Flickr CC
Phillips 66 (PSX) is an oil and gas refiner and marketer (crude oil, natural gas, natural gas liquids and refined petroleum products) and a chemical manufacturer (petrochemicals and plastics) based in Houston, Texas, notes Crista Huff, editor of Cabot Undervalued Growth Stocks Advisor.
The company does business in the U.S., South America, Europe, Asia and the Middle East. Phillips 66 was spun off from ConocoPhillips (COP) in 2012.
The company made a big, unexpected announcement in recent days that benefits its shareholders. Phillips 66 is buying 35 million PSX shares from Warren Buffett's Berkshire Hathaway (BRK.A).
Buffett wants to divest the shares to keep his remaining stake in Phillips 66 under a 10% threshold to avoid regulatory hassles. He now owns 9.8% of Phillips' outstanding shares, and he plans to hold them long-term.
Phillips' shareholders will benefit because each time the company repurchases shares, the lower number of outstanding shares serves to increase the earnings per share (EPS). EPS growth is a prominent measure of valuation among most professional investors, so the recent share repurchase is a win-win situation for buyer, seller and shareholders.
As oil prices continue to rise, companies throughout the energy sector continue to rebound from several years of falling earnings and net losses. Phillips' adjusted earnings per share (EPS) fell from $7.67 in 2015 to $2.82 in 2016, then rose 55.3% to $4.38 in 2017.
Wall Street analysts currently expect Phillips 66 to earn $6.74 per share in 2018 (December year-end), reflecting very aggressive earnings growth of 53.9%. That's an impressive earnings growth rate for a company that's bringing in over $100 billion in annual revenue; it's the kind of growth rate that you might typically find on a small-cap stock.
What's more, the stock's 2018 price/earnings ratio (P/E) is incredibly low at 13.8. That means there's lots of room for PSX to rise before anybody would consider the stock to be fairly valued.
Shareholders are currently receiving a dividend of $0.70 per share each quarter, with a current yield of 3.0%. The company announces a dividend increase annually in early May. Based on recent annual patterns, I'm expecting a 10% increase in the dividend payout.
PSX is an energy stock that could appeal to growth investors, dividend investors and value investors. If you're looking for extreme bargains during this temporary interruption in the bull market, PSX is one of the best growth and value opportunities available today.

Crista Huff is editor of Cabot Undervalued Growth Stocks Advisor.

Subscribe to Crista Huff, Cabot Undervalued Growth Stocks Advisor here…

About MoneyShow.com: Founded in 1981, MoneyShow is a privately held financial media company headquartered in Sarasota, Florida. As a global network of investing and trading education, MoneyShow presents an extensive agenda of live and online events that attract over 75,000 investors, traders and financial advisors around the world.