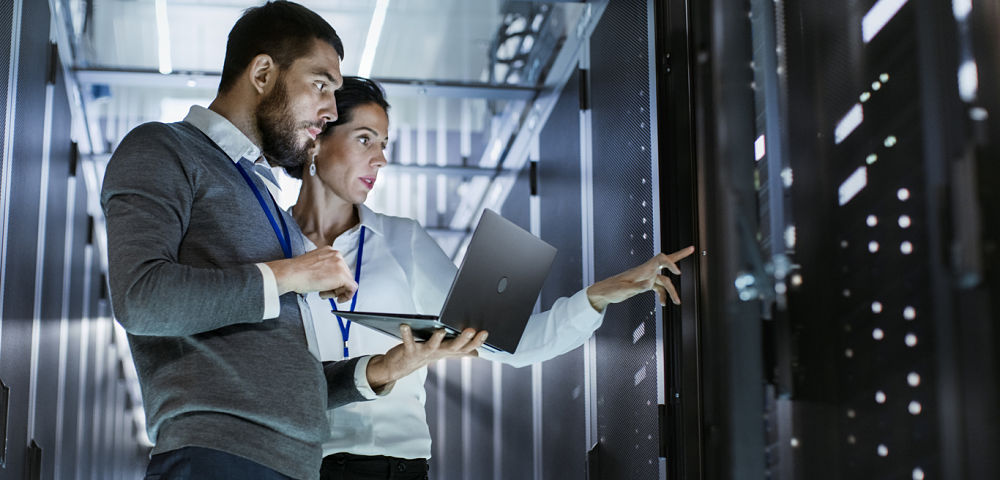 We see it happen two or three times every quarter. Stocks and even entire sectors get routed. And it's all thanks to rumors that Amazon AMZN wants to enter their market. Amazon data-center switches will not kill Arista. ANET is a buying opportunity, writes Jon Markman.
Today, techs are taking the hit. That's because, on July 13, The Information broke a story about Amazon's plans to enter the $14 billion global market for data-center switches.
The impact was immediate. Cisco Systems CSCO and Arista Networks ANET, the leading switch-makers, lost 4%.
These days, "Death by Amazon" is reason enough to sell first and ask questions later.
However, investors should ask questions …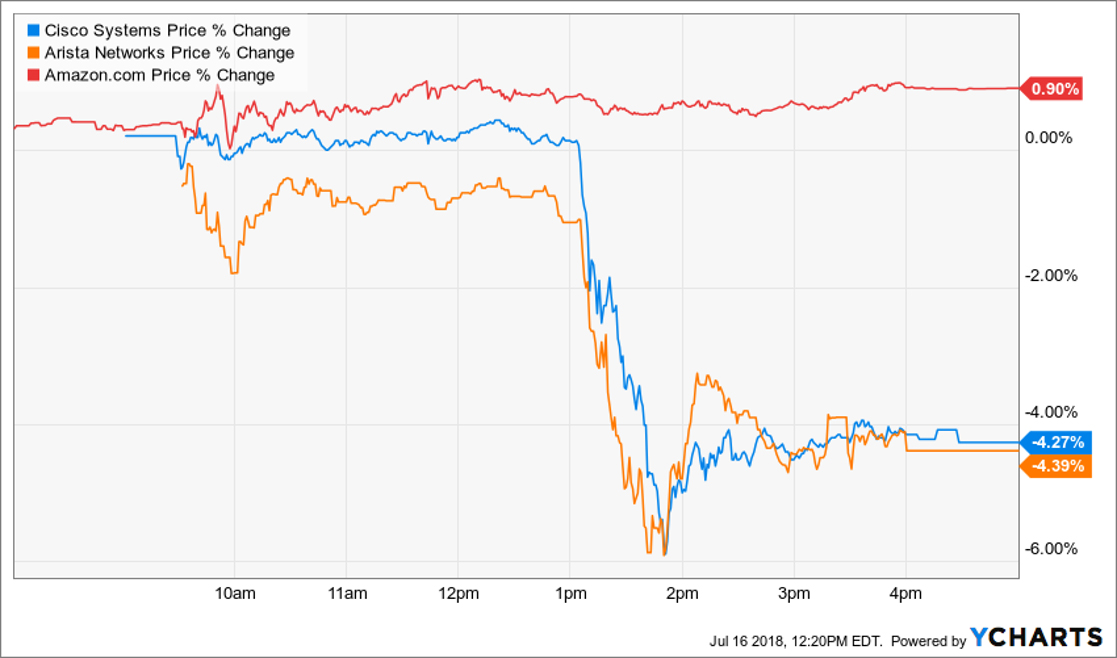 Cisco and Arista fell about 4.3% apiece Friday. You can see when the markets started digesting the news. Meanwhile Amazon gained 0.9%.
This is not an indictment of The Information. The technology-reporting website is a veritable scoop machine. Its writers have sources deep inside the biggest tech and venture capital firms. Its reports are often market-moving.
What's questionable is the knee-jerk conclusions drawn by traders and analysts.
I will give you an example. In June 2017, Amazon announced plans to enter the $800 billion grocery market. It spent $14 billion to acquire Whole Foods, an upscale grocery retailer with 460 stores. The move was immediately characterized as the end of traditional grocery retailing.
Shares of competitor firms collapsed. Analysts quickly revised their financial models. Declining margins and market share got baked-in to the numbers of perceived lesser companies.
Walmart (WMT) lost 10% of its market capitalization, falling to $71. Costco Wholesale (COST) fell 16% to $149.
Months later, Walmart reached a high of $107. Last week, Costco closed at $216.54, a record high.
In other words, both pullbacks presented incredible buying opportunities. My Power Elite subscribers are sitting on close to a 40% gain in Costco, just over the past year alone. Learn more about my strategy for picking best-in-class stocks when you click here.
So, worries about Amazon dominating data center switches looks like a repeat.
Amazon is a terrific business. In a little over two decades, managers have cobbled together a series of ancillary services that make the larger ecosystem irresistible.
For the price of a fairly modest annual subscription, the company's Prime customers get free videos and music, digital storage, faster delivery, and deals on groceries at Whole Foods, among other things.
There is no end in sight to the types of products and services that can be added. Especially given the scale of Amazon Web Services, its vast cloud infrastructure.
AWS began as the cloud infrastructure supporting Amazon. But today, it is a massive standalone business. In 2017, AWS contributed $17.5 billion in sales, about 10% of total Amazon sales. It has become the leading infrastructure provider to corporate enterprises, education and governments.
All of the corporate world is moving to the cloud. Gartner, a leading information technology research and consultancy, predicts the transition to cloud-based infrastructure is a $1 trillion opportunity.
And that's where Arista comes in …
Arista Networks began in 2004 when Andy Bechtolsheim, David Cheriton and Kenneth Duda thought they could use software to dramatically increase the efficiency of network switches and routers.
Their Extensible Operating System — a scalable, open-software framework — made dumb switches smart. And it moved everything to the cloud.
EOS is completely programmatic. It gives data center clients greater control over how the network performs. Routing, tracers, software-development kits, security and other key parts of the network are treated as modular pieces. They can be added, upgraded or even removed without disrupting the entire network.
In 2017, Barron's reported Arista routing solutions had a total cost of ownership of $3,000 per 100GbE port.
The cost of a comparable Cisco solution was $100,000.
So, when you see Cisco's stock falling, it's not because of Amazon. It has considerable competition coming from Arista, and it's strong.
Last year, Arista logged $1.65 billion in sales, up 45.8% year-over-year.
That business is thriving because the migration to cloud computing is so large. There will be many winners. And Arista is the preferred platform for routers and switches.
For Amazon, data center switches simply represent a tool to bring more enterprise customers into the AWS cloud ecosystem. Adding video, data storage and grocery discounts for Prime members did not kill Netflix (NFLX), Dropbox (DBX) and Costco.
Amazon switches will not kill Arista.
Arista shares are currently trading at $266.49. The market capitalization is $19.8 billion, and the forward price-to-earnings multiple is 32x. That is not unreasonable given current growth trends.
It is hard to determine whether fears of Amazon encroachment will drive the price significantly lower in the near term. However, longer-term investors should get ready to scoop up Arista shares. A major buying opportunity is near.

Best wishes,
Jon D. Markman

P.S. I'll be speaking at the San Francisco Money Show in August. It will be a great show, with all sorts of experts sharing their insights. You can find more about that incredible conference by clicking here. I hope to see you there!

Subscribe to Jon Markman's Power Elite newsletter here
Subscribe to Jon Markman's Tech Trend Trader here
Subscribe to Jon Markman's Strategic Advantage here

This article was originally published by MoneyShow.com: Founded in 1981, MoneyShow is a privately held financial media company headquartered in Sarasota, Florida. As a global network of investing and trading education, MoneyShow presents an extensive agenda of live and online events that attract over 75,000 investors, traders and financial advisors around the world.