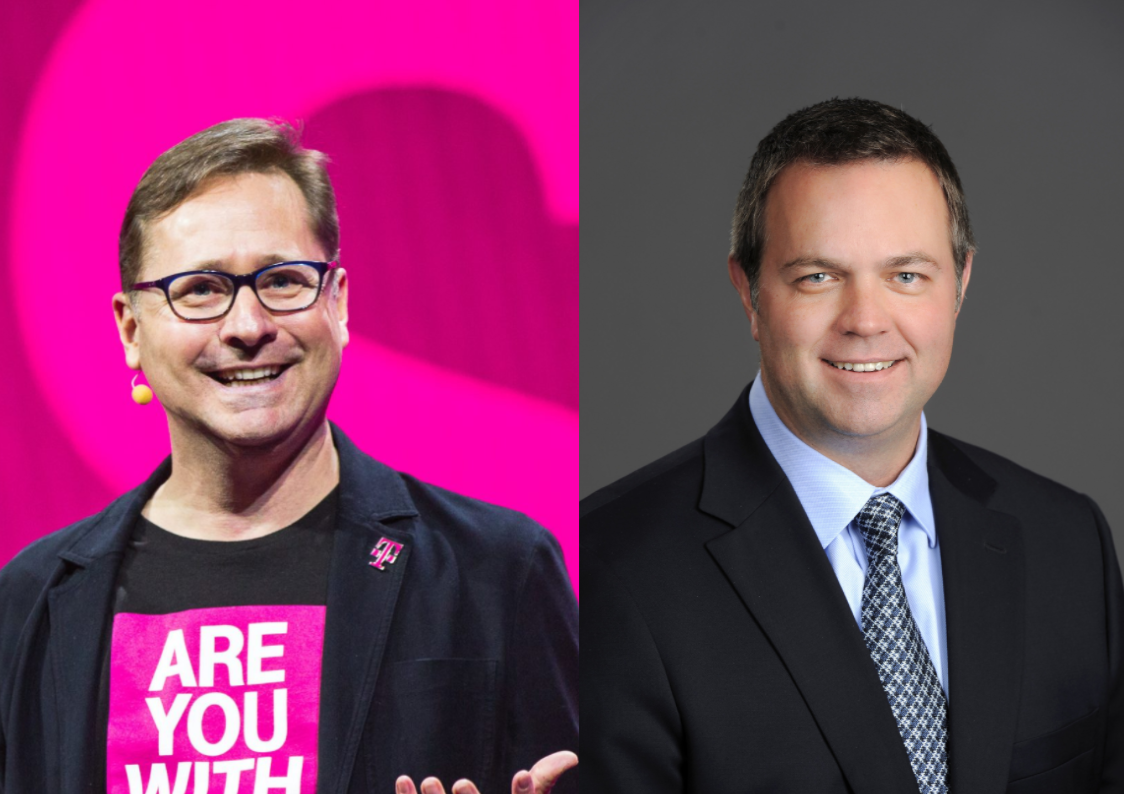 Images: T-Mobile US CEO Mike Sievert, Dish Network CEO Erik Carlson
The wireless world has always been a very noisy place. With 5G and other technologies, all wireless players are trying their best to get their messages heard, so they can remain leaders in the market's eye. That being said, things have been eerily quiet at both T-Mobile and Dish Network's wireless operations. Why?
These are two different companies, two different approaches and two different stories, but they have plenty in common as well.
If you recall, T-Mobile tried to win approval to acquire Sprint over several years. Near the end of that battle, Dish Network entered the picture as a potential candidate to take the place of Sprint as the fourth largest wireless competitor.
At the time, that never made sense to me, considering how Dish wasn't in the wireless business. Still doesn't. After all, how could Dish become a leader overnight with so many other competitors who have been competing for years already in the marketplace?
Dish Network entering wireless enabled T-Mobile to acquire Sprint
Dish did help, however, with T-Mobile getting government approval and ultimately acquiring Sprint.
Since that point, things have been awfully quiet. Actually, things have been quiet both for T-Mobile and Dish Network.
T-Mobile CEO John Legere retired and has been replaced by Mike Sievert. The personalities of these two are not the same. While Legere was very Trump-like, loud and boisterous, always seeming to think he was the center of the wireless universe, Sievert is more reserved.
While the wireless world is enjoying the peace and quiet, it also misses the barnstorming attitude that seems to keep everything all shook-up in recent years.
I don't think T-Mobile is in any kind of trouble on the wireless side at this time, but the company is much quieter than normal. Too quiet for T-Mobile.
How is T-Mobile TVision wireless pay TV doing?
T-Mobile is trying to relaunch its wireless TV service called TVision. The company is hoping for a better result this time around. Again, while I have not seen any numbers yet, the quiet is disturbing.
Maybe it's nothing, but some clarity would be nice. I would prefer it if Sievert would talk about how well TVision is doing, or what challenges the company is seeing. What it is learning. Something. Anything.
Dish Network is not close to being the fourth largest in wireless
Dish Network agreed to enter the wireless space and that's what gave the final push to get the T-Mobile – Sprint merger closed.
Promises were made by Dish Network and the world has been waiting and watching. Today, the world is still waiting and watching.
The good news is, Dish Network has been busy behind the scenes adding executives and building its 5G network.
AT&T Mobility, Verizon Wireless, T-Mobile, Dish Network in wireless
That being said, we have seen little to nothing with regards to the company's progress or when we can expect it to launch and become the fourth largest competitor against AT&T Mobility, Verizon Wireless and T-Mobile that it promised to be.
Maybe it is busy building a network behind the scenes, but the quiet is disturbing to those who follow the industry. Investors, workers, competitors, analysts, customers, everyone wants to know what's going on.
DISH's facilities-based wireless network business is putting together an executive team.
Erik Carlson, Stephen Bye, John Swieringa, Paul Chapple
DISH CEO Erik Carlson has welcomed Stephen Bye, Executive Vice President and Chief Commercial Officer; John Swieringa, Group President; and Paul Chapple, SVP of Retail Wireless Product, with more to come.
This is good so far.
Plus, the company operates the tiny Boost Mobile, which it acquired from T-Mobile last summer.
All that being said, we do not know much more about T-Mobile or Dish in wireless than we did when the merger was complete.
There are so many questions:
What is the name of the company? Will it be Dish Mobile, Dish Wireless, what?
Will it be a consumer service or a business service or both?
When will the marketplace see this new competitor enter the playing field?
When will we see marketing, advertising, PR and so on?
Yes, there are so many questions and so few answers.
The marketplace is asking me questions about T-Mobile and Sprint
The marketplace is asking me questions and I don't know what to tell people. Next, that means the marketplace will start to get itchy before long, looking for some answers.
Today, the wireless industry only has three major competitors, not four like we were promised ahead of the T-Mobile – Sprint merger.
Don't get me wrong. I want Dish Network to be successful in wireless. I also want T-Mobile to be successful in wireless, pay TV and whatever other business it enters.
The quiet, however, is making the entire marketplace and me feel uncomfortable. Things are too quiet. Wireless was always a noisy industry… still is, as a matter of fact.
When T-Mobile entered the picture several years ago and started to rebuild itself, it was even louder. No one could miss the company on the map of the wireless industry.
Today, both T-Mobile and Dish Network are just too quiet. We are long on questions and short on answers. Now is the time for both companies to start talking. To open up and talk to the marketplace before they start to get long-in-the-tooth and have to start fighting their way back again.
Jeff Kagan is an Equities.com columnist. Kagan is a Wireless Analyst, Technology Analyst who follows Telecom, Pay TV, Cloud, AI, IoT, Tele Health, Healthcare, Automotive, Self-Driving cars and more. Email him at [email protected] His web site is www.jeffKAGAN.com. Follow him on Twitter @jeffkagan and LinkedIn www.linkedin.com/in/jeff-kagan/
_____
Equities Columnist: Jeff Kagan
Source: Equities News