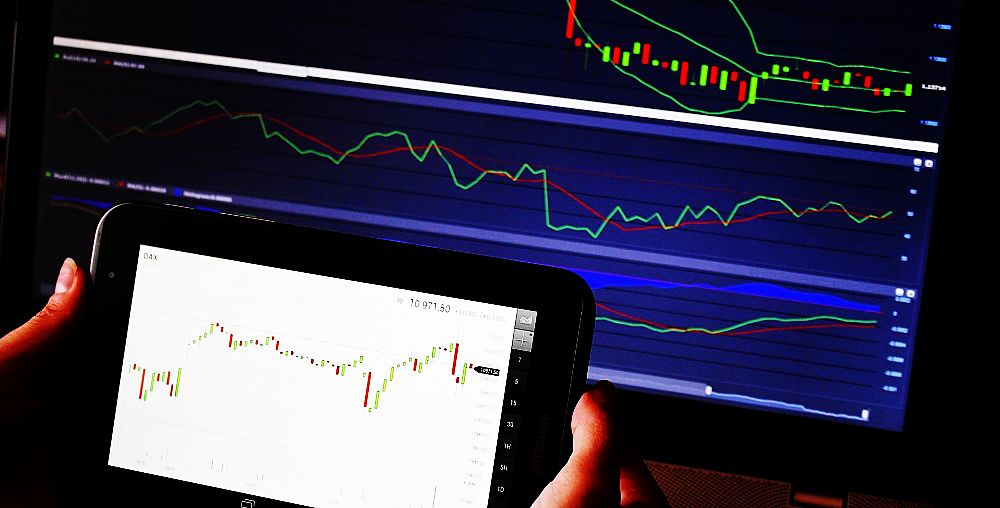 A volatile week across global stock markets has escalated into a frenzied sell-off, with European stock markets plunging to their lowest level in 20 months on Thursday. In the UK the FTSE 100 fell to a six-month low after Wall Street suffered its biggest drop in eight months, with the Dow Jones losing more than 800 points.
Why Are Markets Tanking?

The sell-off is being fuelled by concerns over rising US interest rates, political uncertainty in Italy, mounting trade tensions between the US and China, and crises in emerging markets such as Turkey and Argentina. Donald Trump added to the pressure by branding the US Federal Reserve "crazy" for planning further rate rises.
The US economy is booming, prompting the Fed to raise rates to keep a lid on inflation. Rising interest rates mean higher borrowing costs for companies and individuals, such as higher mortgage rates. Investors are fearful that firms and consumers will struggle to cope with higher costs.
Charlie Ripley, a senior strategist at Allianz Investment Management, said: "The equity sell-off is a reaction from investors finally realising we are in a higher interest-rate environment and, given the elevated level of stocks, market participants were likely looking for a reason to sell."
Which Stocks Have Been Worst Hit?
The rout has been led by technology stocks. In the US the Dow Jones and the S&P 500 both lost more than 3% overnight, their worst declines since February, while the tech-heavy Nasdaq tumbled more than 4%, the biggest fall since the Brexit vote. The best-performing stocks over the past year have been the so-called Faang group, comprising Facebook, Apple, Amazon, Netflix and Google, which have endured some of the biggest losses.
Tech companies tend to be highly leveraged, so will be vulnerable to rising interest rates. The EU's planned new tax on technology companies is also putting pressure on tech giants.
Why Are Bond Yields Rising?
The Fed has raised interest rates three times this year and traders are expecting another increase in December, followed by three more next year. This is pushing up bond yields and higher bond yields can weigh on stock markets as they provide more competition for investors seeking returns.
The yield on the two-year US government bond hit its highest level since 2008 on Wednesday, while the 10-year yield, which is used to price mortgages, auto loans and other debt, reached a seven-year high the previous day. Rising bond yields make it more expensive to borrow money.
What Is the Latest in the Us-China Trade War?
Last month Washington imposed new tariffs on $200bn of Chinese goods, hitting thousands of consumer goods, from luggage and electronics to homewares and foods. Tariffs were set at 10% but could go to 25% next year. Beijing retaliated with extra duties on $60bn of US goods. The US president has also threatened further tariffs on an additional $276bn of goods, covering virtually all Chinese imports.
Earlier US tariffs imposed in July targeted imports of steel, aluminium and cars. Ominously, Jack Ma, the Alibaba billionaire, predicted that the US-China trade war could last 20 years.
This is expected to harm the world economy in the long run. Many economists and the International Monetary Fund have warned that the US's increasingly protectionist trade policies would hit global growth.
Why Does Italy Matter?
European stocks are being dragged down by the row between Rome and Brussels over Italy's new budget. The populist government in Rome wants to raise public spending to revive the economy but this would lead to a higher deficit in a country where the debt pile is already huge. The plans have driven up the Italian government's cost of borrowing this week. The yield on the 10-year government bond is more than 3.5%, closer to the rate in Greece (4.5%) than to the rates in Spain (1.6%) and Portugal (2%).
David Madden at CMC Markets UK sums up the fear haunting investors: "Any downgrades to Italian debt could cause yields to rise further and potentially spark another round of the eurozone debt crisis."