Legislators in New Jersey will have a critical discussion about legalizing recreational cannabis this upcoming Monday. The proposed bill was already cleared by the joint budget committee and if bill clear the next set of hurdles, a vote could take place on the floor as soon as March 25th.
One company that has proactively anticipated this market is Choom Holdings Inc. CHOOF CHOO:CNX. This Canadian elevated dispensary company recently closed a deal with an unnamed New Jersey medical dispensary. Choom would acquire equity interest in the retail dispensary and then rollout full recreational expansion if legalization passes in the Garden State, which is expected by next year. This is where the company would really be able to double their money as cannabis dispensaries are high-profit margin operations netting more than $974 per square foot on average, according to the Marijuana Business Factbook.
In addition, noted in the press release, Choom will receive a royalty from the NJ Company for the use of the Choom Brands. Choom's investment in the NJ Company includes pro rata rights to maintain its equity interest on future financings.
"This is our first step into the United States, and we are very excited for our partnership with this experienced group to have the Choom Brands in New Jersey," states Chris Bogart, President & CEO of Choom. "New Jersey is home to over 9 million people currently being served by only 12 cannabis operators in its medical program. New Jersey is an exceptional market to expand the Choom Brands. We are very impressed with the progress they have achieved to date, and with our expertise in cannabis retail, we are confident we can help them successfully operate in the New Jersey market."
Key to the deal in New Jersey was Choom's purchase of the medical cannabis retail network, Clarity Cannabis MD Holdings, on February 27th. The latter of which holds 30 retails locations and three of which are licensed by the Alberta Gaming, Liquor and Cannabis Commission. Choom now holds all 30 leases and will open them under their own name.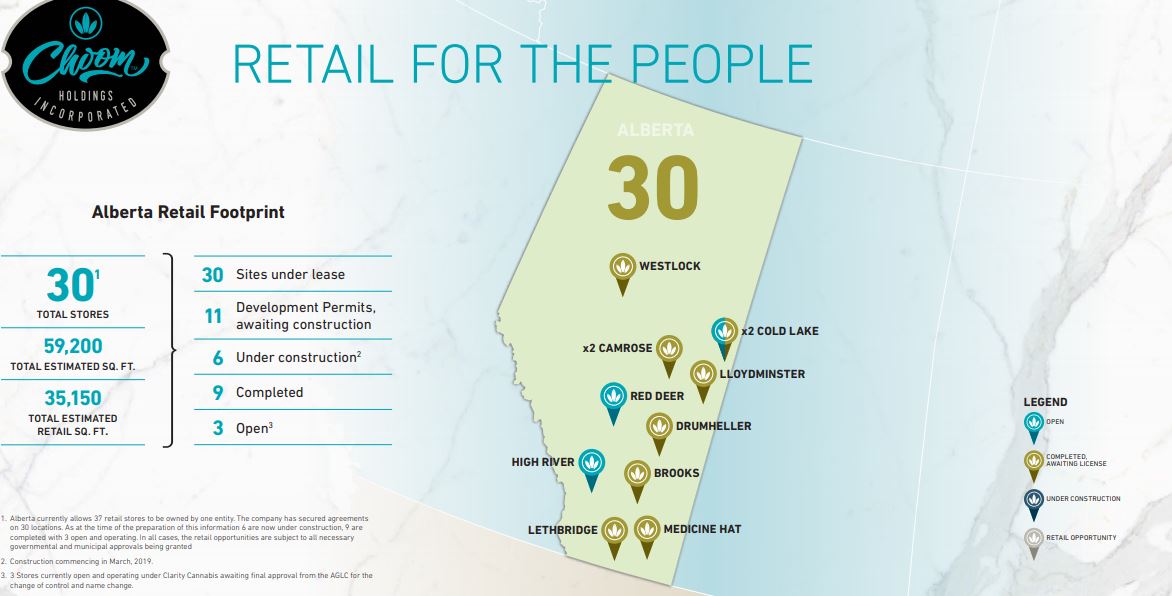 Image via the Investor Presentation – click here to see more.
Side-by-side with an aggressive expansion strategy across Canada, Choom's leadership believes their laid-back culture will set them apart from the competition in the retail space and connect people to the value of carefree living that might be sort of left behind as cannabis grows into a household product. According to general industry analyst notes, the company could see $320M in implied revenue from their assumed retails locations, which would mean 15x sales to market capitalization.
Furthermore, the company's retail ambiance and lifestyle brand look may appeal to Baby Boomers – Choom actually gets its name from a Hawaiian surfing crew that includes Barack Obama as a former member – who are hypothetically not keen on seeing cannabis owned by large corporations.
Another part of Choom's aggressive expansion is the help the company has received from Aurora Cannabis. The Canadian giant invested $20 million in Choom, which clearly enabled them to close this deal with Clarity and to finalize a number of leases across their home country.
"Aurora's continued confidence and investment allows Choom to provide high quality cannabis to a broader market of consumers across the entire country and expedite our expansion and the roll out of store openings," Bogart, seconded in the company press release.