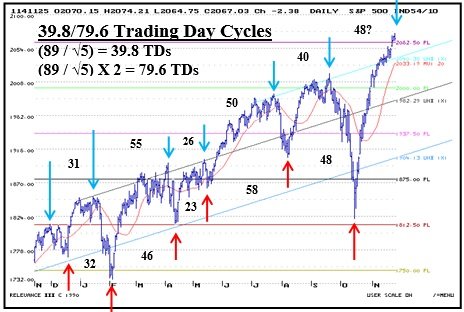 I am watching the pattern, the structure, and a plethora of indicators for signs of a pending high. With the Dow Industrials, the S&P 500, and Dow Transports at record highs – unconfirmed by a host of other major indices – we have the technical underpinnings for my expected high-point reversal. The cyclical pattern – the 79.6 month, the 893 trading day, and the shorter term 39.89 / 79.6 trading day pattern – are all suggestive of not only just a short term high but a major bull market peak. I know there is risk in that statement, but the lion's share of my research points to just that: a pending major top.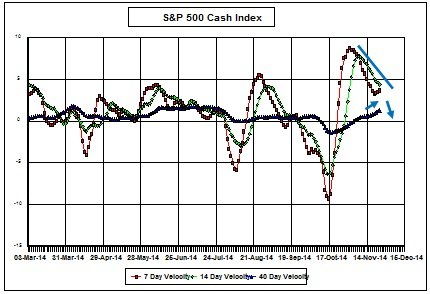 The daily chart of the S&P depicts an index that has pushed outside the series of parallel 1 X 1 angular channels and, in the process, pushed up to tag the 2,062.50 price octave – my long-term outstanding target. Price closed yesterday just slightly above that level. The indicator that depicts my 7/14/40 day measures of price velocity, too, is exhibiting the structure of a pending high as well. All we need now is confirmation. That fleeting confirmation….November 26th +/- looks like the best fit. Happy Thanksgiving….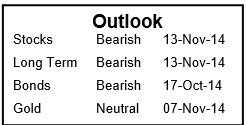 Each month, Stan Harley publishes The Harley Market Letter, a newsletter that provides advanced technical analysis of stocks, bonds, and precious metals. This is the most recent Harley Market Letter update. Want to learn more from acclaimed market analyst Stan Harley? Visit his site and subscribe to the full Harley Market Letter.
DISCLOSURE: The views and opinions expressed in this article are those of the authors, and do not represent the views of equities.com. Readers should not consider statements made by the author as formal recommendations and should consult their financial advisor before making any investment decisions. To read our full disclosure, please go to: http://www.equities.com/disclaimer