After weeks of extremely low volatility in many markets including US equities, the volatility lady, with the help of President Trump, decided it's time to make some noise.
Throw in China tariffs and somewhat of an overbought market and what you get is one of the strongest sell offs we have witnessed in a while.
This is a news market and if we get news at anytime, that China and the US have reached a trade deal, this news will move the market. This news will be counter to the "Buy the rumor, sell the fact" syndrome, but either way, I will share my technical point of view for this market.
I believe the S&P 500 futures, represented in the weekly chart below, will test 2562 in the next few weeks.
There are a few questions one needs to ask:
1. Is he (me) right?
2. How long will it take?
3. What is the proper strategy to take advantage of it?
The answer to question 1 will be known in time, and I will make a note to revisit this article in 12 weeks or sooner.
The same answer applies for question #2.
As for question #3, the right strategy will depend on each trader's experience and personal appetite for risk.
First, let's take a look at the weekly chart below.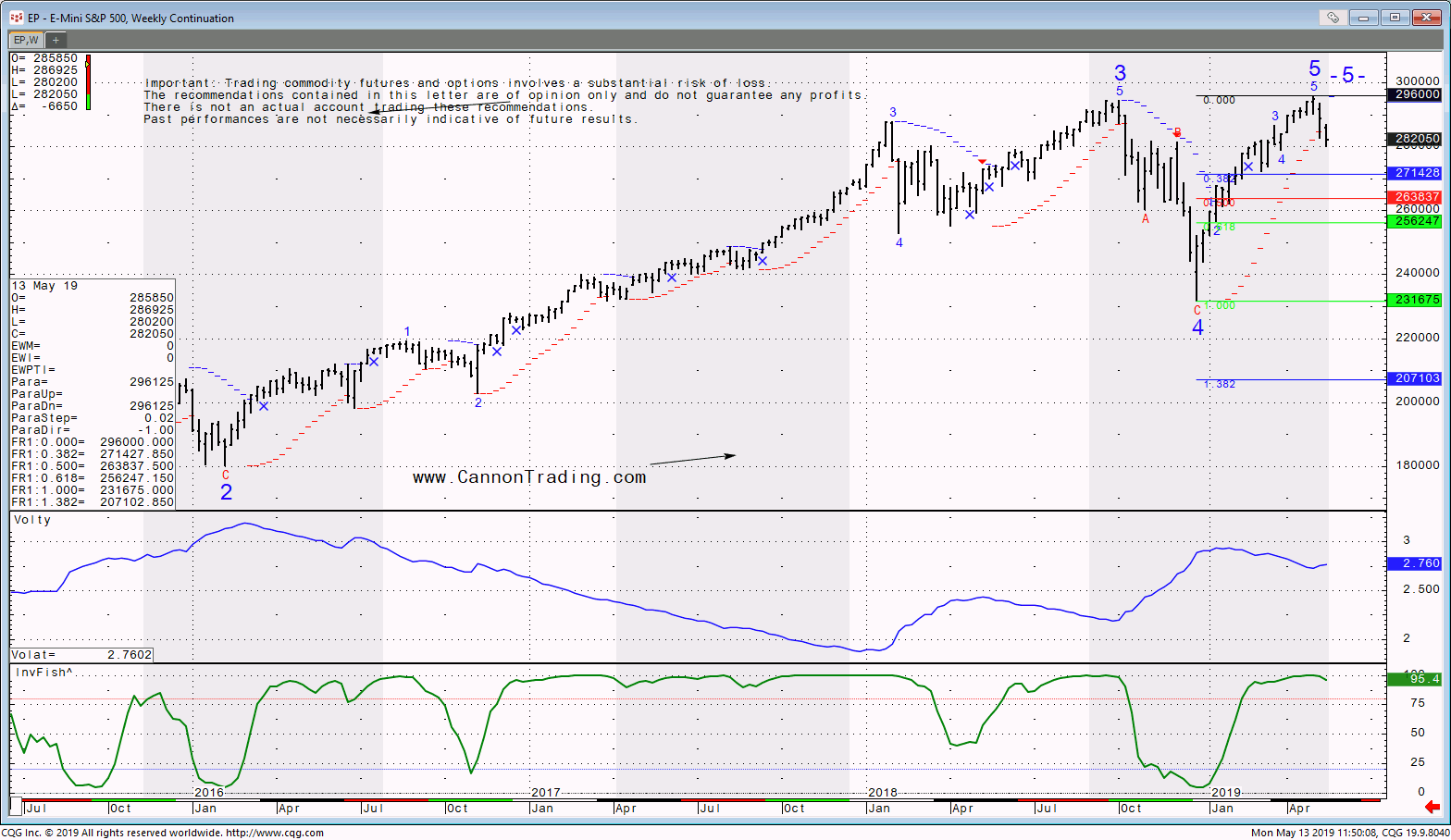 I drew some Fibonacci retracement levels from the lows made in December
to the highs made toward the end of April. Markets will gravitate towards the 61.8% level which is 2562.
I am also getting a topping formation using the Inverse Fisher
indicator I personally like.
If you are trading futures and options, you are aware of how leverage presents both risks and opportunities. I think that in the case of the market view i am presenting here, I would like to use a simpler
approach: buying a vertical put spread.
Buy the August end of the month (EOM) 2750 put and on the
same ticket, selling the 2550 put with the same expiration of Aug. 30, 2019. The Current cost is approximately $2000 per spread or 40 points, and the maximum theoretical profit
is 200 points or close to $10,000.
I like using this spread because volatility helps me finance part of the spread by selling a put option farther out of the money.
Double check the numbers I am providing you with a licensed
broker and make sure you review all the possible risks and opportunities. If
you are more experiened or have a larger appetite for risk, you can try to take
advantage of short term bounces and sell call options that have less than 40
days in order to finance this transaction. I have been right and wrong many
times before and i learned that the main ingredient that helps traders is the
risk and money management aspect of the trade, especially when you are wrong.
This is when a good broker can provide you with some tips and feedback.
To answer the question in the title of the article:
Support levels are at: 2714, 2630, 2562, 2316 and, last but not least, 2071.
To read more about Ilan Levy-Mayer, visit his profile.
You can read Ilan's blog along with daily trading levels on the Cannon's website.
Many ways to trade any market, many ways to lose money in any market and only very few ways to lock in gains – this one is no different. If you need help creating a trading plan, visit our broker assist services.
Disclaimer – Trading Futures, Options on Futures, and retail off-exchange foreign currency transactions involves substantial risk of loss and is not suitable for all investors.Past performance is not indicative of future results. You should carefully consider whether trading is suitable for you in light of your circumstances, knowledge, and financial resources. You may lose all or more of your initial investment. Opinions, market data, and recommendations are subject to change at any time.