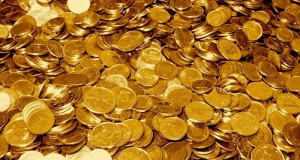 Gold futures settled modestly lower Monday, ending under $1,500 an ounce, its lowest levels since May 19. Gold scheduled for August delivery slid 0.3 percent to $4.50, or $1,496.40 an ounce on the Comex division of the New York Mercantile Exchange. Gold bears and bulls have been disagreeing on the direction Gold is headed for some time. The greek-debt crisis has been a source of confusion among analysts some of whom believe it will boost gold and others see investors running to the dollar. The latest development, the willingness of French President Nicolas Sarkozy, to endorse a plan developed by the banks to extend the maturity of the Greek bonds, is further complicating the mix. While normally, either gold gains OR the dollar gains and vice versa, today, they both fell.
Gold, alongside commodities, has been headed lower sincle last week when it was announced that the International Energy Agency would release an influx of crude oil into the market in July as a means of compensating for some of the production losses endured as a consequence of the Libyan conflict. The news has caused prolonged losses for crude oil. Expecations for how this will impact Gold have been mixed.
Some anticipate that weaker energy would help metals, combating inflationary forces currently stirring concern and discourage central banks from raising interest rates.  Thus far though, that has not been the case. Gold and silver are both lower today as are palladium (PA1U) and Copper. Platinum (PL1N) is bucking the overall trend for mentals by edging ever so slightly higher in trading.
The confusion over the direction metals are headed was evident in trading as gold and silver spent the day vacillating higher and lower before closing marginally weaker. In spite of the current levels; however, analysts do not believe that gold will continue to fall much further through the Greek-crisis. Rather, the compounding of the elements of Greek uncertainty and the commodities sell-off have been combining to draw investors away from gold and from the typical patterns of dollar weakness/ gold strength.
This optimism regarding the state of gold and other metals may be founded in the report from Commodity Futures Comission stating that money managers increased their positions that prices will reach 206,399 contracts in the week that ended June 21. This, according to Commerzbank, is the highest level in over two months and the strongest rise in positions in four and a half months.
Barrick Gold (ABX), Goldcorp Inc. (GG) both rose marginally in trading, indicating there is still some support for gold. The outcome of the decision in France, which will rely on Parliament's approval will be the biggest factor for gold in the coming week. Parliament's reaction is not yet known and until that debate is had, the direction gold will head in the near term is still in the air.
DISCLOSURE: The views and opinions expressed in this article are those of the authors, and do not represent the views of equities.com. Readers should not consider statements made by the author as formal recommendations and should consult their financial advisor before making any investment decisions. To read our full disclosure, please go to: http://www.equities.com/disclaimer