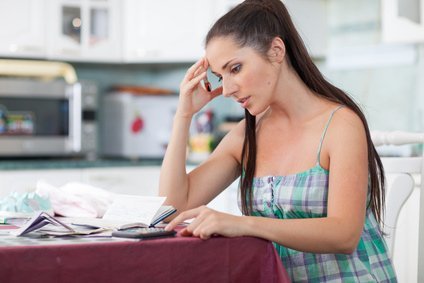 I write a lot about how to get your personal finances right. As a loyal reader, you've no doubt digested every word I've written on the subject and absorbed these salient truths into your own personal practice. As such, your finances are in order and you're on the path to lifelong wealth and satisfaction, without a care in the world (detecting the sarcasm? just checking). But, no matter how taut your financial ship might be, this likely has little to do with the state of your loved ones' finances. In fact, it is not at all uncommon for people to experience financial security for the first time, just as they're watching a parent's or sibling's finances collapse. The question is: what do you do?
Money is tricky. Personal finance can be a very private matter, even for me. I don't reveal a lot of personal details about my finances, like some other bloggers do. I just talk about concepts. From your perspective, you don't have any idea how much money I actually make. And I'm certainly not going to tell you. It's likely that your relatives and loved ones feel the same way, especially if they are in a bad spot with their money. Interpersonal relationships, especially shared between parents and children or between siblings, are complicated. It's possible that it would be very awkward and potentially hurtful to broach the topic of financial rehab. And in many cases, talking about it will not do any real good. I'm going to look at this topic, and at a few potential possibilities, starting with the worst:
1) No Hope for Recovery: Some people have loved ones with money troubles that have deep, deep roots. Perhaps there is a case of drug dependency or some other compulsion that causes them to lose money like there's no tomorrow. Unless you are a professional working with dependency issues, it's likely you can't and shouldn't do anything. In a case like this, the best you can do is try to get your loved one professional help. The only other advice I would offer is that you try to maintain personal contact, at least insofar as you are able to do so without hurting yourself.
The shame of loss of valuable relationships can cause vulnerable people to go further off the rails. But in some cases, the emotional and financial toll is simply too great to prop up loved ones with destructive habits. From a purely financial standpoint, their money pit may be sufficient to swallow you as well. This is a sad situation, but it is imperative that you recognize it for what it is. If your loved one is in a dark place, personally and financially, don't let it destroy your life as well. Get them help, but don't try to be that help if you cannot.
2) Not a Lost Cause: If your loved ones are healthy, reasonable people who are simply bad with money, it is very possible that you may be able to graciously intervene. It's likely that your loved ones won't be deeply educated about finance. No matter – it's not your role to educate them unless they ask. Luckily, it's the golden age of automated financial services! Betterment is an example of an automated retirement investment tool. Digit can do automated savings to get them extra money at the end of every month, without your loved ones ever missing it. Most banks have automated bill pay services now as well. So in an afternoon, you can help your loved one to automate his or her financial life. There will still be room to mess things up, but if it's this kind of details where they are having trouble, the automated financial systems of the internet can really be a help here.
3) Great Relationship, Just Needs Some Help: Maybe you and your loved one share a warm relationship. In a case like this, it is OK to speak honestly and ask permission to provide real financial help. In a case like this, it's OK to send over articles, draw diagrams on napkins, give reasonably long speeches, and anything it takes to help your loved one understand how better to use their money (provided they give you the go-ahead). Maybe offer to talk once a week on the subject. If you are able to open up a dialogue like this, you'll be able to help them to financial health little by little. It's a recipe for success and it's one your loved ones will eventually thank you for.
Relationships are complicated. So is money. When the two mix, it can mean heartbreak and misunderstanding. But there are ways to help your bad-with-money loved ones get out of a financial rut. There are some situations where you should not intervene, for your own security. But in many situations, with proactive empathy, you'll be able to help them out in a way that could change their lives for decades. I wish you all the best as you try to make this happen in the lives of the ones you love.
DISCLOSURE: The views and opinions expressed in this article are those of the authors, and do not represent the views of equities.com. Readers should not consider statements made by the author as formal recommendations and should consult their financial advisor before making any investment decisions. To read our full disclosure, please go to: http://www.equities.com/disclaimer