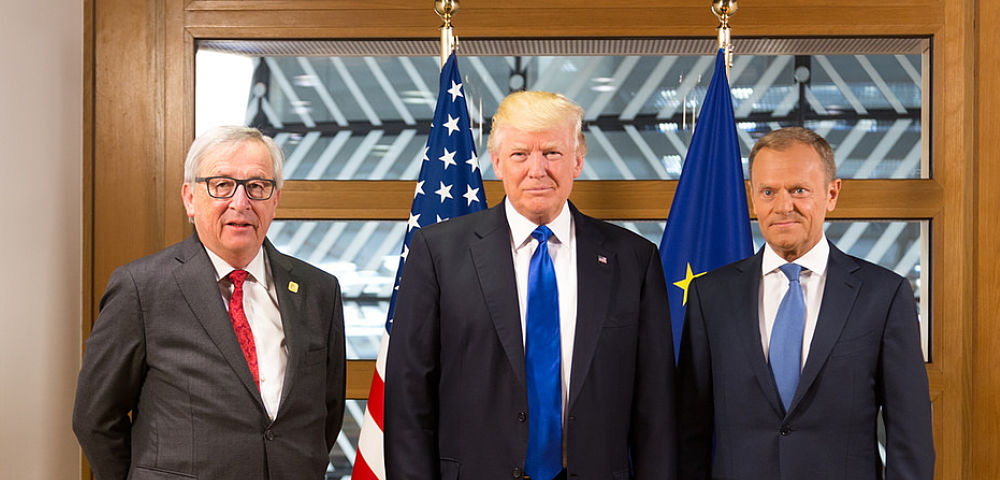 President Donald Trump met with European Commission President Jean-Claude Juncker this week to discuss how to deal with mounting global trade tension and imbalances and, although it is still early in the negotiations, the consensus of companies affected by this year's newly imposed tariffs seems hopeful.
It's been a rocky few months indeed for Corporate America since President Trump announced tariffs on steel and aluminum as part of his commitment to save billions of dollars lost to other countries as the United States imported more then it exported. When talk of new tariffs originally began, the perception was that President Trump intended to simply update trade agreements to promote fair trade and protect the United States; however, the situation has evolved into a much broader revision of headline-making trade agreements.
As trade policies continue to evolve and their widespread ramifications become increasingly clear, there has been a resulting shake-up in the global markets as tariffs obviously have an impact on many different multi-national and domestic industries. In fact, a CNBC study reported that "tariffs have been mentioned in some form by more than 40 percent of the 146 S&P 500 companies that have already reported second-quarter earnings this season." Although the 2017 bull market and 2018 optimism in corporate America exists from the Trump tax cuts and the resulting creation of jobs and wage growth, there is a difference of opinion regarding the efficacy and/or potential outcome of these tariffs.
To what extent the trade battles could heat up again following the Trump/Juncker meeting is anyone's best guess at this point. Still, in light of expected ongoing trade discussions and the probability of future tariffs' having some level of impact on global businesses, the markets are likely to experience continued volatility, and likely stock value depreciation if the tariffs greatly affect profit margins or the cost of goods increase reducing current consumption levels. With this volatility front and center, traditional asset classes have been, and will likely continue to be disrupted. For example, tariffs are particularly harmful to many commodities that are globally imported/exported and the Bloomberg Commodity Index (BCI) is down significantly to prove it.
As large corporations are hit by tariffs, investors are advised to pay heed to their portfolios and examine how corporate bonds, equities and even real estate could be affected particularly as many analysts were saying the stock market and real estate markets were overvalued prior to the tariffs. Fortunately for diversified investors taking advantage of the $5+ trillion a day Forex market, the trade wars have little impact other than contributing to daily range bound volatility, which is great for various algorithmic and AI based strategies.
Within the $5 Trillion of daily currency trade flow, approximately 48% of the daily flow are forwards and physical deliveries (meaning exchanging one dollar for a certain number of Euros/other to pay invoices etc.). So even if there is a global trade slow down or a slowing of currency trade volume on a daily basis, there is still a massive aggregate pool of trade with great volatility and massive room for large volume Forex traders who are in the favorable position of being uncorrelated to the markets.
In uncertain times, keep an eye on alternative asset classes. It is necessary to be on edge and assume that more turbulence is ahead. Certainly, it is wise to seek a non-correlated high alpha injection for your portfolio and, in our view, currencies and the Forex market represent a valuable investment opportunity. Professional currency traders manage extremely well in volatile markets and that's a bonus for savvy investors.
In conclusion, my view is that there's no need for fear. Although greater economic uncertainty may loom ahead, it is evident that U.S. markets are in solid shape and the economy remains strong, but if you are heavy in equities, bonds or real estate, look for solutions that are non-correlated, with managers that are tried and true.
For further information, visit www.mediatrixcapital.com or call 1-800-905-1006.
Disclaimer
In no event should the content of this material be construed as an advertisement, express or an implied promise, guarantee or implication by or from Mediatrix Capital Inc. (MC) or any of its partner or subsidiary companies. This is not an attempt to sell or solicit any security and should not be taken as such. The content of this document is for informational purposes only. Potential Accredited Investors are advised to carefully read the Disclosure Documents to determine whether a managed investment in MC is consistent with their financial situations and investment objectives. Past results are no guarantee of future performance. Mediatrix Capital is a foreign corporation based in Nassau Bahamas, and does not operate within the United States.