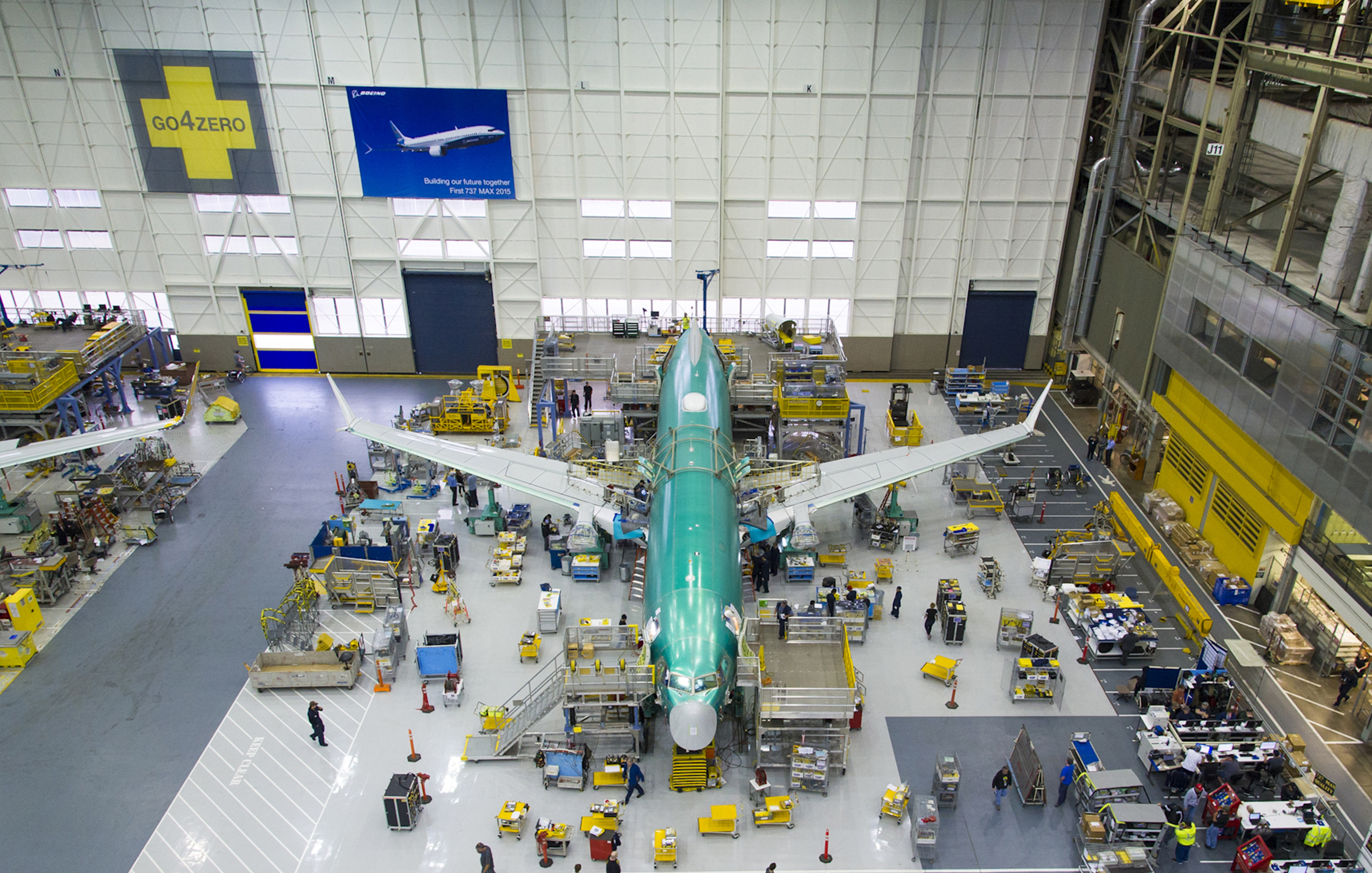 Image: Boeing 737 MAX assembly. Source: Boeing
April 2021 — Myth Buster
In this first entry in our series on secrecy, we look at one of the worst cases of corporations hiding the facts: the Boeing 737 MAX. The superb airplane manufacturer makes very high quality products. It also makes a great deal of money, though the trend hasn't been its friend in the past three years. Over $101 billion in 2018, $77 billion in 2019 and $58 billion in an eventful 2020.
Boeing (NYSE: Chart BA - $200.57 4.69 (2.338%) ) has also been the victim of unfair business practices from Airbus (OTC: Chart EADSY - $0. 0.19 (0.59%) ), its main competitor, which made deals with various governments that enabled it to underbid Boeing. Boeing's best argument over a long stretch was that its quality was higher. Note that Airbus was freely engaging in its own series of shifty practices that made it difficult for Boeing to compete on a level playing field.
The issue with the 737 MAX for treatment here is not the overall quality of the craft, but the issue of secrecy and covering up bad news. Reporting a dangerous problem with software is, at the least, embarrassing. It is also critical in maintaining ethical standards and in saving lives. The path of sitting on bad news and lying about it tempts many organizations, but as we discovered in our series on bad bosses ("Nero Fiddles While Rome Burns" – Part I, Part II and Part III), the bad news generally leaks out. Keeping it secret is always held against the company.
Culture of Concealment
The 737 MAX has been front-page news for some time, and Congress stepped in to do its own public investigation. Legislators concluded that Boeing erred by not sharing details of technical problems with the aircraft. The phrase "culture of concealment" has been slapped on Boeing and the damage continues to ripple. Boeing's market capitalization stands at roughly $123 billion as of the time of writing this piece. It dropped severely – about $120 billion – in one shot over a year ago. It has been creeping back up since then. Meanwhile, Airbus is barreling along.
The Boeing story is more troubling than Volkswagen (OTC: Chart VWAGY - $0. 0.09 (0.551%) ), which bent facts about emissions. Boeing is linked to plane crashes. The intention in this series is not to convict Boeing. The company may present a decent case for why it did not reveal certain emails. The underlying issue is whether an admired and financially successful company will take a problem seriously, admit it publicly and move quickly to fix it.
According to Boeing, the problem was in the software rather than the overall mechanics or construction. There may be more instances of this kind of problem in the years ahead.
The manufacturer – the company whose name goes on the final product – has turned into an assembler of many finished products made elsewhere. This is true across many industries. Ingredients in a jar of Smucker's (NYSE: Chart SJM - $156.29 1.01 (0.646%) ) strawberry jelly include strawberry juice, high fructose corn syrup, corn syrup, fruit pectin and citric acid. Investors will recall the air bag problem that plagued Toyota (NYSE: Chart TM - $136.96 1.21 (0.883%) ) and Honda (NYSE: Chart HMC - $25.87 0. (0%) ). The airbags were made by Takata and led to the recall of six million vehicles. The average automobile has about eighty electronic parts equipped with chips that are made by someone else. Electric cars will soon build up their own problems. Just imagine how many software problems will pop up with self-driving autos.
Suppliers of pieces of finished products are expanding rapidly. Qualcomm (Nasdaq: Chart QCOM - $123.60 2.14 (1.731%) ) and PTC (Nasdaq: Chart PTC - $123.17 0.29 (0.235%) ) are two of the fastest growing high technology companies for this reason. Joining the likes of Intel (Nasdaq: Chart INTC - $29.18 0.31 (1.045%) ), Samsung and Nvidia (Nasdaq: Chart NVDA - $265.31 4.92 (1.854%) ), these companies are vital to the finished products they serve. A recent global chip shortage from Continental (OTC: Chart CTTAY - $0. 0.14 (1.978%) ), Bosch and others, exacerbated by the fire at a key Renesas (OTC: Chart RNECY - $0. 0.089 (1.32%) ) plant, slowed production at General Motors (NYSE: Chart GM - $34.45 0.15 (0.435%) ), Volkswagen, Ford (NYSE: Chart F - $11.52 0.085 (0.738%) ) and Honda.
We are at a kind of crossroad where companies cannot control all aspects of the products they roll out. More and more parts are made somewhere else by someone else. The production circle continues to widen. We can expect more of these unfortunate glitches since it is more and more difficult to ensure that all parts of the product really function as designed.
Johnson & Johnson (NYSE: Chart JNJ - $153.30 0.21 (0.137%) ) removed Tylenol from the shelves nearly 40 years ago after a small amount of potassium cyanide was found in a small sample of products. The company established itself as a top-tier ethicist when it took swift and complete action in what turned out to be a deliberate act of poison. After the massive loss of product, Johnson and Johnson's market share actually rose, and the company was forever enshrined as extremely honest and as a model of how public relations should function.
So far, Boeing's secrecy has cost it significant market share. Even more damaging is Airbus seizing the top spot in the industry, now surpassing Boeing in total orders. Note that in this industry orders take a long time to fill. Just a few years ago, this looked impossible. It will be a long road back for Boeing.
The title of this series comes from a longer quotation by Elia Kazan. So far, it appears that secrecy – at least when it is discovered – inflames. The full effect of the 737 MAX problem may not yet be clear, but the company needs to reestablish its commitment to high quality and truthful responses to the public. Volkswagen has done so and is now the world's largest auto maker, even rivaling Tesla (Nasdaq: Chart TSLA - $191.81 2.16 (1.126%) ) in electric vehicle sales. Industry giants should not brush off any product discrepancies.
The next entry will look at another problem of corporate and business secrecy and the harm it can do to a company's reputation as well as its bottom line.
**********************
Michael McTague, Ph.D. is Executive Vice President at Able Global Partners in New York, a private equity firm.
_____
Equities Contributor: Michael McTague, PhD
Source: Equities News