What You Should Know About 2018 Tech Sector Domino Effect
Universal Investment Strategies Follow |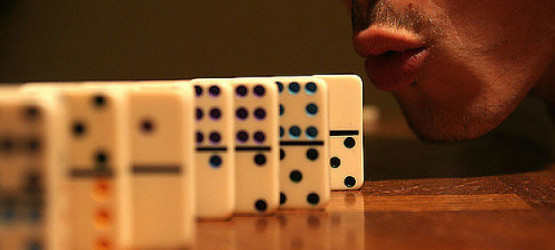 Image via Tudor/Flickr CC
When you are investing, connecting the dots is essential in anticipating a bull or bear market. You have to pay attention to who's going to be in trouble, and it's rippling effect of everyone in its sector.
Right now we can look at Facebook as a clear example of this.
A few months ago, Facebook's (FB) CEO appeared before Congress to testify about its security practices and how it uses the information it obtains from its users. Additionally, they had to disclose what security measures they have around other marketing entities and their ability to gain access to that information for their benefit.
When the EU put their sanctions on Facebook, you could have seen that there would be a great opportunity to invest.
When the figures came out for the earnings report, the fear that was put into their user base was reflected in the loss of revenue and the future expectation of revenue Facebook would have in the future due to so many users leaving the site for security concerns.
The next telltale sign was their public PR campaign to put trust back into Facebook as a place they can trust and share private moments with loved ones and friends. No one spends money on a campaign like that unless they are seeing users decline. They would never say that prior to an earnings report because that would be stock suicide. But if you read the signs you could see an opportunity on the horizon.
The side effects of the 800-pound gorilla Facebook getting hit hard with their value was the almost predictable domino effect of loss of value of all the other social media sites. In this new economy when the 800-pound gorilla gets hit, normally the other companies in the sector take a dip as well.
We also see this play out in the cryptomarket. When bitcoin takes a hit, Etherim, and the other popular cryptocurrency takes a dip as well.
For the next 6 months, my recommendation is to keep an eye on the larger sectors with companies in the EU, China, and the other Asian countries. President Trump is hell-bent on leveling the playing field when it comes to trade, and so far he has recovered over 60 billion in trade deficits this year.
Also, you will want to keep an eye on crypto. The FCC is pushing to create a bitcoin ETF as the days move closer to that happening, Bitcoins value is growing.
Please keep in mind the Federal Government has found a way to track Bitcoin and so it's no longer anonymous. That is actually a positive because it will add to its legitimacy. The more Bitcoin moves mainstream, the more users it will have. The more users, the higher the value. Till next time.
DISCLOSURE: The views and opinions expressed in this article are those of the authors, and do not represent the views of equities.com. Readers should not consider statements made by the author as formal recommendations and should consult their financial advisor before making any investment decisions. To read our full disclosure, please go to: http://www.equities.com/disclaimer
Companies