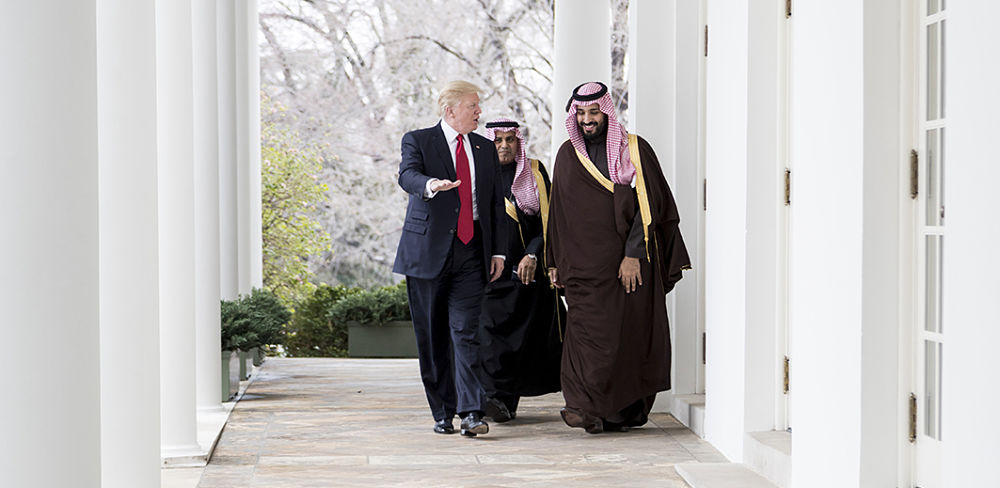 Last week, Donald Trump welcomed a delegation from Saudi Arabia that included Crown Prince Mohammad bin Salman. During meetings, the two men were said to have discussed sales of military aircraft, the Iran nuclear deal, Saudi Arabia's troubled relationship with Qatar, and the Saudi role in the ongoing civil war in Yemen. What the press missed, until Twitter noticed it, was that something was notably lacking from President Trump's meeting with the Saudi delegation: women.
On both sides of the table where the Crown Prince and the American President sat was a long row of male faces. As Saudi women continue to fight for equal rights in their country, the single row of men on their side of the table was perhaps expected. But on the American side, for there to be no one present but men – and white men, at that – is beyond shameful.
It is worth noting that the previous delegation showed a similarly white male makeup on the American side of the table.
So why does this matter, given the already abysmal state of women's rights in Saudi Arabia? There are several reasons.
First, women in Saudi Arabia are fighting to improve their situation in the ultra-conservative nation every day. In 2010, Saudi Arabia was ranked 128 out of 138 nations for their gender equality, according to the Human Rights Commission at the United Nations. Subjected to a male guardianship system that severely curtails or eliminates a woman's ability to operate independently in society, women often struggle to gain equal education, employment, or even access to healthcare.
Notably, however, Saudi Arabia has a somewhat better record on women's equality than other Arab nations. As a leader in the region, the fight for equal rights in Saudi Arabia has the potential to influence other nearby countries, improving the opportunities of women throughout the region.
Some scholars are now arguing that the male guardianship system is not based in Islamic law, as some religious leaders frequently proclaim. They state that the relevant section of the Quran has been misinterpreted, and that men are not claimed to be superior to women. Individual men, also, have varying interpretations of how the guardianship system should be handled. Some men consider the system to be outdated and inappropriate; they may be guardians of women on paper but allow the women in question to operate freely.
The trouble, of course, is that this still leaves women subject to the whims of individual men. That some women are allowed freedom is a good thing, but until laws and religious conventions change, even those women who are allowed to move freely in society are still exactly that: allowed.
Saudi activists are forcing issues in their country, petitioning for their King to dismantle the entire guardianship system. But if Saudi women are fighting so hard, why does it matter whether or not the American government presents women in the room as decision makers before the delegation?
Many American activists fear that by seating only men at the table with the Saudi delegation, the United States is signaling that it does not consider the emancipation of women within Saudi Arabia to be a priority – or even important.
For those paying attention, though, it may seem obvious that women's rights aren't a priority for the Trump administration in any way. As of September 2017, 83% of Trump's Cabinet was male. The first year of his presidency has seen pushes for increasingly restrictive policies on abortion and birth control, and it is difficult not to link the beginning of the #metoo movement with a president who has so many charges of sexual misconduct that the allegations have their own Wikipedia page.
And of course, women are not the only minorities suffering under the Trump presidency. Donald Trump has refused to consistently push for action on Dreamers, caused changes to funding that affected worldwide efforts to combat HIV and AIDS, reversed protection for transgender students, attempted to reverse policies that allowed openly transgender personnel to serve in the military, and his administration has presented arguments in court against LGBT friendly policies.
Many of the tweets of frustration about the makeup at the table between the delegations from Saudi Arabia and the United States pointed out that it is 2018, and that things should be different now. But perhaps it is precisely because it is 2018 that this is the makeup at the table. While nothing about the Obama presidency was idyllic for minorities, including women or the LGBTQIA community, it was still more inclusive than this.
As American women fight harder to keep their rights than they have needed to do in decades, perhaps it makes sense that the American leader taking them away brings no one but men to the table.