​As Sam Sees It: What Trade War? Investors Are Eyeing the Market with Earnings-Tinted Glasses
Sam Stovall Follow |
Each week, we tap the insight of Sam Stovall, Chief Investment Strategist, CFRA, for his perspective on the current market.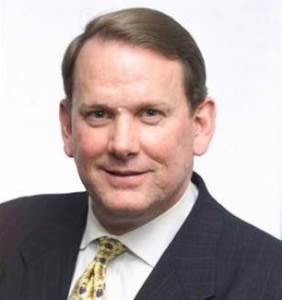 EQ: The trade war now seems to be in full swing and continues to escalate with President Trump just recently announcing additional tariffs on $200 billion worth of goods. China has vowed to retaliate. Yet, the market continues to take the news in stride. Is the news already priced or is the market preoccupied with other news—like perhaps the coming earnings season?
Stovall: I don't think it's priced in. I do think investors are preoccupied with second quarter earnings. You can see that even though fewer than 30 companies in the S&P 500 have reported second quarter results, investors have been encouraged by the more than 90% beat rate on both the top and bottom lines. More specifically, the Industrials sector has proven wrong the overly cautious Industrials analysts since every company that has reported has beat on both the top and bottom lines.
As of now, it appears as if Q2 results will translate into the 26th consecutive quarter in which actual EPS exceeded end-of-quarter estimates. My thought is, right now investors are pretty much saying that since these trade restrictions won't go into effect until the end of August, they're not going to respond to them just yet. It's too far down the road, so they'll wait to see if China blinks.
EQ: Speaking of earnings, in this week's Sector Watch you covered the EPS outlook for the second quarter. It looks like expectations are for another strong showing nearly across the board. Overall what are the estimates saying right now?
Stovall: Right now, estimates are saying earnings are likely to be up about 19.4% with eight of the 11 sectors expected to post gains, and seven of them projected to see more than 10% increases, led by Energy, Financials, Materials and Technology. Conversely, Real Estate and Utilities are expected to post year-on-year declines.
For the rest of this year, we're looking for about a 22% gain in earnings in Q3, and a near-18% rise for Q4, which would translate to a 20.5% gain this year and, right now, estimates are for a 9.5% rise in earnings in 2019.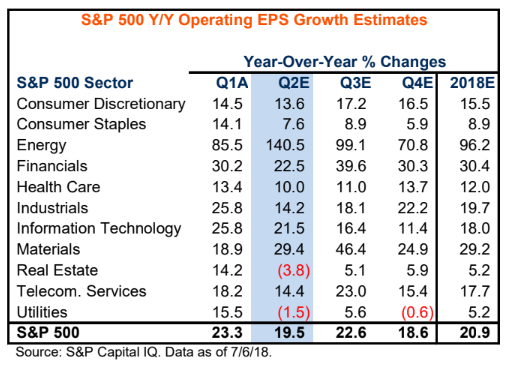 EQ: During the last reporting season for Q1, there was concern of the possibility of peak earnings dampening the market's prospects. Yet, based on estimates for Q2 and Q3, it doesn't look like expectations are suggesting that we're at that point yet. Has that argument been disproven or just put on the backburner for perhaps later this year?
Stovall: I think it's been put on the backburner because anybody can read the consensus estimates for earnings for the S&P 500, and indeed, they are likely to see a slowdown in quarterly growth as we go into 2019. I guess the real question is whether investors read that to be an indication that a recession is around the corner. I don't think so because we're looking for 3% growth in GDP for both this year and next year. Also, earnings are still likely to up close to 10% next year; we've been seeing the unemployment rate continuously improve; and housing starts have been going up. The only thing that causes some unnerving of investors is the yield curve, which is still positively sloped even though the spread is now closer to 30 basis points and narrower than it was previously.
EQ: Last quarter, all 11 sectors posted double-digit EPS growth. Estimates for Q2 doesn't quite match that broad strength, with two sectors expected to post negative EPS growth. What are some particular sector standouts that you're keeping an eye on?
Stovall: While most people would expect me to say Energy, I wouldn't necessarily say it is because they're coming off such a low base that it's hard for them not to look good. Really, it's Technology and how it continues to post very strong earnings advances. Expectations are for a 23% gain in Q2 and then we're also looking for about a 19% gain for the full year.
This is after Technology has shown tremendous strength over the past many years. It just indicates how this economy is continuing to morph itself into a technology-driven one, and that's why Tech as a sector represents 25% of the weighting of the S&P 500.
EQ: In terms of second half outlook, there are a number of uncertainties that corporate management teams are facing, with trade tariffs, rising rates, and higher oil prices, to name a few. Is there anything specifically that you're interested in hearing about in terms of guidance?
Stovall: Well, I think the real question is whether corporate management will actually start to make some changes based on their worries associated with the global trade disagreements. Will they start slowing down expansion efforts and acquisition efforts because they are worried about what will likely happen with the trade war? If so, then it could end up becoming a self-fulfilling prophecy, particularly if investors stop believing that this is just a negotiating strategy the President is using.
So, I think that corporations will probably end up using the stronger dollar and higher energy prices as scapegoats should they miss second quarter results. But the real question is how the threat of a trade war will alter corporate expansion plans if it continues to get ratcheted up.
DISCLOSURE: The views and opinions expressed in this article are those of the authors, and do not represent the views of equities.com. Readers should not consider statements made by the author as formal recommendations and should consult their financial advisor before making any investment decisions. To read our full disclosure, please go to: http://www.equities.com/disclaimer