Image Source: Ubiquiti Website
Potential impacts from the trade war kept many people away from Ubiquiti Inc. stock, and, so far, they might be regretting it after the stock's earnings report for Q1 2020. The network technology equipment maker has shown impressive growth with its router, switch and camera product lines, all of which will receiving updates in the months ahead.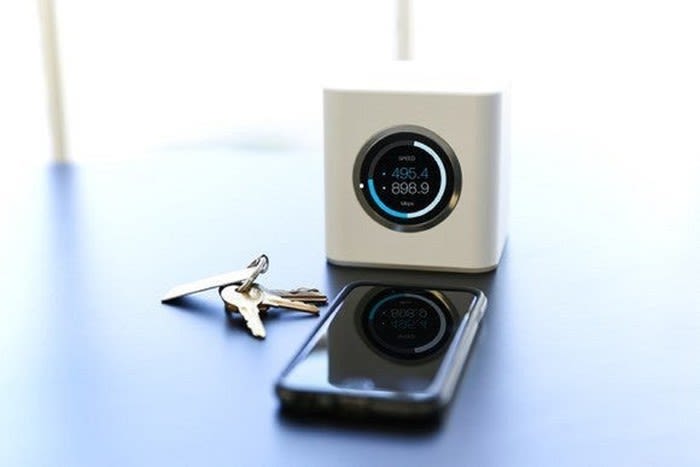 In 2016, as smartwatches and smart assistant devices first started to get into the hands of consumers, Ubiquiti's Founder, Robert Pera, a former engineer at Apple, believed the router could hold back the emergence of IoT consumer products.
"The home is getting more connected—people have (Internet of Things devices), Netflix streaming boxes, laptops, tablets, phones, and the router is starting to become exposed as a bottleneck with dead spots," Pera said. "There's this emergence in the premium market in the consumer space for high-end routing."
As an aside, Pera is rather reclusive as a Founder and as the owner of the NBA's Memphis Grizzles, and his company follows a similar path of being succinct and straight to the point. Ubiquiti does not offer quarterly financial guidance, does not give advance notice for when it will release its quarterly updates or hold conference calls with analysts. But, as you can see by Pera's comments, the company is paying attention to technology trends and the culture at large.
Following Pera's comments, which came in MarketWatch, the company did exactly what he said they would do: create high-quality routers and products for consumers and enterprises that are able to keep up with the scaling demands of our advancing technology. Ubiquiti's AmpliFi product line was a simple and powerful central router, and, after putting some lumps behind it, the company has found its niche in the space – high-quality for low prices.
UI's Q1 2020 results were an example of a company hitting its stride. The company's revenues were $323.3 million, a 14.3% increase from Q1 2019. Ubiquiti's GAAP net income was $98.1 million, a 14.5% increase from Q1 2019. Plus, the company's share repurchases – more than 3.6 million shares bought back at an average price of $114.49 per share this quarter alone – GAAP Earnings per share rose 23.1% to $1.43. Top-line growth was driven by Ubiquiti's enterprise technology segment, but its service provider segment also saw a 10.5% growth as well.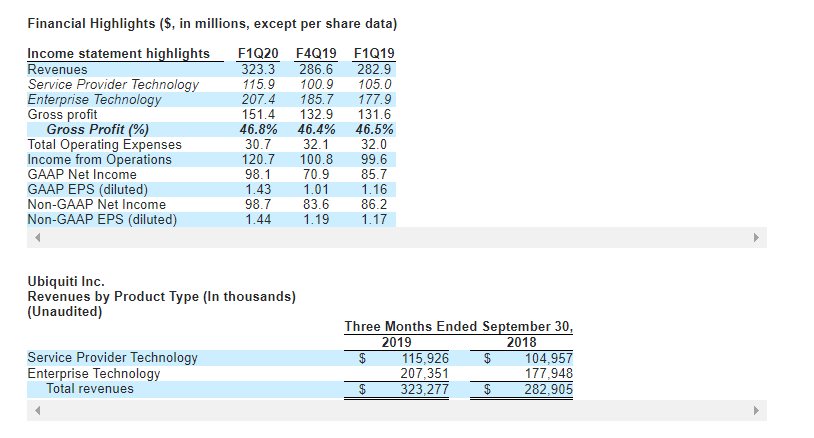 This overperformace was very well received on Wall Street with Ubiquiti's stock increasing by 36% after the news hit in early November, but the stock – which has experienced some volatility in the past – now might be riskier because of its increase in price. UI has gone from $120 per share to $190 per share since those results, which puts its price-to-earnings ratio on the higher end (above 30).
The Ubiquiti business model is unique in the industry, in the sense that they are a software company that sells hardware to monetize their R&D. Pera clearly learned a lot from Apple employing simple designs with powerful software and performance, which has allowed the company to drive prices extremely low and making times challenging for competitors like Cisco. Ubiquiti is clearly a company with solid fundamental, but the price right now is stinky rich, and if trade woes do arrive, the company may once again see a return to the volatility it was formerly known for.