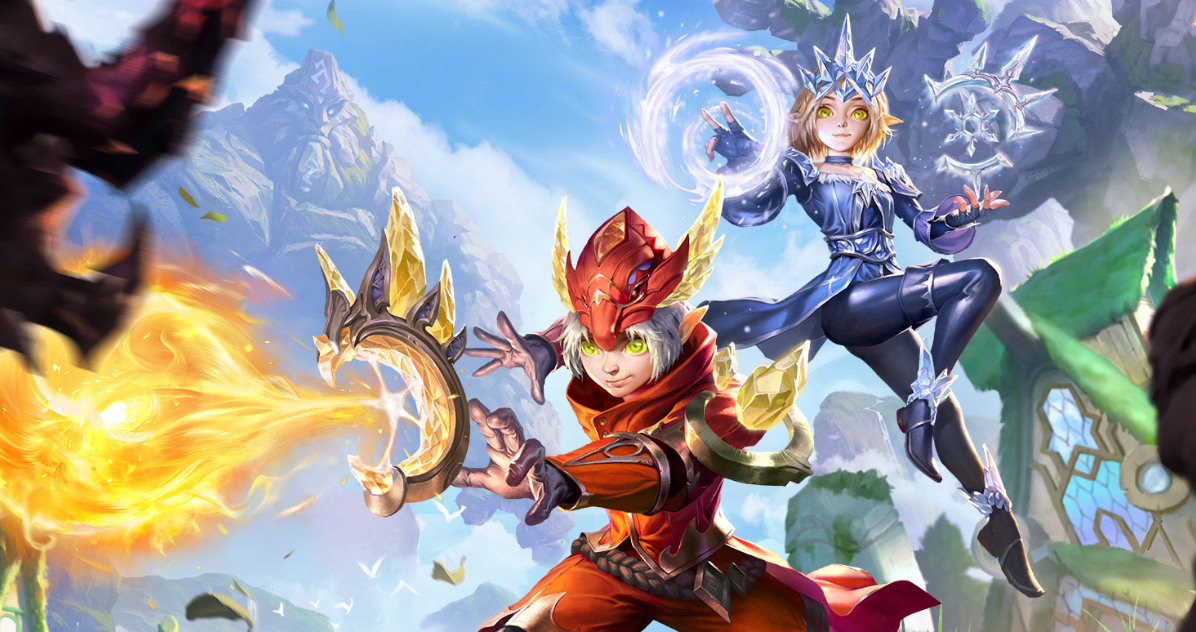 Source: NetEase
The spread of the coronavirus is keeping people across China indoors. To stave off boredom, people are increasingly shopping online for books, condoms and mobile games, according to Reuters. The latter is an exciting sector with 25% more spend than in all other gaming sectors combined, according to App Annie.
The coronavirus has the potential to accelerate an already booming industry
Before the coronavirus outbreak, Niko Partners, one of the premier video game consultants, predicted Asia's gaming market revenues would exceed $65 billion in 2020, a 96% increase from 2019's $33 billion. At the time of its prediction, Niko listed industry catalysts for this parabolic growth like the introduction of 5G cloud gaming, new consoles hitting the market and the continued expansion of eSport franchises, but the coronavirus has intensified downloads considerably.
One reason might be that video games have evolved into more than just a mindless distraction. Over the years, developers have incorporated social elements into the fabric of games. "Since we're home every day, the conversation topics are pretty limited. Very quickly, we'll run out of things to say. But if we're playing a game together, it feels like there's more to talk about. It's a better way of staying in touch," Jiahui Wang, 25, who works in Beijing as a secretary for a raw materials trade company, told CNN.
Even battle-royale games now incorporate chat boxes and team competitions. Tencent's "Peacekeeper Elite" is one of the hit games this year helping the tech giant revive the company's video game segment by bringing in a reported $1 billion in gross revenues, according to the South China Morning Post. Reuters reported Nintendo's "Ring Fit Adventure" for the Switch console, which combines exercise and role-playing, has done extremely well since the outbreak of the virus. "All you can count on is your own health. I want to exercise at home to be healthy and fit," Go Yan, a 38-year old man stuck in his home, told Reuters after buying the much sought after game.
Tencent's "Honor of Kings," another mobile game, has reached record-breaking numbers this year. On Douyu, China's popular streaming platform, the top games were twice as popular this Lunar New Year holiday season compared to last year's. "Honor of Kings," the top game this year, pulled in 63 million views, compared to the 31.7 million views that "Playerunknown Battlegrounds (PUBG)" had during 2019's holiday week.
Moreover, to hook these new players, video game companies have modified in-game business models making certain game elements free that were once only for premium members. "They likely want to take advantage of the vast number of potential new players who are confined to their homes," Louise Shorthouse, research analyst of games and apps at Omdia, told CNN Business. "Gamers of this generation are accustomed to an almost entirely free-to-play games landscape in China, and so removing the cost hurdle may attract young people who were initially put off by the premium element."
NetEase
NetEase is another company to watch in the sector that is benefiting from external factors. The Chinese company's games also performed well during the Lunar New Year holiday period with two games in the top 10, according to Sensor Tower. "Fantasy Westward Journey" charted at #6, while "Onmyoji" jumped from #19 in the prior week to #7 during the holiday week.
Furthermore, the company's "Knives Out" game is a global juggernaut. In 2018, the game generated $465 million, $10 million more than Fortnite earned in the same year, according to data collected by Sensor Tower. Even though it released in late 2017, the game is still earning solid revenues today, with $26 million booked in January 2020, demonstrating unusually long shelf life.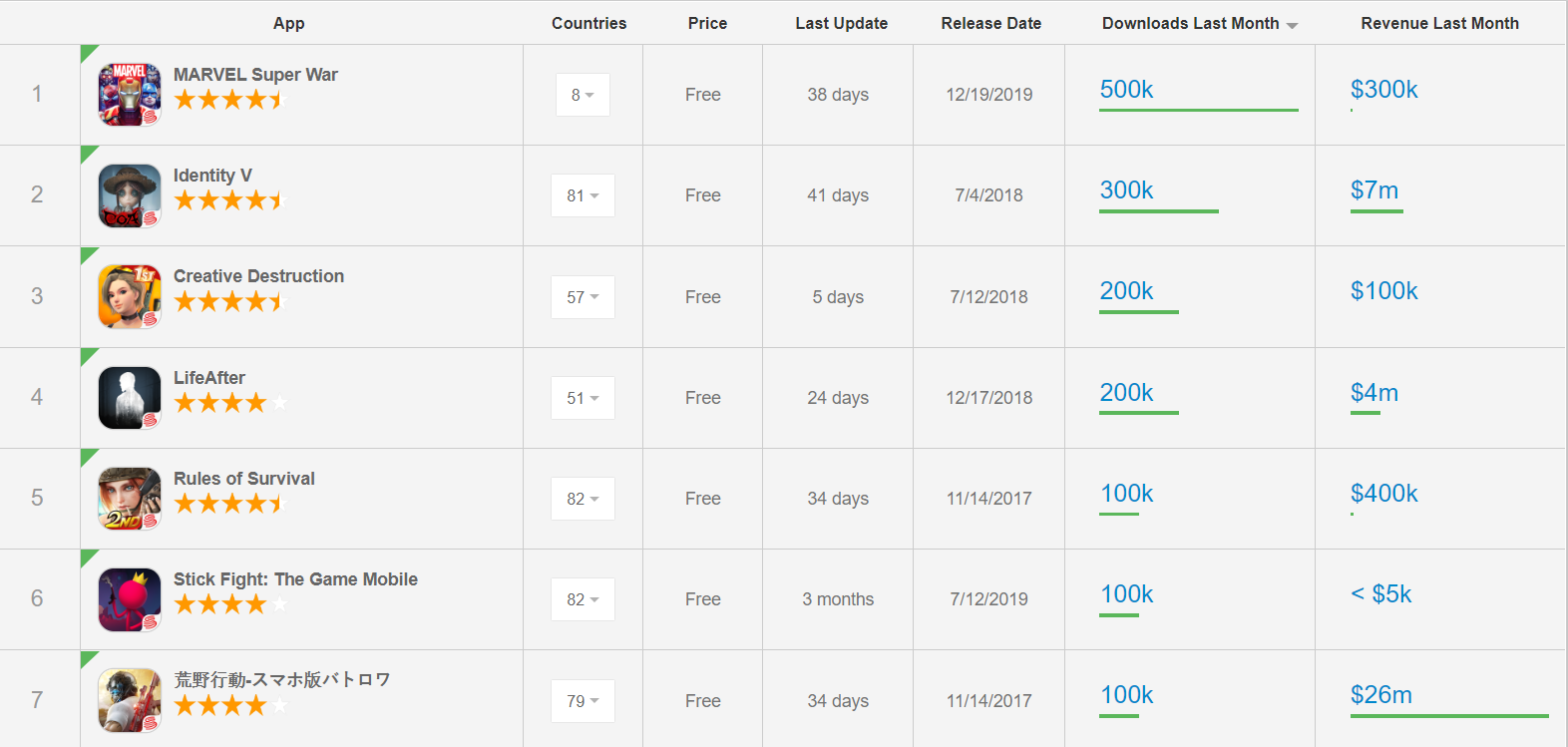 Source: Sensor Tower
The game is extremely popular in Japan. Gadgets 360 estimated that 80% of the game's total revenues in 2018 came from Japanese players. On NetEase's Q3 2019 earnings call, Chief Financial Officer Charles Yang explained that the success of "Knives Out" helped the company understand Japanese playing habits.
"With the success of Knives Out, we gained a better and deeper understanding of users in Japan in terms of their interest, social behavior, and preferences in style, esthetics and gameplay. We passed the successfully experienced knowledge on to the design of other NetEase games, enhancing our ability to deliver popular titles to Japanese users."
In Spring 2018, NetEase used this data when it launched "Identity V," a survival horror game, and it has translated to success, opening 2020 with $7 million in revenues. NetEase's recent release, "Marvel Super Wars," struggled out of the gate earning only $300,000, but it did see 500,000 downloads in a little more than a month, which could lead to future revenues as users get acclimated to the game.
One tailwind to consider for NetEase is the coming launch of "Diablo Immortal," one of the most popular role player franchises in history. It was created by Activision Blizzard, but developed for mobile games by NetEase. When it launches, it will be a big event for gamers and NetEase. At the moment, there is no official release date, but the company has stated development is complete.
Multiple revenue streams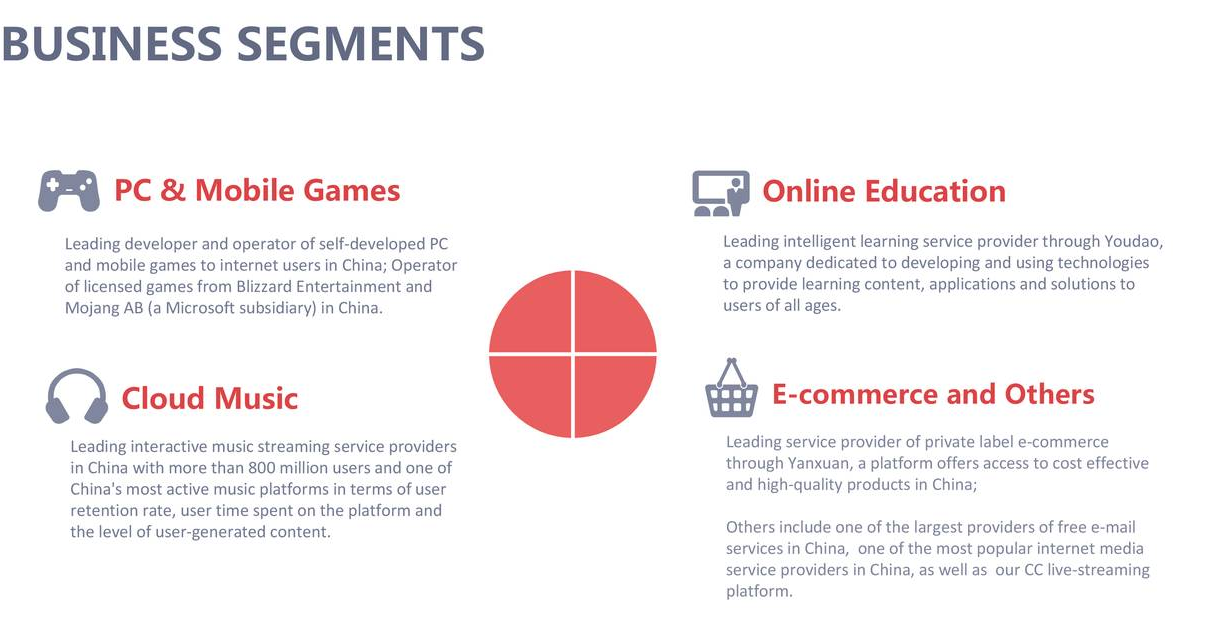 Source: NetEase, Q3 2019 Earnings Call Presentation
While mobile games are, on average, 70% of NetEase's revenue, the company has multiple revenue streams, including the online education platform, Youdao, which develops online learning content for children. The company has surpassed 100 million monthly users in China, and its growth rate is 70 percent, but like many other technology companies, it is not yet profitable. Youdao is a "freemium" business model, where users are given basic products and then upsold to subscription-based courses typically lasting four months and priced at approximately $200 per semester.
Youdao was carved-out from NetEase in October 2019, and is up over 50% from its IPO price. NetEase remains a controlling shareholder owning 58% of the company. Leadership addressed how the two companies would work together going forward.
Following the IPO, NetEase remains Youdao's majority shareholder and will continue to support Youdao's future growth…Over the past 30 years, Youdao has become a strong contender in the online education space with clear advantages in Internet native pack-driven content offerings. The Internet has disrupted many industries in the world, but so far, it has had a minimum impact on the education space in China. This offers a tremendous opportunity for Youdao.
-NetEase CFO Charles Yang
In NetEase's Q3 2019 earnings release, its online education segment earned RMB 346 million ($49.1 million), a quarter-over-quarter increase of 7.1%, and 98.5% increase year-over-year.
A month before Youdao went public, NetEase sold its luxury e-commerce arm, Kaola, to Alibaba for $2 billion. In the same deal, Alibaba— via Yunfeng, the investment firm launched by founder Jack Ma—also agreed to invest $700 million in NetEase's music streaming arm to compete with rival Tencent Music. Launched in 2015, Kaola targets affluent shoppers in China by giving them access to top brands like Gucci, Shisheido and Burberry.
Before the sale, Kaola and Yanxuan, NetEase's private label of company-branded goods, accounted for nearly half of the company's revenues in Q2 2019.
Earnings Coming Today
NetEase will release fourth quarter and fiscal year 2019 earnings after the market closes today. For Q4, the consensus estimate for revenues currently stands at $2.21 billion, suggesting a decline of 23.5% from the figure reported in the year-ago quarter. NetEase has beaten the consensus estimate three of the last four trailing quarters. The EPS estimate has held to $3.56 per share, equaling a growth of 13.5% from a year ago.
Over the last year, NetEase's share price has increased 50.3% compared to the S&P 500's 11.97%. The stock did drop a meager 2% since Friday, February 21, 2020, holding up on a relative basis against the broader market.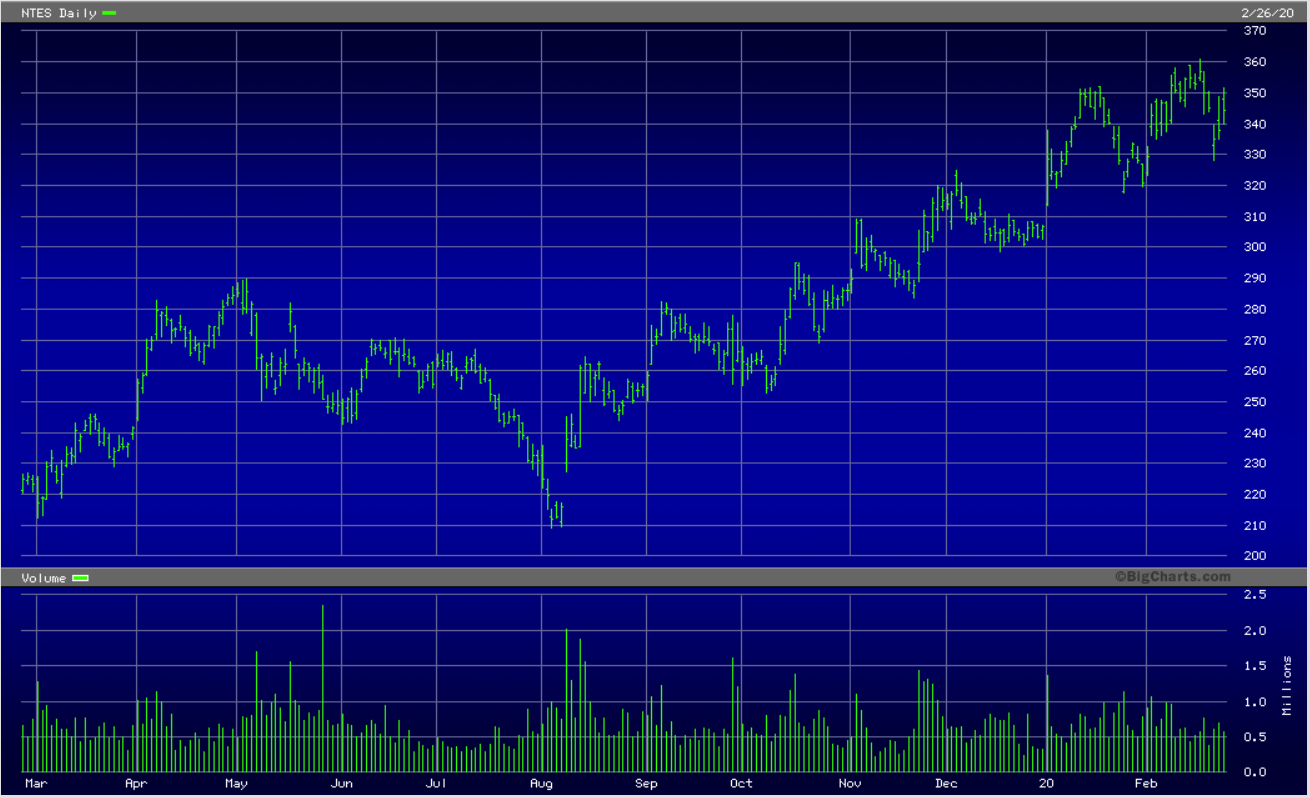 Source: Big Charts
_____
Equities Contributor: Stephen L. Kanaval
Source: Equities News