Header Image from the Company IPO Prospectus
Silvergate Capital Corp., a bank catering to the cryptocurrency industry, listed on the NYSE last week, and the bank has had a nice entrance into the public market adding a little more than a $1.20 to its listing price (at the time of writing).
While the name might be new to readers, Silvergate is not a "new" institution. The bank was founded in 1988 aiming to be a financial platform for innovators, then in 2013, the company re-focused its company mission to serve the cryptocurrency industry.
Silvergate's work with the cryptocurrency industry has aligned it with big names in the industry like Genesis Trading, Kenetic, BitStamp, Paxos, Coinbase, Circle, Kraken and Gemini. The company claims to have 655 clients and 468 are institutional investors (Among the new crypto clients signed in Q4 were two exchanges, 24 investors and 33 firms in a miscellaneous category that includes blockchain protocol developers, miners and service providers, according to the updated prospectus). As of Q1, Silvergate boasted $1.5 billion in deposits, and this was largely driven by Silvergate's SEN network (Silvergate Exchange Network), an internal ecosystem for its cryptocurrency clients.
The SEN is an interinstitutional payment system enable 24/7 movement of fiat across cryptocurrency exchanges and high-speed transactions, which allows its customers to avoid price fluctuations. Since 2019, the company has signed up 77% of its eligible digital customers to the SEN.
Silvergate has seized the opportunity to work with an underserved market. For example, last year, Kraken's Bank of America and JP Morgan Chase payroll accounts were abruptly closed, and Silvergate now counts Kraken as a customer.
Furthermore, another factor that has contributed to Silvergate's success has been their attention to detail and the way they meticulously handle their cryptocurrency clients.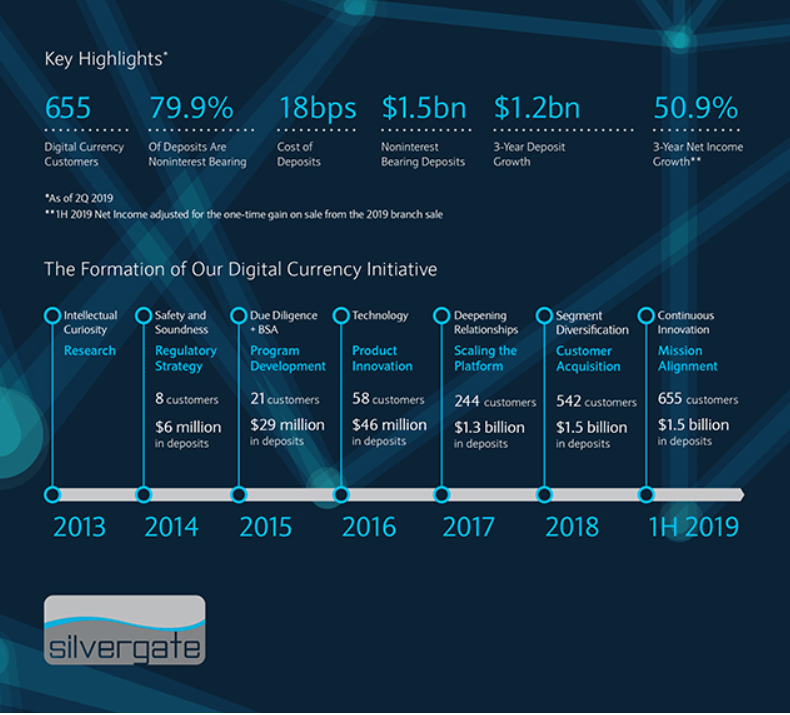 It has been reported the Silvergate staff take quarterly visits to exchange offices to make sure they have the most up-to-date monitoring tools across blockchain-based assets, in addition to daily monitoring and routine communications.
While Silvergate is really the most sophisticated game in town for cryptocurrency institutions and serious investors, it does carry obvious risks. Here is an excerpt from their prospectus:
"Our business is subject to many substantial risks and uncertainties you should consider before deciding to invest in our common stock … including risks that that the digital currency industry may not gain widespread adoption, that legal and regulatory uncertainty regarding the regulation of digital currencies and digital currency activities may inhibit the growth of the digital currency industry, that our low-cost funding strategy may not be sustainable, that our deposits may be adversely affected by price volatility."
Besides the apparent uncertainty of the entire cryptocurrency industry, the bank has seen crypto clientele deposits decline by $123 million in the fourth quarter. These clients are risky because of their source of revenues, but also because they own 13.1% of the bank's stock. In addition, Silvergate's 10 largest clients had $843.6 million of deposits at the bank – roughly 47.3 percent of the total – and nine of them are crypto businesses, the latest filing said. Further, the 37 cryptocurrency exchanges using Silvergate account for 34.7 percent of its total deposits.