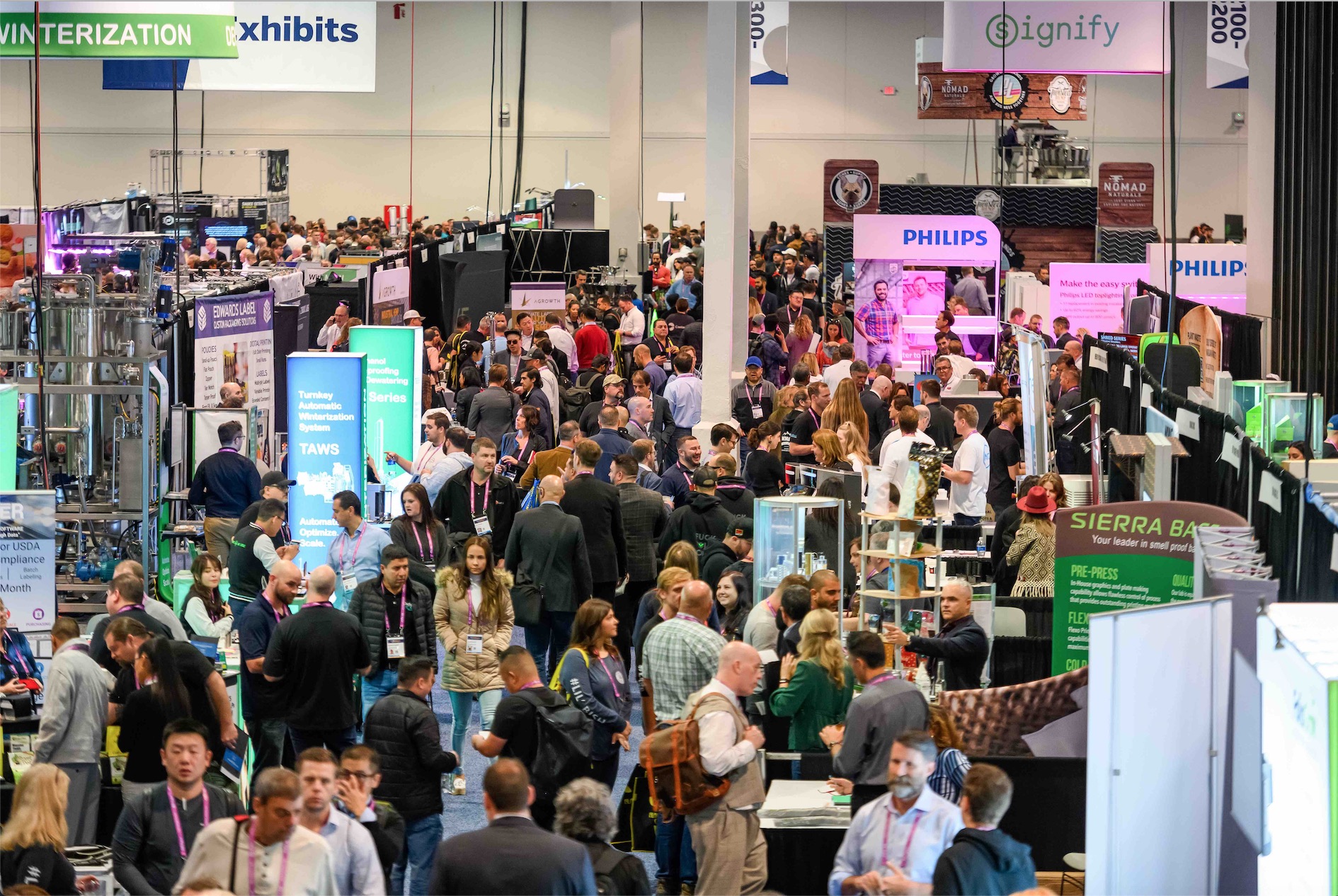 Image: MJBizCon 2019
Marijuana Business Daily's annual MJBizCon is the largest conference and convention in the global legal cannabis industry. This year's event attracted more than 31,000 cannabis professionals to Las Vegas Convention Center, a 14% increase from 2018, and a record turnout since the conference's humble beginnings in 2012.
The growth of the conference is notable in a year marked with layoffs, crashing stocks and painfully slow rollouts. The general vibe on the conference floor also was ripe with optimism rather than the hopelessness reflected in current public company valuations.
I touched down in Las Vegas the night of Monday, December 9th. The conference itself started that Wednesday, but I could tell early that this year's event was going to be unlike any other conference in terms of size.
Predictably, the next day when I checked in and received my credentials, there were already long lines. When I finally entered the show floor, I was struck by the scale and sheer exuberance of the industry coming together.
As I walked around the floor striking up conversations with different people, I asked some executives whom I met about how they were feeling about this perennial conference and what exactly investors could take away from the massive event.
This is what they told me:
More choices, lower costs and much optimism for 2020. Bizcon showed everyone that despite a down market, cannabis is growing and suppliers are there to help growers and manufacturers make more product efficiently for less money. 2020 will be the year of equipment investments that help us be more profitable.
– Michael Sassano, CEO and Founder of Solaris Farms, one of the largest high tech hybrid greenhouses for cannabis in Nevada, and Chairman of the Board of Somai Pharmaceuticals, a Dublin-based holding company engaged in distribution of medical cannabis products to pharmacies across Europe.
Smart money is on Cannabis 2.0 products. These are pro-consumer cannabis products where price is reflected in deftness in concept and formulation as well as standout beauty. Data, too, lots of data showing they do what they ought to do.
– Nial DeMena, CEO and CoFounder of Manna Molecular, producer of transdermal patches, serums, lotions and other modern cannabis delivery systems for specific dosing, high efficacy and personalized therapy.
It was clear at the MJBizCon 2019 that the market and market interest is very strong in spite of some large and notable losses in market value in 2019. There aren't many markets that would shrug off such large valuation write downs and treat it mostly as expected and merely a bump in the road of long term value. If investors were looking for a take away from the conference, it would have to be that the state of the industry is strong, and there are plenty of great opportunities remaining.
– Troy Ivan, CEO of ExtractCraft, the inventor of at-home ethanol recovery appliances that are easy and safe to use in the home or small business setting, making high quality extraction available to a broad range of consumers and businesses.
Investors are still bullish on the industry and understand that this is still the beginning. Being able to identify brands and technologies with longevity is a big focus as the industry is still growing and learning. Surfside has seen increased interest as we bring advanced technology that helps smooth out the growth trajectories by ensuring marketing and business efficiencies.
– Jon Lowen, Co-Founder of Surfside, the only customer acquisition and advertising platform designed specifically for the cannabis industry.
A prime example is our company, Ionization Labs. We are hemp and cannabis industry solutions providers focused on aggregation and practical application of potency data derived from cultivation and extraction operations. Three years ago, we were not considered a very viable Investment candidate. Now, as the industry has matured, investors realize the tremendous value of data and other areas to support the initial attractive investment focus on cultivation,extraction and branding. We are happy and honored to be in this position, and we humbly give our team pats on the back for having the insight and foresight to identify and build a company around something we envisioned would have a powerful position throughout the industry ecosystem.
– D. Cree Crawford, President, COO and Co-Founder of Ionization Labs, the creator of Cann-ID, the only scalable, field deployable, turn-key, lab accurate potency testing solutions program for cannabis and hemp industries.
_____
Equities Contributor: Lucas J. Wentworth
Source: Equities News