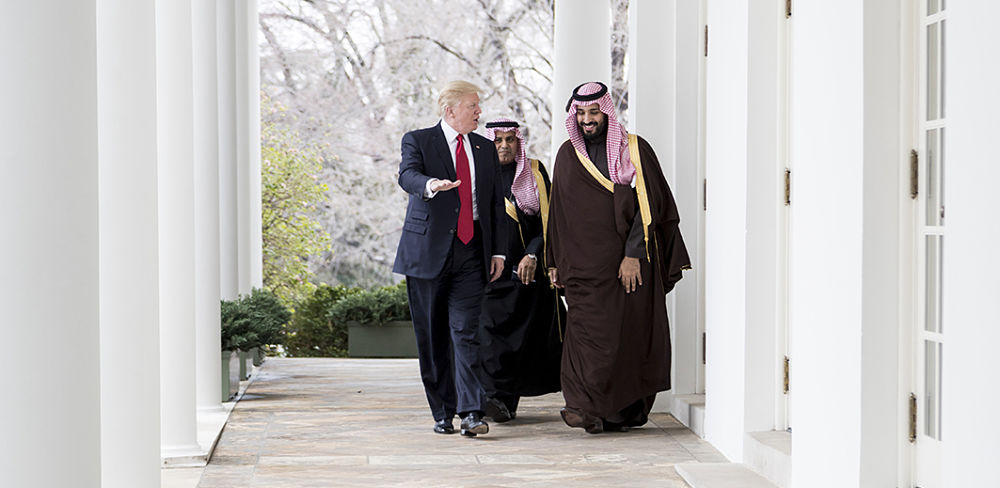 FRANKFURT, Germany (AP) — The disappearance of a Saudi journalist last seen entering the kingdom's consulate in Istanbul has shaken businesses' confidence in the country as a place to do business, with potential consequences for billions of dollars in investments into and out of the country.
It's a blow, analysts say, to efforts by Crown Prince Mohammed bin Salman to convince the world that the country is a reputable place to strike the deals needed the to power a wide-ranging transformation of the economy.
As allegations emerge that Jamal Khashoggi was gruesomely murdered, political pressure to isolate Saudi Arabia is increasing.
Here is a look at the Saudi leader's economic plans and what is at stake if business leaders begin to shun the country.
Q: Why does Prince Mohammed need foreign investors?
A: The crown prince wants to diversify the economy away from oil and transform its business and political model. For years, oil revenues paid for plenty of government sector jobs and benefits. That model has come under strain amid a growing population and a period of low oil prices.
The prince's Vision 2030 strategy foresees the creation of a vibrant private sector. As part of that, he wants to develop new industries like alternative energy, tourism and entertainment. Projects include a new business zone near the Red Sea called NEOM that would focus on advanced manufacturing, renewable energy, artificial intelligence, and biotechnology.
Saudi Arabia has its own companies in more traditional fields like construction, which would get a lot of that investment. But the country would need technology, expertise and financing from outside to carry out Prince Mohammed's ideas. He wants, for instance, to have his Public Investment Fund — the state-backed investment vehicle — raise more money by selling a stake in chemicals company SABIC to state oil firm Saudi Aramco. Analysts say Saudi Aramco would likely have to borrow to make the deal happen. The PIF itself has already borrowed $11 billion from international banks.
"Foreign investment is a main pillar of Vision 2030," said Sebastian Sons, an expert on Saudi Arabia at the German Council on Foreign Relations. "The old tradition is on the brink. Diversification of the economy is strongly needed and Vision 2030 is the strategy for that."
Q: How would the Khashoggi disappearance affect that?
A: Foreign investors already had doubts about the country amid regional conflicts like a blockade of neighbor Qatar and a brutal war against rebels in Yemen. Saudi Arabia ranks 92nd out of 190 countries on the World Bank's ease of doing business index, which measures things like ability to enforce contracts and get goods in and out of the country. Another cloud was cast over the business environment when Prince Mohammed locked up several dozen members of the Saudi elite in Riyadh's Ritz-Carlton hotel and seized what the country's attorney general said was more than $100 billion in assets.
The Kashoggi scandal comes at a time when "the private sector is cowed and hurting in many ways," said David Butter, an analyst with the Middle East and North Africa program at the Royal Institute of International Affairs in London.
The hotel incident shows that "they don't know if their assets are safe from sequestration." And grisly details reported in news media about Khashoggi's alleged killing "are just going to make the private sector even more worried," he said.
The war in Yemen has led to horrors such as an air strike by the Saudi-led coalition that killed 40 children, but the Khashoggi incident is harder to play down as a regrettable mishap of war. Butter said Prince Mohammed's image as the "face of future reform is now much more difficult to sustain."
Turkish authorities say Khashoggi was killed. The Saudis have denied involvement.
Q: Are people losing faith in Saudi Arabia as a business destination?
A: Foreign business and political leaders are dropping out of next week's Future Investment Initiative, an annual event started last year to showcase the country as a place to do business. Among those cancelling are U.S. Treasury Secretary Steven Mnuchin, JPMorgan CEO Jamie Dimon, Ford Motor Co. Chairman Bill Ford and Uber CEO Dara Khosrowshahi.
Sons of the German Council on Foreign Relations, said the no-shows "are a serious indicator for Mohammed Bin Salman that he is losing trust, that Saudi Arabia is not seen as the ideal place to invest."
Q: Why are the Saudis investing abroad as well?
A: They've been buying stakes mainly in technology firms to diversify their revenue and show the country as forward-looking and tech-friendly place.
The sovereign fund has invested $3.5 billion in Uber, for example. It has pledged $45 billion for the SoftBank Vision Fund, a private equity fund that has taken stakes in Uber and messaging software maker Slack Technologies Inc.
The question now is, whether companies will be leery of Saudi money for fear it will taint their reputations. Richard Branson, the billionaire founder of Virgin Group, has said he is freezing talks for Saudi investment in his space companies. Other executives have limited themselves to the symbolic rebuke of shunning next week's Saudi conference. Others have simply kept quiet.
Q: How likely are sanctions against Saudi Arabia?
A: Republican Senators Marco Rubio and Lindsey Graham called for Saudi Arabia to be punished if it is confirmed it organized Khashoggi's disappearance. But they did not specify what that might mean in practice.
The 2016 Global Magnitsky Act makes it possible to impose visa bans barring entry into the U.S. and targeted sanctions on individuals for committing human rights violations or acts of significant corruption. Congress can submit proposed names.
Analyst Butter at the Royal Institute said the prospect of sanctions was unclear but that "any kind of sanctions would have a strong symbolic effect."
President Donald Trump has promised "severe punishment" if regime involvement is proved, but has also said he does not want to cost U.S. jobs by curtailing U.S. sales of military equipment to the Saudis.